Fernando Luis Santillan hopes to make a difference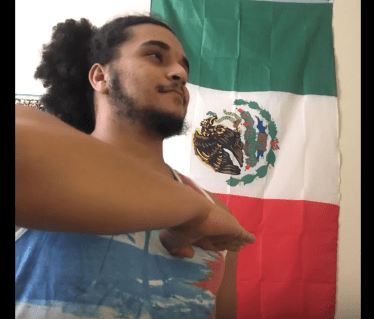 Fernando Luis Santillan was born a Mexico citizen to his parents Esteban Santillan Ceniceros and Carolina Salas Reyes. His brother, Esteban Santillan Jr. was born a United States citizen to the same parents. 
"So, my brother was born in El Paso, Texas because my mom decided to have him there and for me, she had the same plan," Santillan said. "She stayed nine months in El Paso with one of my uncles and then on December 15, 1995, she decided to visit my grandma and that was the day I was born in Mexico. So, my brother is an American citizen and I'm Mexican." 
When Santillan was growing up in Mexico he knew Spanish and then learned Portuguese as his second language, he said. Santillan attended Lydia Patterson Institute in El Paso Texas and was required to take English as a second language classes. 
"I went straight to high school, which was different, because everyone in El Paso is bilingual so if you don't know English you can speak Spanish, and when I came [to Texas Wesleyan University] it was so hard because my English wasn't that good. And I don't know; it was so hard to communicate." 
Santillan Jr. didn't have to apply for a student visa to attend college in the United States but Luis Santillan did. 
"To get a visa you have to apply in the United States Embassy in Mexico," Santillan said. "You have to do your application online and then they give you this number but you have to go and pay." 
In order to start the visa application process, the applicant has to pay between $500 and $700. Then the United States Embassy schedules an appointment to meet with the applicant and they have to pay another fee between $1000 and $1500, according to mx.usembassy.gov. 
"They ask you all these questions like, 'What are you going to do? Where are you going to go to school?'" 
After the appointment, the embassy can either accept the applicant or deny them. 
"But, if they deny it you don't get your money back," Santillan said. "You don't get your money back and you have to apply again." 
The entire process takes between three or four weeks and typically takes place after the visa applicant has applied and been accepted to American colleges, according to mx.usembassy.gov. 
"It's not hard it's just a lot of money that you spend," he said. "You have to apply to college before and then if you want to work in the US you have to apply for work [visa] first too. 
"[The embassy has] to accept you and [the employers] have to say that they're going to pay for your work visa if you want to have a work visa which is more money. It's more time and it's hard to get someone to employ you because no one wants to pay more money for you." 
Santillan said facing discrimination has gotten easier the longer he has been in America. 
"I feel like my freshman year I got so, not bullied or anything, but like I can feel like people are talking shit about me or something like that. But now I don't even care." 
Santillan ignores the negative comments he sometimes hears but discrimination against his family or his whole country is too big to ignore. 
"I hate when people are like 'Oh this Mexican chick' and really she's Cuban or Colombian like no that is so different," he said. "Even the language is different. Like to me they speak weird; Americans and Canadians have the same language but a different accent and some words aren't the same." 
Even when he's around people that love him Santillan feels pressured to be a model citizen, he said. 
"It's hard because every time I wake up it's like I have to be the best citizen," Santillan said, "because if I do something wrong I can get deported. Like if I don't stop at a stop sign or something like that they can pull me over and just yea…" 
The culture in Northern Mexico and Texas aren't extremely different but Texas has a more diverse population, Santillan said. 
"The laws are almost the same," he said. "It's just like the food and the people. The people are white, black- we're not used to that. In the city where I live it's more mixed or white. We don't really see black people or Asians but that's it." 
After graduation in May 2019, Santillan plans to either stay in Texas or move to Georgia to attend law school. 
"I don't really know what's going to happen with this whole Trump thing," Santillan said. "If things are going to get worse or they're going to get better, but I think if I hold my student visa I'm going to be fine." 
After graduating from law school Santillan plans to stay in America and apply for jobs. He wants to get dual citizenship and split the year living between Mexico and America. 
"I want to have dual citizenship so that if something goes wrong here I can go back home and still work and still be able to buy a house and things like that." 
Santillan dreams of working for the United Nations. Dual citizenship would allow him the opportunity to represent Mexico or America. 
Susporiea Harris, Santillan's fiance said his Mexican heritage enriches her life. 
"Overall, I feel like he's a normal person," Harris said. "His accent reminds me all the time but I don't really feel any different. 
"Although now with everything going on, I'm not really afraid of deportation, but I know how real it is. My friend's boyfriend just got deported so it's hard to think about." 
Harris is always encouraging Santillan to be a safe driver and to always use his blinker. 
"[Deportation is] not something that I think is going to happen but it's something that could happen," Harris said. 
Harris has already taken to Santillan's Mexican heritage by trying authentic Mexican food. 
"I love Mexican food. He takes me to places that look sketchy," she said, "but the food is so good. You can really taste the difference from like Tex-Mex." 
Harris said Santillan is proud to be a Mexican. 
"He thinks we're patriotic but he has so much pride in Mexico like you can't say one thing wrong," she said. "But I like that though; that's good." 
Matt Mayfield, Santillan's roommate, believes their cultural differences bring them closer together. 
Santillan is a dependable and trustworthy friend that would sacrifice anything for his friends' happiness, said Matt Mayfield Santillan's roommate. 
"Friendship with Luis is something that can last a lifetime," Mayfield said. "No matter where our paths take us I know we can always be there for each other." 
The cultural differences between Mayfield and Santillan allow them to form a strong bond through shared experiences, Mayfield said. 
"Luis being from Mexico allows a cultural mix-up for a city-boy from Atlanta like myself. Trying different foods he makes, understanding what matters to each other, and even bonding over our differences makes our relationship awesome." 
Mayfield said Santillan can easily cheer up his friends and gives great advice. 
"Now, it's my senior year," Mayfield said, "and I'm not only roommates but also like brothers with Luis." 
Leave a Comment