Six exhibitions to be featured in the Templeton Studio this year
Somewhere There Is an Island is the first of six exhibitions on display this school year in the Bernice Coulter Templeton Art Studio, and features a vibrant fantasy forest made up of recycled objects, Professor of Art Kit Hall said.
The exhibition is by Molly Dierks, an associate professor at Tarleton State University, and was selected in January by the exhibition committee at Texas Wesleyan, Hall said.
"I loved the idea of a fantasy forest and then kind of bringing the world's throwaway things that are found objects with nature," Hall said. "It is kind of an interesting combination how we throw away things to the side of the road that are trash to us, and eventually nature does take over in some form or fashion over a number of years sometimes."
Because the art was intriguing and included an intellectual aspect, Hall said, the art seemed like a good fit for a University gallery.
"It is fun. It is colorful. It is a fantasy," Hall said. "It is interesting."
Dierks said her work looks at different themes, including feminism and a clash between nature and culture.
"I have this kind of push pull attraction to the sumptuousness or the sexiness of industrial materials, at the same time I feel really repulsed by what we are doing to the earth," Dierks said. "It is kind of like desire repulsion, seduction repulsion binary that I am looking at in my work."
Dierks said she wants the students to look at her art and stop and meditate on "the way the earth is changing and I guess relationships between one another in the Anthropocene era. What humans are doing to the earth."
Most of the exhibit is made of tree branches Dierks said she collected from Texas, Michigan and Finland attached to different items like a crate and mixing bowl, covered in pieces of toys and hardware. Dierks said creating them is like painting with materials.
"I had to kind of Frankenstein them together to get the look that I want," she said.
Sophomore criminal justice major Michelle Feyisetan said she found the work to be interesting and that she had never seen anything like it before.
"I like the way that she incorporates everyday items with it like the bowls and the tub and I think I saw a strainer in there with the branches," Feyisetan said.
Somewhere There Is an Island will be in the gallery until Sept. 13 with artist lectures Sept. 3 from 2 p.m. to 4 p.m. and Sept. 11 from 12:30 p.m. to 1:30 p.m. in the studio.
The next exhibition will be from artist Sara Cardona, a professor from Collin College in Dallas, called Southern Gothic, Hall said.
"She is going to be doing large format collages," Hall said.
Southern Gothic will be on display Oct. 1-25 with an artist reception Oct. 13 from 2 p.m. to 4 p.m. and an artist lecture 12:15 p.m. to 1:30 p.m. Oct. 16 in the studio.
The third exhibition, Meraki, The Artist's Soul will run Nov. 5-Dec. 8 and comes from the Texas Pottery and Sculpture Guild, Hall said.
"It is an organization and they are in the middle of having a competition," Hall said. "Those that get in the show will be displayed here and the winners of it."
An artist lecture and award presentation will be held Nov. 3 at 2 p.m. in the studio.
The first exhibition of the spring semester will be Love Removal Machine from artist Lee Hill, Hall said. It will run Jan. 14-Feb. 7.
"He is an architect in Fort Worth and also a painted and he does large abstract format painting," Hall said. "His paintings have the angularity of architecture intertwined with, I think of them as vine-type lines, vine-like lines, so he is like combining math with the mechanic of the architect and the nature that the architecture has to fit into."
The next exhibition, Silent Covenant, is by Rebecca Boatman, who is a retired professor from Brookhaven College and a bicycle docent at the Burning Man festival in Nevada.
"Examples that I have seen of her work are very feminine," Hal said. "The hourglass shape of the iconic woman shape but she adds things into it like spikes and nail heads and all sorts of stuff. I am real anxious to see those in person. I have met her and she is a really neat person."
Silent Covenant will run Feb. 25-March 28 with a reception March 2 from 2 p.m. to 4 p.m. and an artist lecture March 7 from 12:30 p.m. to 1:30 p.m. in the studio.
The last exhibition of the school year is HOPE by artist Martin Brief, Hall said. He is going to have around 2,000 5×7 cards on display.
"He writes the word hope (on the cards), this is all done in charcoal or oil pastel and then he scribbles it out where you can't see the hope anymore and then he gets an eraser and really spreads it all out and make the lines and edges real expressive," Hall said.
HOPE will be on display April 6- May 2.
Hall said she thinks the quality of the shows have stepped up since last year.
"Not only in number, but we had really good artists who were here and we had a good response to chose from. It is not like we had to take anybody," Hall said. "The exhibition committee got to be picky about who they wanted to come show at Wesleyan."
Hall said her goal this semester is to get more students and faculty into the gallery.
"I am really excited about it," she said.
The Bernice Coulter Templeton Art Studio gallery is in located at 1415 E. Vaughan St. and is open 10 a.m.-3 p.m. Monday through Thursday. Admission to the gallery is free. For more information about the exhibits, go to txwes.edu/art-gallery.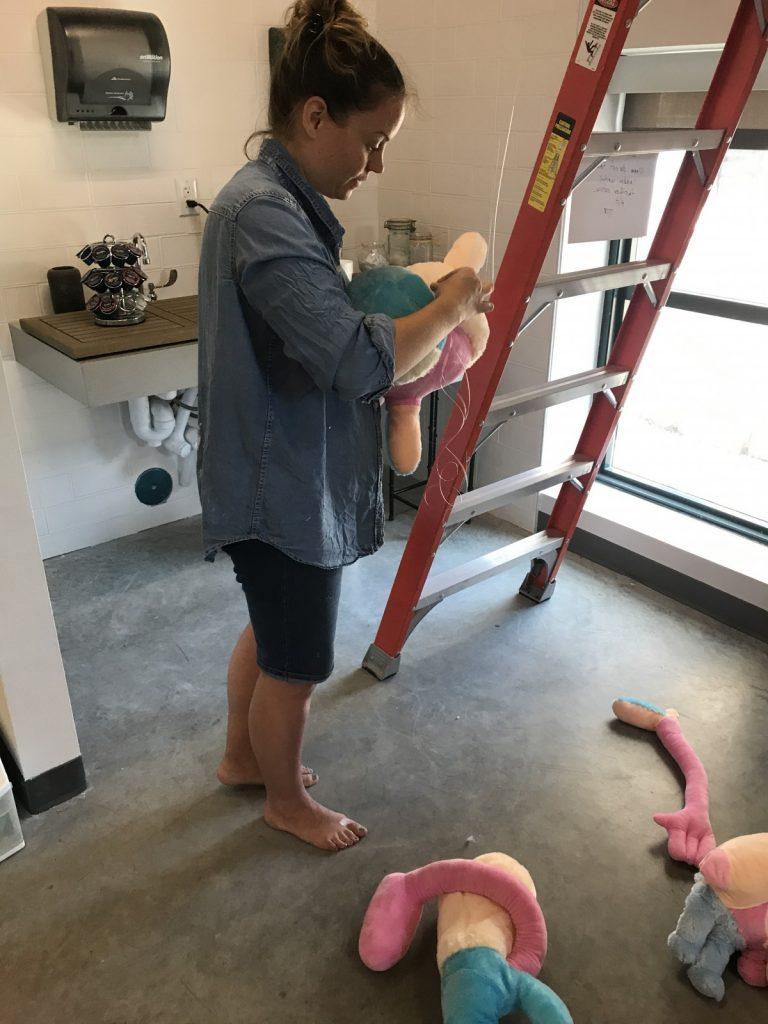 Leave a Comment