Editor's Note: In a previous version of this article, we printed Alison Baron as SGA Treasurer rather than Secretary. The Rambler apologizes for the mistake and thanks it's audience for pointing it out and giving our student reporters the opportunity to grow.
Texas Wesleyan's Student Government Association met Friday to go over the current budget, proposed bills, and amendments to the current SGA constitution.  
The meeting started with SGA Treasurer Anahita Keer going over the SGA budget. Budget records showed that SGA has $22,438.44 left on their budget after starting with $31,000. 
Representative Phuong Le proposed a Homecoming Block Party Bill that will serve veggie, turkey, and beef hamburgers as well as hot dogs.  
The bill allocated $500 for the food and beverages being served. The Block Party will be held on Nov. 1 at 5 p.m.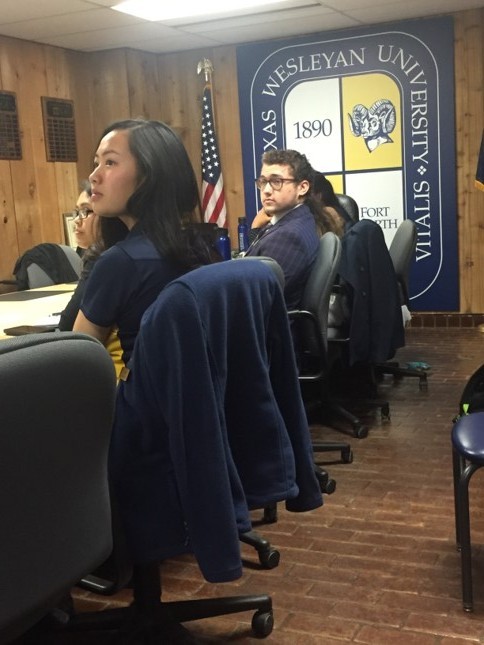 Representative Le had doubts about the number of participants. 
"I feel like maybe 200 people won't attend, so we can amend the amount (of the bill) if we need to," she said. 
After discussing the bill, SGA Secretary Alison Baron assured Le that the amount proposed was appropriate.  
"We've invited every organization on campus," she said.  
The bill was passed with the original $500 budget. 
Baron proposed a Community Service Bill for spring 2019. The bill will reward organizations on campus for doing community service work. A $1,500 budget for this bill was passed.  
Organizations will be required to log their community service hours with Ram Space. The five organizations that log the most hours will receive a cash reward.  
"This is a good initiative for student government, its good for the community, and it should be passed," said Athletics Representative Lynzie Moore.  
To end the meeting, SGA discussed amending Article XI of the Constitution. Article XI deals specifically with the SGA election process. There was a spirited debate about the requirements to seek office and the vote was tabled until next week's meeting once no one was able to come to an agreement.  
In reference to the proposed amendment change, Baron said, "The goal is to make this the least problematic as possible."  
Last week's meeting left SGA without a vice president, and SGA President Alyssa Hutchison had this to say about the current void: "There are a few vacancies on the board currently. However, SGA will be sending an article in Ram Life to let students know about the open positions. From those responses, SGA will host interviews for applicants that fulfill the requirements of the positions, and will be appointed with a two-thirds majority vote from SGA."  
Student Government Association meetings are held every Friday at 2 p.m. in the SGA Chambers located in the Sid Richardson building.