Cathy Hirt gives the keynote address at Tuesday's Goostree Symposium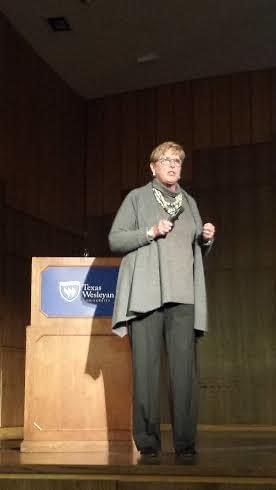 Former Fort Worth City Council member Cathy Hirt believes you can put adventure into any aspect of your life.
Speaking Tuesday at the annual Faye C. Goostree Symposium, Hirt said people should always look for opportunities to do things out of their comfort zone.
"I'm advocating that you're looking to make everything that's in your life an experience full of excitement, with calculated risks, and challenging," Hirt said during her 30-minute keynote address in Martin Hall.
For more than 30 years, the Goostree Symposium has included speeches by successful women on the Wesleyan campus. Hirt, who served on the council for three years, was introduced by Deborah Ferguson, co-anchor of NBC 5 Today, who called her a "true Renaissance woman."
Hirt said that she never thought she would climb Mount Kilimanjaro, but being able to push herself to do something so risky helped her understand things in her everyday life.
"Never underestimate your potential," she said.
While climbing the mountain, she learned things she could apply to her daily life. One of the greatest lessons she learned was taught to her by her native mountain guide.
"Do not ever do anything but 'poli poli'," she said. "That's Swahili for taking things slowly."
Hirt said there are five things that you learn from adding adventure into your life: determination, discipline, disappointment, decency by being honest and humble, and diversity by learning from others.
To put adventure into your life you can travel, even to somewhere local, give back to the community and learn as much as you can, she said.
"Make the most out of your education," Hirt said, "not just here, but in the rest of your life. Every educational experience you have could be an adventure."
She concluded by encouraging everyone to push themselves to try new experiences, even if it meant going to college or getting your master's degree.
"Getting out of yourself in any way could be an adventure," she said. "Don't miss any opportunities."
Leave a Comment