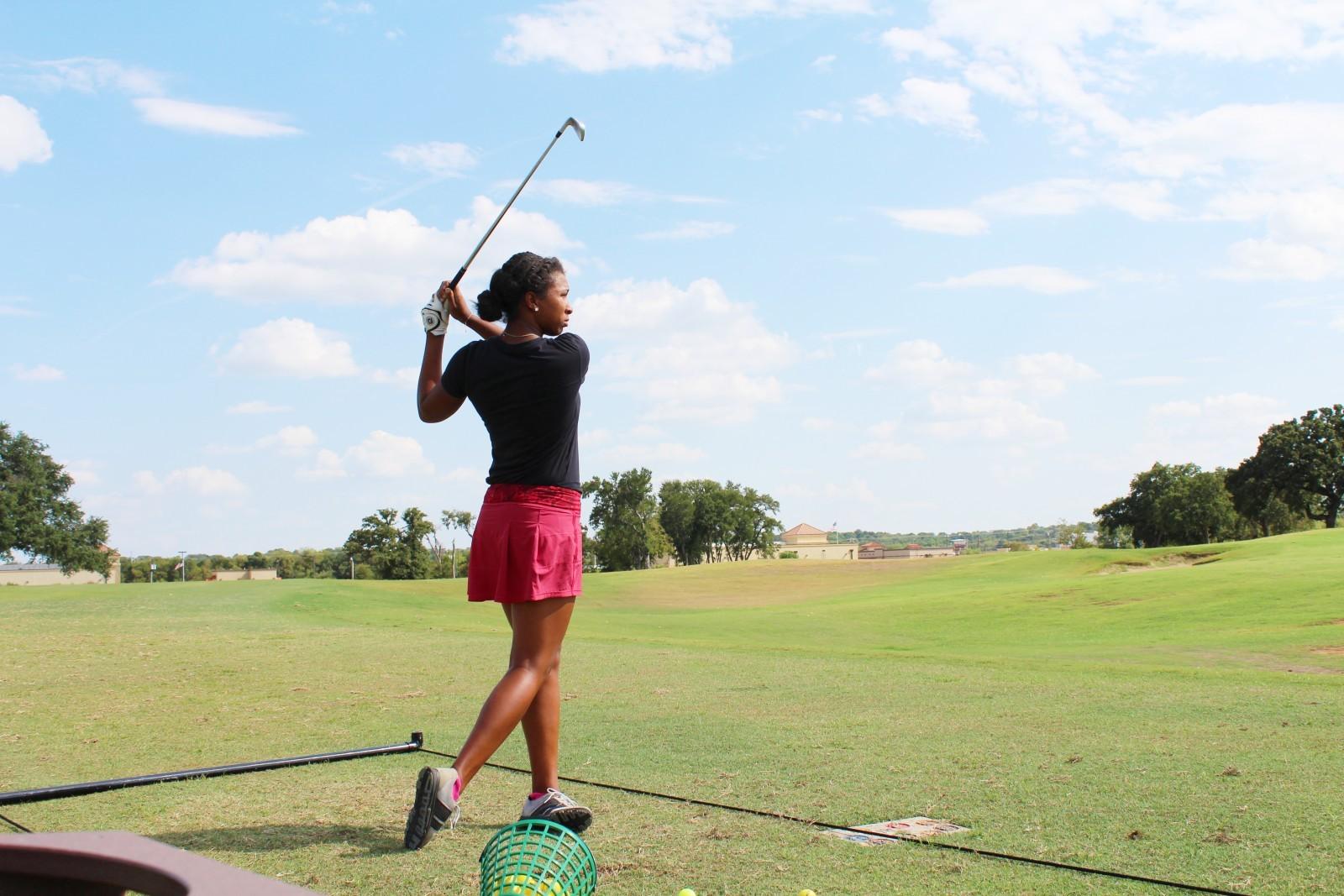 Alexis Belton is taking the journey so many athletes dream of: going pro.
Belton has played for the Lady Rams golf team and now, with help of her former coach Kevin Millikan, as well as friends and family, she is attempting to continue her golf career.
"This is something I've always desired to do, but this summer has been a turnaround to me knowing I can do it," Belton said. "I think those are two different things to know about yourself: Is this something that I just want or is it something that you really think you can do?"
Belton, who is graduating in December, played three seasons for Wesleyan and is now an assistant coach.
In those three seasons, she broke eight school records, including a career scoring average (80.28), according to ramsports.net.
"I think it just comes down to work ethic and believing that you can do it," Belton said. "Of course a little talent helps, but hard work beats talent every day."
Belton, 22, said she has to thank her parents, Alana and John Belton, as well as Millikan and her former high school coach at West Monroe High School in Monroe, La., Tony Osborne, for believing in her and continuously pushing her to do better.
"Just playing here at Texas Wesleyan and in Texas sets you up for every situation," she said. "Coach Millikan is an awesome coach so his guidance has help definitely paved the way for me to believe that I can do this."
Belton's chances of becoming a professional golfer are slim.
Less than two percent of college athletes make it to the pros, according to NCAA.org.
Millikan wrote in an email that he's seen great players never make it beyond college athletics due to low work ethic or poor financial resources.
"There are just so many great players, so it is very difficult to make it to the major tours with the PGA or LPGA," Millikan wrote.
Belton said she understands how hard it is to go pro, and because of this, she has always had a backup plan.
"Golf is a great sport to be in contact with people as far as jobs go," Belton said. "So hopefully I'll have a job on the Golf Channel. Whether golf does work out and I hang up my shoes later or it doesn't, I still want to end up there."
Belton said that her success in college all leads back to Millikan for giving her the shot to walk onto a team that was already full.
"I'm surprised they even had enough uniforms for me," she said. "He has really helped me grow in the game and really helped paved the way for me."
Millikan said going pro was certainly part of the plan for Belton.
"You never know if the plan will work out and you really become what you think you can be," he said. "I'm really excited about what we've done and what we still have yet to accomplish.
"But it doesn't surprise me, I know we've had quality players and they've worked hard both on the classroom and on the court. This just proves their hard work is paying off."
Millikan said he believes Belton has a chance to go pro due to certain attributes he calls "unteachable."
"She hits the ball a mile away, she has a great work ethic," he said. "Those are things that are just innate.
"The fact that she got those things going for her makes me think she can accomplish this goal."
Belton's former teammate, Alex Schies, said Belton has been a good friend for several years.
"I met Alexis when I first came to visit the team and since then we have become very close," Schies said. "She's done nothing but help me with my game and I try to help with hers."
Schies said she thinks Belton has a good shot at going pro due to the performances she has seen from her.
"I know she can do it. I caddied for her in one tournament and she played very well and I know she has a chance," she said. "It's like coach said, she can hit the ball a lot further than most people can and that can really give you an advantage on some holes.
"She's really good at thinking things out before it happens and you need that."
Belton is currently practicing both with the team and on her own and has entered several amateur tournaments.
She will start her professional career in January 2016.
"To be the number one player in the world is definitely the dream," she said. "It's a far goal and it takes a lot of work to do that, but anyone can do it, look at (Jordan) Spieth holding on (to the No. 1 ranking) for a week or two and then Rory (McIlroy) getting it."