5 Must Have Thanksgiving Recipes
Thanksgiving is just around the corner and you can't have Thanksgiving without some good food! 
Here are some Thanksgiving classics with a twist, making your plate stand out from the crowd.  
Don't show up to your families house empty handed!
1/2 cup flour
1/2 cup old fashioned oats
1/2 cup brown sugar
1/2 tsp baking powder
1/4 tsp ground cinnamon
dash of salt
1/3 cup unsalted butter, diced into small chunks
For the Apple filling:
3-4 large Granny Smith apples, peeled and sliced thin
3 Tbsp butter, melted
2 Tbsp flour
1 Tbsp lemon juice
3 Tbsp milk
1/2 tsp vanilla extract
1/4 cup brown sugar
1/2 tsp ground cinnamon
dash of salt
Serve with Vanilla Ice Cream and Homemade Caramel Sauce
Instructions
Preheat oven to 375 degrees F.
In a medium size bowl combine the crumb topping ingredients with a fork or pastry blender until it resembles small crumbs. Refrigerate while you prepare the apple filling.
For the Apple Filling: In a small bowl, combine melted butter and flour until well blended. Add lemon juice, milk and vanilla and stir well. Stir in brown sugar, cinnamon, and salt. Pour butter mixture over apples and toss to coat. Pour apple mixture into an 8×8-inch baking dish and spread into an even layer. Sprinkle crumb topping evenly over the apples. Bake for 30-35 minutes or until golden brown and top is set. Remove from oven and allow to cool for at least 10 minutes before serving.
Serve with Vanilla Ice Cream and Homemade Caramel Sauce
---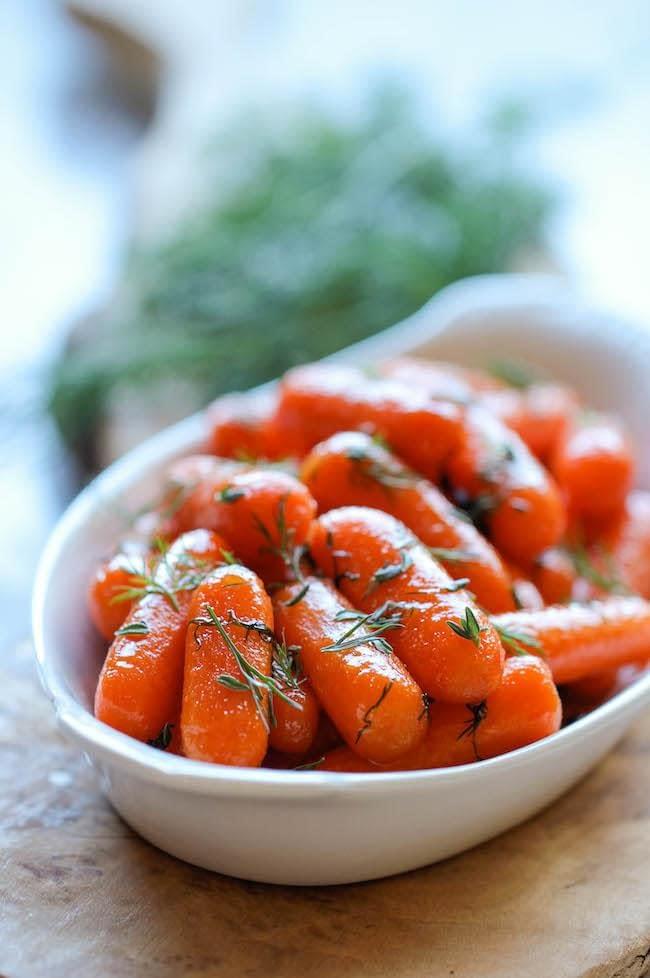 Ingredients
2 tablespoons unsalted butter
1 (16-ounce) bag Grimmway Farms Baby Carrots
2 tablespoons honey
2 tablespoons brown sugar, packed
2 teaspoons fresh dill
2 teaspoons fresh thyme leaves
Instructions
Melt butter in a large skillet over medium heat. Add carrots, honey,brown sugar, dill and thyme and gently toss to combine. Cook, stirring occasionally, until carrots are tender, about 15 minutes.*
Serve immediately.
---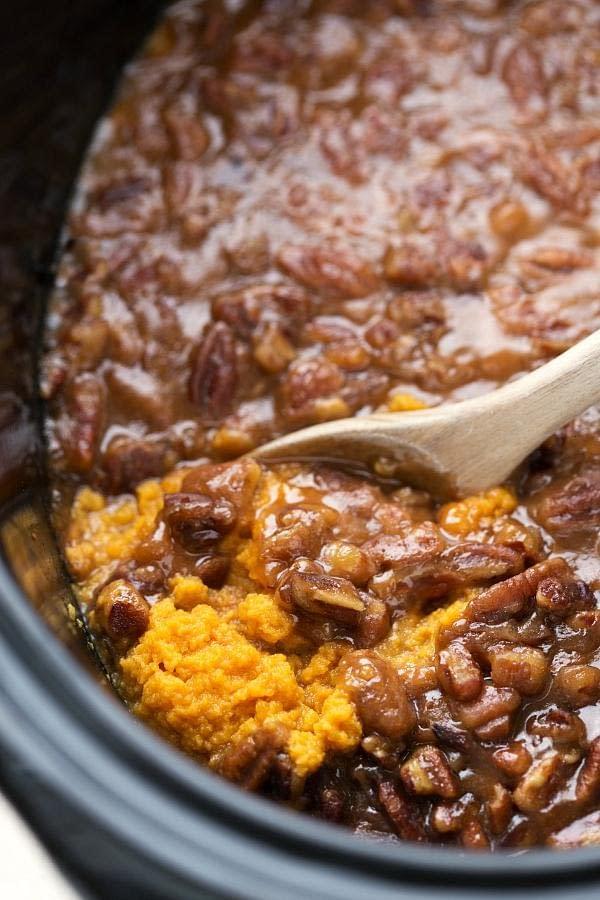 INGREDIENTS
2 (29 ounces each) canned sweet potatoes
1/4 cup butter, softened
2 tablespoons white sugar
Pinch of salt
2 and 1/2 tablespoons brown sugar
1 tablespoon orange juice
2 large eggs
1-2 teaspoons vanilla extract
1/2 cup milk, I used whole
Topping
3/4 cup pecan chips
2/3 cup brown sugar, lightly packed
1/4 cup white flour
1 teaspoon vanilla extract
1/4 cup butter, melted
INSTRUCTIONS
Either line your slow cooker with a disposable liner or spray generously with nonstick spray.
Drain the sweet potatoes. Add the sweet potatoes, butter, white sugar, pinch of salt, brown sugar, and orange juice in the slow cooker.
In a small bowl, lightly beat the eggs with a fork. Pour in the lightly beaten eggs, vanilla extract, and milk into the slow cooker.
Beat until completely smooth. (Alternatively, you can beat all of these ingredients in a different bowl).
Smooth the mixture with a spatula.
In a small bowl, stir together all of the topping ingredients. Spread the topping mixture evenly on top of the sweet potatoes.
Cover the crockpot and cook on high for 2 and 1/2 to 4 hours depending on how hot your slow cooker cooks.
---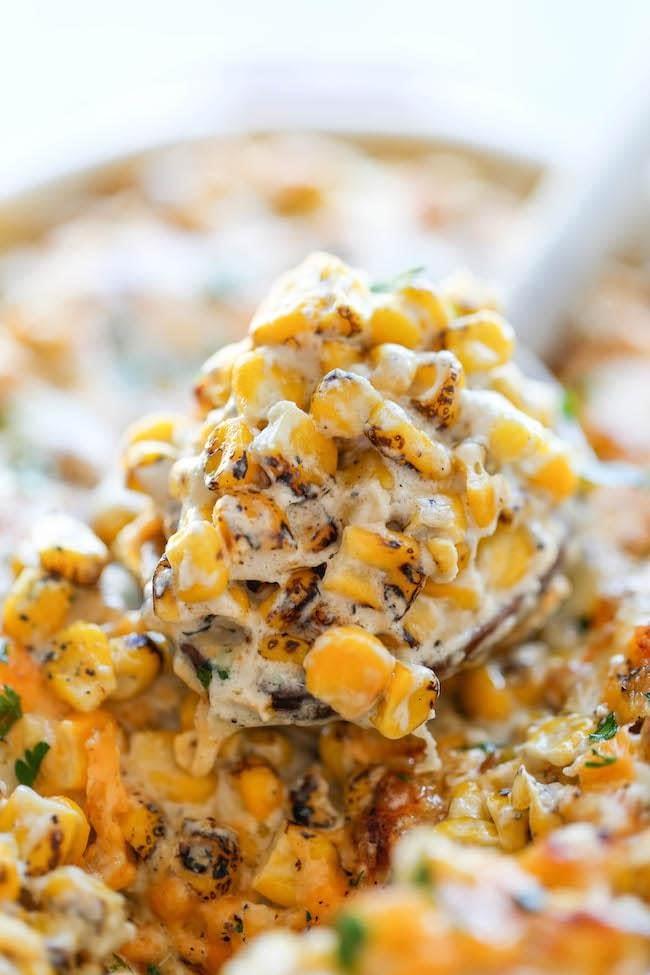 Easy Creamed Corn- Via Chungah from Damn Delicious
Ingredients
6 ounces PHILADELPHIA Cream Cheese, cubed
1/4 cup unsalted butter
3 cloves garlic, minced
1/3 cup milk
2 cups corn kernels, frozen, canned or roasted
1/2 teaspoon dried thyme
Kosher salt and freshly ground black pepper, to taste
1 cup shredded cheddar cheese
2 tablespoons chopped fresh parsley leaves
Instructions
Preheat oven to 375 degrees F. Lightly oil a 9-inch baking dish or coat with nonstick spray.
Combine cream cheese, butter and garlic in a medium saucepan over medium high heat. Stir in milk until smooth, about 2 minutes. Stir in corn until well combined, about 2 minutes. Stir in thyme; season with salt and pepper, to taste.
Spread corn mixture into the prepared baking dish; sprinkle with cheese. Place into oven and bake until bubbly, about 15-17 minutes.
Serve immediately, garnished with parsley, if desired.
---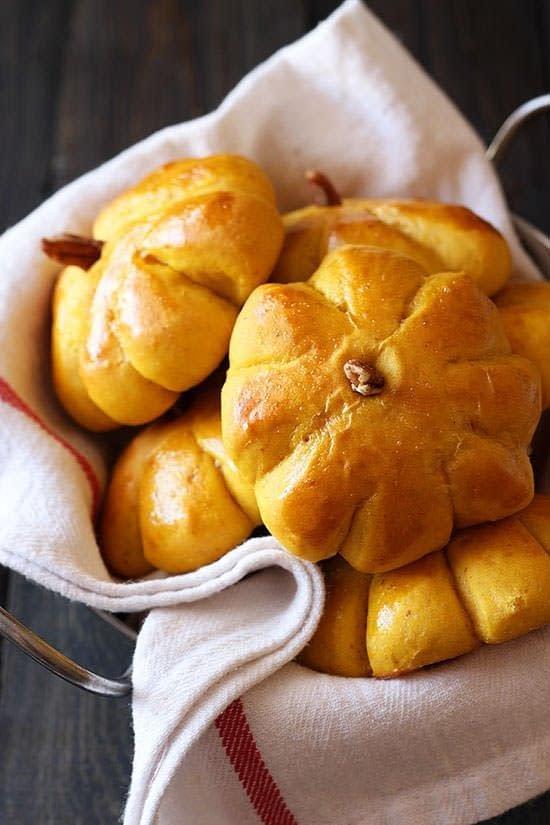 Pumpkin Bread Rolls with Cinnamon Butter- via Handle the Heat 
ingredients:
FOR THE BREAD:
1 packet (2 1/4 teaspoons) instant yeast
1 cup whole milk, scalded and cooled to lukewarm
1/4 cup granulated sugar
3 tablespoons (1 1/2 ounces or 43 grams) unsalted butter, melted 
1/2 cup (4 ounces or 113 grams) pumpkin puree
2 large eggs, divided
1 teaspoon salt
3 3/4 cups (16.88 ounces or 479 grams) all-purpose flour
Sliced pecan pieces, for the "stems"
FOR THE BUTTER:
1 stick (4 ounces) unsalted butter, at room temperature
1/4 cup powdered sugar
1/4 cup honey
1 teaspoon ground cinnamon
FOR THE BREAD ROLLS:
In the bowl of an electric mixer fitted with the dough hook attachment, stir the yeast, milk, sugar, butter, pumpkin, one egg, and salt until well combined. Gradually add the flour and knead on medium-low speed until the dough pulls away from the sides of the bowl. Turn off the mixer and let the dough rest for 3 to 5 minutes. Continue to knead the dough on medium-low speed for another 5 minutes, or until the dough is soft and smooth. If it seems too sticky, add more flour, 1 tablespoon at a time.
Transfer the dough to a large greased bowl. Cover the bowl with plastic wrap and let the dough rise until doubled in size, about 45 minutes to 1 hour.
Punch the dough down and turn it out onto a lightly floured work surface. Divide the dough into 15 equal pieces and shape into balls. Use the palm of your hand to flatten each ball slightly. With a pairing knife, cut 8 slices around each ball, being careful not to slice all the way into the center, to make the pumpkin shape. Cover and let rise until doubled in size, about 45 minutes to 1 hour.
Meanwhile, preheat the oven to 350°F. Using the wooden end of a small utensil or your finger to poke an indentation in the center of each roll to create a space for the "stem." In a small bowl beat the remaining egg with 2 teaspoons of water and brush all over the rolls. Bake the rolls for 15 to 20 minutes, or until golden brown. Place a sliced pecan piece into the indentation of each roll.
FOR THE CINNAMON BUTTER:
In the bowl of an electric mixer fitted with the whisk attachment, beat the butter for 30 seconds, or until pale in color. Add the powdered sugar, honey, and cinnamon and beat until well combined, light, and fluffy, about 1 to 2 minutes. Serve immediately or store, covered, in the fridge for up to 1 week. Bring to room temperature before serving.
Serve the rolls warm with the cinnamon butter.
Leave a Comment