Career Fair successful despite bad weather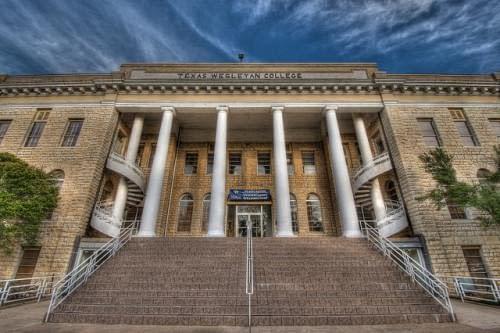 Despite bad weather, Texas Wesleyan held its annual Career Fair on Tuesday.
Director of Career Services Robyn Bone was responsible for facilitating the event and making sure students and employers were aware of the event being held at Lou's Place and the Baker Building.
"Despite the rain, which I though was going to make it drastically different, we usually average between 150 and 185 students, and we had about 140 total despite the weather," Bone said.
Senior marketing major Anthony Guzman attended the career fair because he found the list of employers who would be there interesting.
"Balcom Agency was the only agency I talked to, because I want to work for an agency," Guzman said. "I talked about what I wanted to do and they recommended me to go ahead and submit my resume and cover letter online for a job"
Guzman has gone to career fairs in the past and is a member of Social Media Club of Fort Worth, an organization for people interested in social media and marketing.
"Thankfully the Career Fair has a wide variety of businesses so that someone from every major has someone to talk to about their industry," Guzman said.
Jordan Boone, a senior general business major, attended the career fair to make connections and see what was available in the market.
Boone said he went to six different booths looking for work in finance and retail.
"The career fair is an experience that every college student should delve into," Boone said.
Boone said he talked to potential employers Open Road Lending and Modern Woodmen Fraternal Financial and hopes to hear back from them after giving them his resume.
Rick Clements, field supervisor of Alternative Certification for Teachers, had a booth set up recruiting prospects to be teachers.
Clements said this is the fourth year the organization has had a booth at Texas Wesleyan.
"We continue to come back because of our success on the campus and we enjoy coming here," Clements said. "We think we've got two or three candidates interested in our program."
Greg Hammond, vice president and general manager of Baxter Clean Care, had a booth set up at the fair recruiting for outside sales reps.
"We're probably one of the fastest growing facilities supplies company in North Texas and with that growth comes the need for new employees," Hammond said. "We thought what better way than to participate in the career fair at Texas Wesleyan."
Hammond also said that Baxter Clean Care is looking for graduates or upcoming graduates who are looking for a position where they can run their own business.
"Our whole purpose is to provide the most innovative custodial solutions in the business to business market," Hammond said.
Even though three employers couldn't make it out due to inclement weather, Bone said she was pleased with the turnout and that employers said that the student turnout was better than they expected.
 "Any company willing to hire our students, we will make it work," Bone said. "It's always been an all major Career Fair."
Leave a Comment