Slabach focuses on kindness at convocation ceremony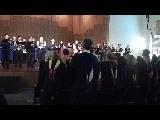 As a hymn rang through Nicholas Martin Hall, members of the Texas Wesleyan family gathered Tuesday afternoon for the opening convocation ceremony for the university's 126th academic year.
Students, staff, board members and faculty members gathered to celebrate the start of a new semester, and to listen to speech from university President Frederick G. Slabach.
Dr. Gladys Childs, interim chaplain, opened the convocation with a prayer of hope for the new semester, and introduced the Wesleyan Chamber Singers, who performed the Alma Mater with help of Dr. Jerome M. Bierschenk, director of choral activities.
After the performance, Dr. Allen Henderson, provost and senior vice president, introduced new and old faculty members to the audience.
Dr. Pam Rast, faculty chair, told the audience how she is continually impressed by the thoughtfulness of the faculty members and professors.
With so many professors eager to teach, Rast said, more students will become excited to learn and to follow their dreams.
"Students don't care how much you know until they know how much you care," Rast said.
Student Government Association President Zahraa Saheb gave the audience her simple tips on how to be successful and to have a great year.
"My first tip is to simply fly. Why stand on the ground, when you can soar? Why be less, when you can be more?" Saheb said.
Saheb talked about the importance of being fearless, fighting for what you want and simply being kind to one another.
Slabach then addressed the school with words of welcome and excitement for the new semester.
He informed the audience of new changes, like blue light emergency lights, the new football team beginning conference games in 2017, new classrooms constructed in the library, and the new West Express dining for students. He also addressed the loss of reference librarian Kate Wiant.
Slabach spoke on the hatred in the world today.
"Hate is like a spider's web," Slabach said. "A touch at any point sends vibrations, which the sleeping spider leaps to the point of contact and injects its numbing poison into the body. It does not matter that I did not intend violent consequences. I touched the web of hate and the damage is done. Words matter."
Slabach talked the mission of the university and stressed the importance of being kind to one another.
"I have been thinking a lot about our mission and purpose," Slabach said, "perhaps since the university family has experienced so much personal loss over the past few months. I believe the purpose of life is to love, to learn and to serve, which is similar to the mission of our university here, and the world needs it."
Leave a Comment