Theatre Wesleyan takes the plunge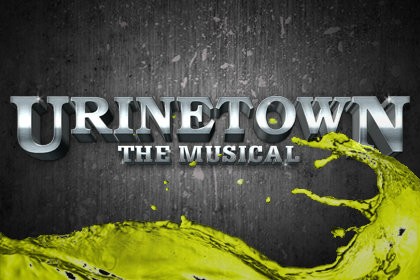 Theatre Wesleyan will continue its 2016-17 spring season with the Tony Award-winning musical comedy Urinetown: The Musical, which opens on April 20.
Written by Mark Hollman and Greg Kotis, Urinetown will be directed by professor of theatre Connie Whitt-Lambert, with musical direction by Kristin Spires, choreography by Elise Lavallee and assistant direction by Jacob Rivera-Sanchez.
According to a Theatre Wesleyan press release, Urinetown is a hilarious musical satire of the legal system, social irresponsibility, bureaucracy, municipal politics and musical theatre. The production is the final show of TW's season.
"In a Gotham-like city, a terrible water shortage, caused by a 20-year drought, has led to a government-enforced ban on private toilets," according to the press release.
The musical begins with citizens being forced to use public amenities regulated by a malevolent company that profits by charging admission for one of humanity's most basic needs: using the bathroom. Tired of the overbearing government, a brave citizen, Bobby Strong, revolts against the company and leads a revolution to free the city, according to mtishows.com.
"This production is full of satire," Whitt-Lambert said.
The musical pays homage to and pokes fun at other award-winning productions such as Les Miserables, Evita and West Side Story, according to broadwayworld.com.
Whitt-Lambert said audiences can expect Theatre Wesleyan's production to be full of laughs and high energy.
"It's an unusual topic written as an homage to the classic musical and includes a bit of satire," Whitt-Lambert.
Whitt-Lambert also said Theatre Wesleyan decided to do a contemporary large-cast musical since they had a small musical last year.
"Our department tries to cover a variety of styles, genres and eras when we select our entire season, based on the needs of our theatre students." Whitt-Lambert said. "We've never done this musical before."
Jalan Calloway, a theatre fan and previously a liberal arts major at Trinity Valley Community College, said when she sees a production like Theatre Wesleyan's she is attentive in how characters will fulfill their roles with music on stage.
"I love any story that can pull me in," Calloway said. "Musical theatre does that for me by giving me music to focus on with the story. "
Calloway also said she thinks Urinetown is a perfect production and depiction of modern American society.
"I think it's because the way you have to pay to use basic everyday needs in Urinetown mirrors the way you have to pay to be seen by quality medical personnel," Calloway said. "How you have to pay seemingly extraordinary prices for food and drink and to go on in life is a hefty price tag. And the big dogs can see these people struggling but don't seem to give a damn as long as their pockets are lined.
"On top of that, when people cannot afford to pay and try to bargain or beat the system, they are punished with ill health and actual punishments for trying to survive and live comfortably."
Calloway applauds the ridiculous humor involved in the show.
"It seems like something that could go either a humorous or serious direction," Calloway said. "I love a show with revolutionary with themes of anarchy and rebellion against the system that the play has and romances that will make me laugh and cry in the same span."
Urinetown:The Musical runs April 20-23. Shows are at 7:30 p.m. except for April 23, when there will be a 2 p.m. matinee. All performances are at the Thad Smotherman Theatre. Tickets are $10 general admission and $5 for Wesleyan faculty and staff, as well as seniors, and available at 817-531-4211 or via the Theatre Wesleyan website. All Texas Wesleyan students can receive free tickets through the Student Theatrical Experience Fund (STEF).
Leave a Comment