P!nk's "What About Us" video focuses on big themes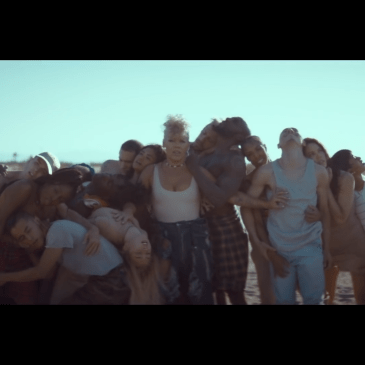 As a long time P!nk fan, "What About Us" really struck a chord with me. Initially, on the surface, this song may sound like your typical relationship song with lyrics like "what about love/trust/us?" However, when you watch the music video and listen more closely, the true message is revealed.
I loved the story behind the music and when I looked into interviews about what the writers of the song had to say I was even more sold on its greatness.
P!nk's official music video for "What About Us" was released on Aug. 16 on YouTube. It is the lead single for her seventh studio album "Beautiful Trauma," released on Oct. 13 by RCA Records. The writers behind the songs were P!nk, Steve Mac, and Johnny McDaid. Mac was the also the producer; he's been active in the business since the '90s and has worked with several other big names in music.
In an interview with Billboard, McDaid was asked what the meaning of the song was, and he left it pretty vague.
"Explaining what a song is about is kind of a dangerous thing for me because it takes away the possibility of a song becoming whatever it is to somebody that listens to it. From my perspective the creation of it is about looking into yourself, interacting."
When further pressed for meaning, McDaid talked about how he liked the question proposed in the song.
"And I love the question in the song; the fact that the song is a question, it's not an instruction. I think more questions, less answers because all of us are looking for answers and we think that that's the end of everything and it's not. The questions are where the heat and energy is. We need to question more, and I love that the song's premise is a question."
From my interpretation, P!nk boldly captures the confusion of the people in our current political environment.
Lyric Interpretation
Introduction Scene
The beginning of the video opens with the news message of "We stood up and made the tough choices needed to preserve our way of life," which implies some choices were made with not everyone in agreement. Then it has the same announcer voice saying how "The government exists to protect our rights and serve our interests," which could be interpreted as those who control the government control everything, leaving the masses with few rights and ways to pursue their desires. Then the announcer seems to change his tone to something more serious when saying "Every generation will be judged and so will we" as if it was an attempt to scare people into conforming to what society believes to be right. Finally, he ends his announcement with, "God bless America" in a tone that seems to say good luck.
While the announcement in the intro of the video is playing, there is the sound of crowds chanting "Shut it down" with its mention of government, which implies protest of the government's actions. Also, there are lots of other voices and phrases buried under the clear, easily heard ones. The multiple voices at once portray a layer of confusion and lack of good communication between the people, government, and media. With the rise of fake news and shortage of cohesive opinions in government, I think this illustrates America's state of confusion toward today's politics before the song even starts.
Song Beginning
We are searchlights, we can see in the dark
We are rockets, pointed up at the stars
We are billions of beautiful hearts
And you sold us down the river too far
With this chunk of lyrics, I've arrived at two different interpretations. The first one is that the people can be "searchlights" that can find out their questions within the "dark" confusing half-truths of politics. The people can also gather together to form "rockets" of protest and change at the "stars" or society. Everyone has their own passions unique to them is interpreted from "billions of beautiful hearts." Finally the "you sold us down the river too far" could be thought of as the government made people conform to the point of where all those passions and originality got washed away.
What about us?
What about all the times you said you had the answers?
What about us?
What about all the broken happy ever afters?
What about us?
What about all the plans that ended in disaster?
What about love? What about trust?
What about us?
I see the chorus of the song as the voice of the masses toward the government. All the different groups of people are asking what the law is doing for them. People are asking for the solutions for their issues that they were promised by whatever politician they elected into office. They're asking about what is being done about already terrible endings and terrible paths. People want to know what happened to the faith and trust that they put into the government. They want to know what is being done for them.
Song Middle
We are problems that want to be solved
We are children that need to be loved
We were willin'; we came when you called
But man, you fooled us, enough is enough, oh
What about us?
Everyone has their own problems that they want to be solved by the law. The future generation needs love and not alienation for their differences. People were willing to gather for a cause, but when the cause fails on their promises the supporters feel betrayed. Therefore they question what was in it for them, after all the support they gave.
Song End
Sticks and stones, they may break these bones
But then I'll be ready, are you ready?
It's the start of us, waking up come on
Are you ready? I'll be ready
I don't want control; I want to let go
Are you ready? I'll be ready
'Cause now it's time to let them know
We are ready, what about us?
This portion of the song seems like a call to action. It first comforts people with the fact that obstacles may get in their way, but their spirits remain unbroken. It seems to prompt the question to people of whether they're ready to come together and take control of their lives. It inspires people to take an active role in learning and questioning everything needed to make the changes they desire.
What about us?
What about us?
What about us?
What about us?
What about us?
What about us?
What about us?
The ending on the mantra of "What about us?" stresses the question of what is being done for people by the government and what the people are doing for themselves. It signifies the forgotten and oppressed groups looking for their stake in things.
Conclusion Scene
After the song, the announcer's voice comes back yelling "Now is the time to prepare our sides" and "Now is the time to protect our community." These phrases mean that the current politics may look bad now, but there's still time to fix it. It's stating that whatever problems a person may have with the law there is time for them to gather their side and root their cause into their communities. People can prevent the impending chaos if they come together now and make a plan.
Image Interpretation
Beginning Scenes
It opens in an urban area where it like the police or whatever authority is on the hunt for people. It creates this dark sci-fi vibe of a society in the beginnings of collapse or a massive upheaval. It shows all different groups of people, couples, and families in various states of confusion, panic, and despair.
Before the lyrics even start, P!nk stares into the camera with a blank expression as her hair is shaved off. The shaving could symbolize conformity to society or a demeaning action society has placed upon her.
 Middle Scenes
The video shows people on the run in cars, hiding out in parking lots, and lingering in a late-night diner as the song starts. It's representing the people seemly forgotten by society that still have to live on even though life isn't working out the best.
All the people are dressed in casual traveling clothes like sweatshirts and tank tops and things. It shows that they're on the move from something. Whether they're running from society or trying to solve their own problems, the video leaves it up to viewers to interpret.
There's also a point where the people break into dance. The moves start inward and then spasm outward as if they're trying to grasp some answer.
Ending Scenes
There seem to be all different groups of people portrayed with all different issues, as shown with the two male lovers on the couch, the single man alone with his pictures of loved ones, and the girl hanging out in the middle of the night at a diner. Though all from different walks of life, their paths converge as one as they're all on the run from the monster society has become. They take their final stand gathered together in a dessert as authority closes in on them. Will it be enough? is the question it seems to stress along with the importance of community: a joint of effort to survive together and help each other out through rough times.
In conclusion, P!nk's "What About Us" could be interpreted as a call to the people to come together and get involved in their lives. Currently, we live in a society where were let politics be confusing to us and we let the politicians elected to do whatever once in office. P!nk's trying to say whatever issues you have with the current government can still be fixed, if people work together and use their voices correctly to fix issues. What those issues are P!nk leaves it vague enough for it to apply to the various issues of whatever group wants to listen and act.
Leave a Comment