Kin Kin offers authentic Thai food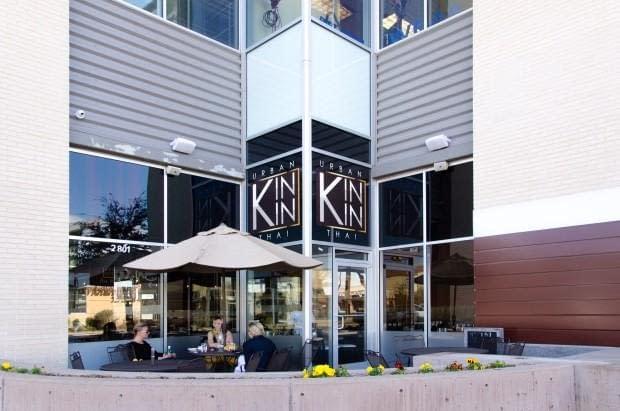 Are you tired of eating the same old food all the time? Do you find yourself going to the same places and ordering the same thing?
Chinese, Mexican, Italian, seafood and American restaurants seem to be the go-to options when dining out.
Well, it's time to branch out and explore something new and exotic. I found the best Thai food in town!
Deep in the heart of Fort Worth's flourishing West 7th district is Kin Kin Urban Thai, which offers authentic Thai dishes with just the right amount of flavor and spice.
Executive chef and owner Eddy Thretipthuangsin has done an amazing job of presenting traditional family recipes from Thailand.
The unique and non-Westernized menu, alongside the restaurant's atmosphere and aroma, made me feel like I was in Thailand again. I relished every bite.
On my trip to Thailand this summer, I drank a fresh coconut almost every day and tried coconut soup and ice cream for the first time. I was really looking forward to a fresh coconut and some homemade coconut ice cream to take me back, but Kin Kin does not serve either.
But I still got my coconut fix without those two items. And I got the chance to venture out from my usual dining choices.
My boyfriend and I decided to share everything since we wanted to try a variety of items. Luckily, it was more than enough and allowed us to stay within our college budget.
The food won my heart after starting my first course of tom kha chicken soup, which consisted of coconut broth, lemongrass, artichoke, galangal and kaffir lime.
It was delicious. I loved how the nice coconut flavor complemented the other ingre
dients in the soup.
It was a nice change to my familiar soup choices.
We also ordered handmade pork and shrimp dumplings as an appetizer, which came in an order of six.
Although something I might not typically order, I thoroughly enjoyed them. They reminded me of spring rolls because they had similar texture, but were excitingly different because of the meat inside.
For our main course, we ordered chicken pad thai, which consisted of stir-fried rice noodle, egg, bean sprout, scallion, roasted peanut, tamarind sauce and a side of sticky rice.
It was just like the pad thai I had in Thailand this summer. The noodles were amazing. It was like eating chicken lo mein, but ten times better.
The sticky rice, something fun and different, paired nicely with the noodles.
Surprisingly, we still had room for the best part of dinner, dessert, which is my favorite course.
We ordered grilled bananas with a coconut honey glaze. Yes, I ordered something else coconut flavored. I loved it. The bananas were very sweet and tropical.
The service and food were outstanding. Service always plays a big role in my dining experience, since I am a server myself. It often determines if I go back to a place.
The atmosphere was modern and the perfect fit for date night.
I highly recommend Kin Kin to everyone. You need to experience the unique flavors found in the dishes at the restaurant, which is located at 2801 West 7th Street. It's a great place to try something new and actually like it.
What we ordered and our total bill:
Handmade dumplings (6) $6.95: choice of pork & shrimp, chive & mushroom or duck served with green cabbage, soy sauce
Tom kha chicken soup $5.25: coconutbroth, lemongrass, artichoke, galangal, kaffir lime
Chicken pad thai $10: stir-fried rice noodle, egg, bean sprout, scallion, roasted peanut, tamarind sauce
Side of sticky rice $2
Grilled banana $7.00: grilled banana, coconut honey glaze
Overall total for 2: $36.75 + $8 (tip)
Leave a Comment