Wesleyan receives top ranking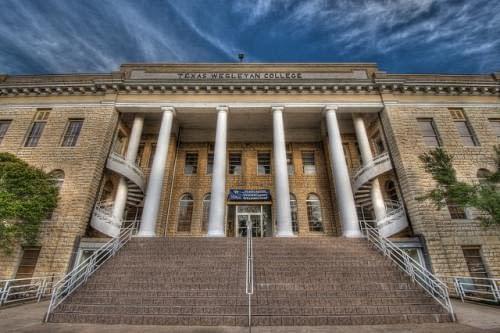 Earlier this month, U.S. News and World Report placed Texas Wesleyan in the top tier of best colleges in the western United States, and senior psychology major Caitlyn Carey feels like the value of her degree just went up as a result.
"I think people want to go to schools that have made a name for themselves," Carey said. "I think (the ranking) helps us make a name."
The ranking put Wesleyan at 50th out of 141 schools in the Regional Universities West category. The ranking was based on graduation and retention rate, undergraduate academic reputation, faculty resources, student selectivity, financial resources, graduation rate performances, and alumni giving rate, according to colleges.usnews.rankingsandreviews.com.
San Antonio's Trinity University was the top school in the region. Wesleyan tied with California's La Sierra University, according to the site.
This is the seventh year in a row Wesleyan has received the top tier ranking, according to txwes.edu.
Darren White, associated vice president of marketing and communications, said the ranking "confirms what we know to be true and we're working to do, which is to provide that experience for students when it's about them and it focuses on them first."
White believes Wesleyan is being highlighted due to small undergraduate class sizes and the school's academic reputation.
"I think that students want to go to a school where they feel like they're getting the quality education and they are getting that quality education," White said. "I think it (the ranking) makes them feel good about the education they're getting."
Like White, Carey said that a major part of Wesleyan's charm is the people on campus who are willing to help students.
"We have really good professors," Carey said. "In the psych department everybody cares and everybody wants to help you reach your next level whether that be grad school or in the workforce everybody's there to help you. It's a mentorship program rather than just in a class of 300 people."
New hire George Apecechea, a new hire in the Academic Success Center, believes the smaller classes, programs offered, and services provided by Wesleyan help create a great environment both for students to learn at and him to work in.
"I think that the combination of all of those things makes for a great experience," Apecechea said. "It's definitely one that you can single out in the sea of colleges, institutions, and universities. I think it's unique and that's why it's being highlighted."
Leave a Comment