SGA budget cut for fall 2017
Texas Wesleyan's Student Government Association will be working with $50,000 less this semester than last semester, Treasurer Clarissa Murillo announced at the Sept. 7 meeting.
Due to the budget cuts, SGA President Zahraa Saheb said SGA will probably no longer be able to fund things like the travel abroad scholarship, conferences and certain events on campus.
 "We are going to be focused towards events and being the voice of the student body whether that is from forums, student surveys, kind of just talking back with the student body versus funding a lot of those things," she said.
Saheb said the decision to change the budget came from the Wesleyan administration.
The decision was made after the Vice President for Student Affairs and Vice President for Finance and Adminstration conducted a review of the SGA budget, according to an email from Vice President of Student Affairs and Dean of Students Dennis Hall.
  "An outcome of this review was a new structure with dedicated funds for four areas to better support our students," Hall wrote. "In addition to the Student Government Association (SGA), fees now support the Student Development Fund, Signature Events, CampusLabs and Intramurals.  While there is a noticeable change to the SGA budget, the same amount of funds will be available to support student activities as before, though the process by which those funds are dispersed has changed. "
Saheb said the new SGA budget is more of a redistribution of funding than a budget cut and that the money will be going to Student Life. Student Life will set up student advisory boards and will oversee hearing student's requests.
 "For example, if you want to go to a conference, instead of going to student government and having the bill presented here," she said, "you will have to go to Student Life now under that fund for conferences and a student advisory board will hear your case, the conference information and will make recommendations to Student Life about funding that conference."
At the Sept. 7 meeting, the first general business meeting of the semester, Murillo, senior theater major, presented SGA with the amount organization members will be paid this semester; in other words, their stipends.
"Since our budget has decreased significantly, I feel like it is important for us to come to an agreement on the stipends," Murillo said. "If you can see the total right now, we are spending on stipends is about $17,000."
Because last semester's budget was more than $88,000, $17,000 was not a big deal, Murillo said, but if SGA continues with that, the stipend takes up more than half the budget.
"That is quite a lot that we are paying ourselves," she said. "So, there are options where we can decrease by 10, 20, 30, 35 percent."
The representatives saw the stipends for the first time at the meeting, Natural and Social Sciences Representative Alyssa Hutchinson said, and since it felt like a lot of information being thrown at them at once, they tabled it for the next meeting.
"We have already discussed that with the budget cut, no matter what we do, even with the stipends, we still need to think about some fundraising options," said Hutchinson, a sophomore biology and psychology major.
Hutchinson said SGA was given the news of the new budget two to three weeks before school started in an email from SGA Budget Manager Eugene Frier.
"It was a lot of shock there," Hutchinson said.
She said in the summer SGA attended workshops to learn procedure and how to run everything smoothly, and when they received the email it was as if everything they learned was for nothing.
"I just want students to kind of understand that we are trying our best to learn, and trying our best to go through this," she said.
Saheb said SGA is still adjusting to the new budget and planning for the year.
"We are trying to set up how SGA is supposed to look like," she said. "We are reevaluating our mission and our understanding of how to serve the student body and with less money; that is going to look different this year."
Faculty advisor and biology professor Dr. Bruce Benz said he anticipates SGA will make the necessary decisions and move forward with accomplishing tradition.
"I think it will channel their efforts and make them as productive as they have been in the past or more so," he said.
Similar to Benz, Hall believes the change will help the SGA become a stronger organization.
"Our student life is thriving and I love the energy on campus. Serving our students and student organizations is our top priority and I look forward to watching them grow and flourish this year – especially the new Student Advisory Board and Student Programming Board," Dennis Hall, VP for Student Affairs, wrote. "Likewise, I am excited for our outstanding SGA, which will continue to play an extremely important role as leaders on our campus. As they move forward, I am confident they will continue their tradition of successfully fulfilling their mission 'to interact with the administration, faculty, staff, and students on behalf of the student body for the benefit of the students and student life on campus."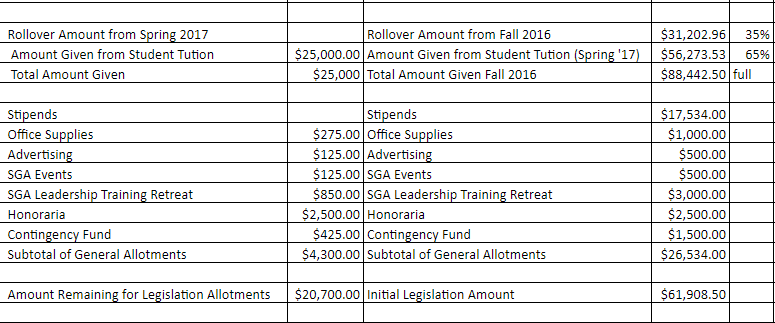 Leave a Comment