Former volleyball player accuses head coach of discrimination
A former Texas Wesleyan volleyball player has accused head coach Priscilla Morgan of kicking her off the team because she is a lesbian.
Brittni Mohle, a sophomore who had played for Texas Wesleyan since her freshman year, said Thursday that Morgan removed her from the team on Dec. 6, 2017, because of her sexual orientation.
Mohle said she was also told by a teammate that Morgan was kicking her off the team because of her sexual orientation. Mohle made the claim Tuesday in a tweet, which has been retweeted 1,093 times as of Thursday. Mohle declined to name the teammate she quotes in her tweet.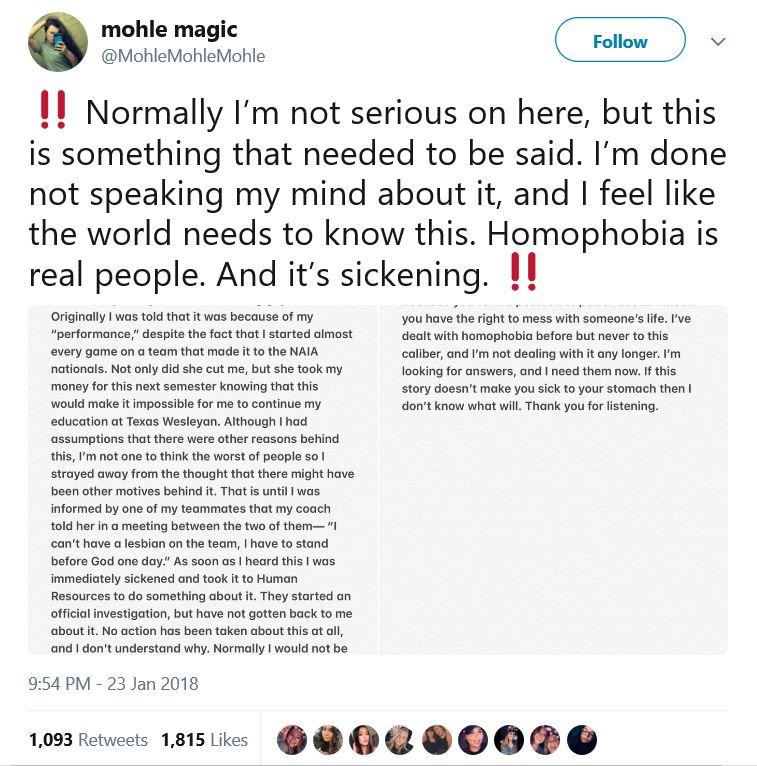 Mohle said Morgan never said anything homophobic or disrespectful directly to her.
"You know when someone is looking at you like you are disgusting," she said. "You know when someone looks at you like that–you feel it in your heart." Mohle also claims she heard Morgan make "racist" comments, which made her and her teammates uncomfortable. She did not say what the comments were.
Mohle's tweet states that during that Dec. 6 meeting, Morgan said she was kicking her off the team "because of my 'performance,' despite the fact that I started almost every game on a team that made it to the NAIA nationals. Not only did she cut me, but she took my money for this next semester knowing that this would make it impossible for me to continue my education at Texas Wesleyan."
"I was a starter," Mohle said Thursday. "I was the fourth leading stat. I was fourth in points. She told me the reason I got cut was because of my performance, but everybody that I've ever talked to has told me that doesn't make sense because I was a big performer. I made it to nationals, and I was starting on that team."
Mohle said that she is coming forward now both for herself and the other women on the team.
"This is about me wanting to get justice for this, but also for my team," she said.
Mohle said she complained to Texas Wesleyan's Human Resources Department in December about being cut from the team because of her sexuality. She said the teammate who told her about Morgan's alleged remarks had also talked to Human Resources.
Mohle said she has not heard back from HR, which is why she sent out Tuesday's tweet.
Director of Communications Ann Davis said Thursday that an email was sent to students from Vice President of Student Affairs/Dean of Students Dennis Hall, addressing the issue and affirming Texas Wesleyan's support of diversity and inclusivity on campus.
A separate email was sent to Texas Wesleyan faculty and staff from Associate Vice President of Human Resources Angela Dampeer with a similar message on Thursday. In the email sent to students Thursday afternoon, Hall wrote that, "Yesterday, allegations of discrimination against a University employee flooded our social media. Because this is an ongoing investigation, we can't share information regarding the investigation with you."
Hall also wrote that Wesleyan takes discrimination "very seriously."
"Really all we can say is it's an ongoing investigation," Davis said. "I hope that you see that here at Texas Wesleyan we're diverse and inclusive, and we really take pride in that."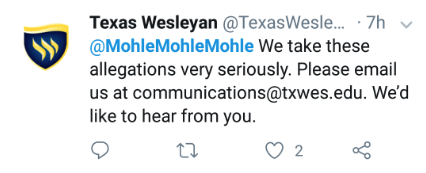 Coach Morgan did not respond to requests for comment left after hours on her cell phone and office phone.
Athletic Director Steve Trachier did not respond to requests for comment left after hours on his office phone and campus email.
Morgan became the head volleyball coach in February 2017, replacing Kimberly Weaver, according to ramsports.net. Before that she was head coach at University of the Southwest for two years. She played at Belhaven University in Mississippi.
As more information becomes available the story will be updated.
Leave a Comment