Rams ranked sixth in perfect game poll
Texas Wesleyan's baseball team starts the season ranked sixth in a nationwide coaches' poll.
With a record of 47-15 in 2017, the Rams place just behind the likes of Faulkner University and Oklahoma City University in the Perfect Game Poll, according to perfectgame.org. The poll includes all NAIA and NCAA Division II and III teams.
"We're obviously excited to be considered that high in the pre-season," head coach Mike Jeffcoat said. "We're very excited about the offense and the defense, and if the pitching comes through for us, I think we'll have a really good season."
Jeffcoat believes the Rams earned the rank from both Texas Wesleyan's 2017 success and having recruited talented successful players for 2018.
"Between the success we had last year and the recruits we were able to bring in this year, the poll recognized [that we had talent]," Jeffcoat said.
The Rams opened the season over the weekend by taking two of three games against Bethany College. Senior Stephen Yancey, who began the season with a 1-0 victory on Saturday, was named the SAC Pitcher of the Week for Jan. 29-Feb. 4, according to ramsports.net.
Yancey, who Jeffcoat said can pitch up to 95 mph and has a chance of being drafted by a professional team, named great chemistry and teamwork as the reasons for the team's poll ranking.
"I think it started from about two years ago when we got a few players from transfer schools," Yancey said. "We were already playing pretty much as a perfect team; all we had to do was work out a few kinks. We had great pitching all throughout the year, and when we were doin' bad, even if [the game] was like four and 13, offense would pick us up."
Yancey, a business major, identified third baseman Luis Ramon, shortstop Caden Williams, and outfielders Kiki Menendez, Julio Ibarra and Blake Seaton as being leaders last season.
"Even though they were the core players in production, I think [a particular leader] on the field we had was Casey Moses," Yancey said. Moses had a batting average of .328 and slugging percentage of .431 in 2017, according to dakstats.net.
Criminal justice major and senior pitcher Dusty Cloud said the team found out about their poll ranking via social media.
"Everybody saw it on twitter and online, but I think it was like a team thing," Cloud said. "Ranking doesn't mean anything right now, it's not about where you start out, but where you finish. Last year … we were one game away from winning the regional and going to the World Series in Idaho. Last year was our coming out party to put our names on the map—it made everybody realize we're not to be taken lightly, and we compete with the best of them."
Yancey identified comradery and key leadership as two forces that drove the team to great lengths last season. While the team believes this formula won't change, unfortunately, a lot of players who brought that key leadership in 2017 will not be returning to play.
"We lost some guys that would've helped us get to the World Series," Cloud said. "But I think we have some guys that are ready and know that they have to step up and be ready."
Some of the non-returning players include Roman, Williams, and Seaton; senior catcher Garrett Crook (who Yancey identified as being great in the middle of the field); junior right-hand pitcher Andrew O'Brien and senior right-hand pitcher Alex Lopez, amongst others.
"We still have a good hitting team and we still have a good defensive team, but we're gonna be a little short," Jeffcoat said. "We'll just need some newcomers to step up for us."
Jeffcoat named senior right-handers Alex Davis and Brad Sugg as two new Rams pitchers who he expects to perform well this season. Some other newcomers Jeffcoat named include Corley Huffstickler; Jacob Barfield; Donnie Lopez; Jason Jones; and Cory Gallegos.
Barfield, a senior psychology major, transferred from University of Houston in the fall and says he is looking forward to aiding the Rams in another run at the national tournament.
"The biggest challenge we will have this year is to overcome everything we have been through before the season has even started," Barfield said.
Barfield is prepared to take the skills he acquired from the NCAA to Sycamore Park.
"We all come from different backgrounds," Barfield said. "We all have our stories and the reasons why we are here. If we can learn to love each other, embrace our stories, understand each other, and do what we need to for one another, we will do something very special this year."
Barfield is not the only transfer excited to join the Rams. Jones, a senior organizational leadership major, transferred from MidAmerica Nazarene University in the fall along with Barfield and is expected to pose a threat to opposing teams at the plate.
Jones batted .308 with 36 home runs and 130 RBIs in his last season at MidAmerica. He was also an NAIA All-American his junior year after batting .348 with 20 homeruns and 61 RBIs, according to RamSports.net.
"I think everyone's team goal is to win the World Series," says Jones. "Sometimes you have a team that will have an easy route to the World Series, then sometimes you'll have a team that needs every run to win a game, and those are the teams that have a lot of success because they have something to prove and a reason for teams to fear them as the underdogs which we are known as."
Some returning players Jeffcoat said would need to deliver once again, besides Yancey, are senior outfielders Menendez and Ibarra. Parker Robinson, a junior exercise science major, is confident that the Rams' pitching staff will be able to step up this season.
"Losing some guys in the fall and knowing that we were all going to have to step up and play a bigger role to help the team get the W has been the biggest challenge for us so far," Robinson said.
Yancey thinks the Rams are up for the challenge.
"Due to all the players we've lost, I feel like, it's gonna be a challenge," Yancey said. "We're a little bit thinner in the pitching staff, but we still have a good offence."
Besides OCU, teams Jeffcoat said will put the Rams to the test include LSU-Alexandria; LSU-Shreveport; and Oklahoma University of Science and Arts.
"We lost some guys that could've helped us, but that just means guys gotta step up," Cloud said. "We're gonna surprise a lot of people by the way we come out and compete. I feel like we're gonna have a great year."
The Rams face Jarvis Christian College this Friday and Saturday at Sycamore Park. Friday's game starts at 2 p.m.; the Saturday doubleheader starts at noon. For more information go to ramsports.net.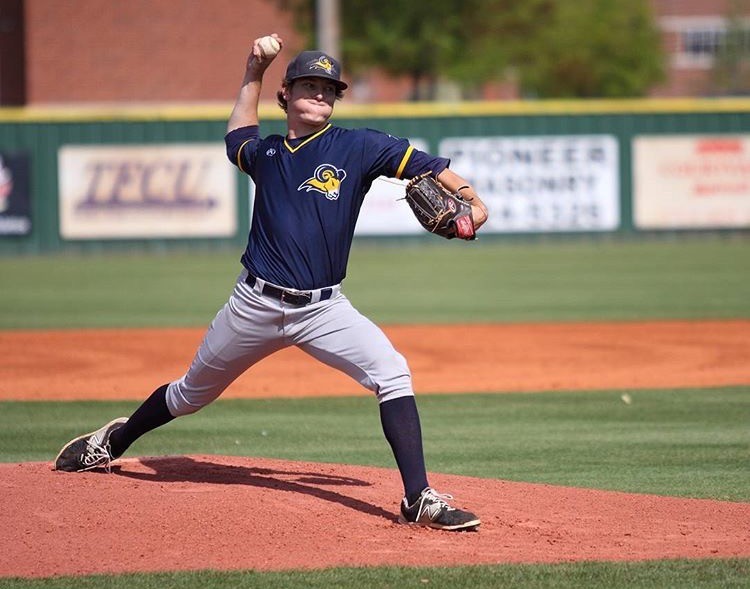 Leave a Comment