Hutchinson leads her first SGA meeting
Three bills were proposed and two were passed at Friday's Student Government Association meeting.
It was Alyssa Hutchinson's first meeting as president, replacing Zahraa Saheb.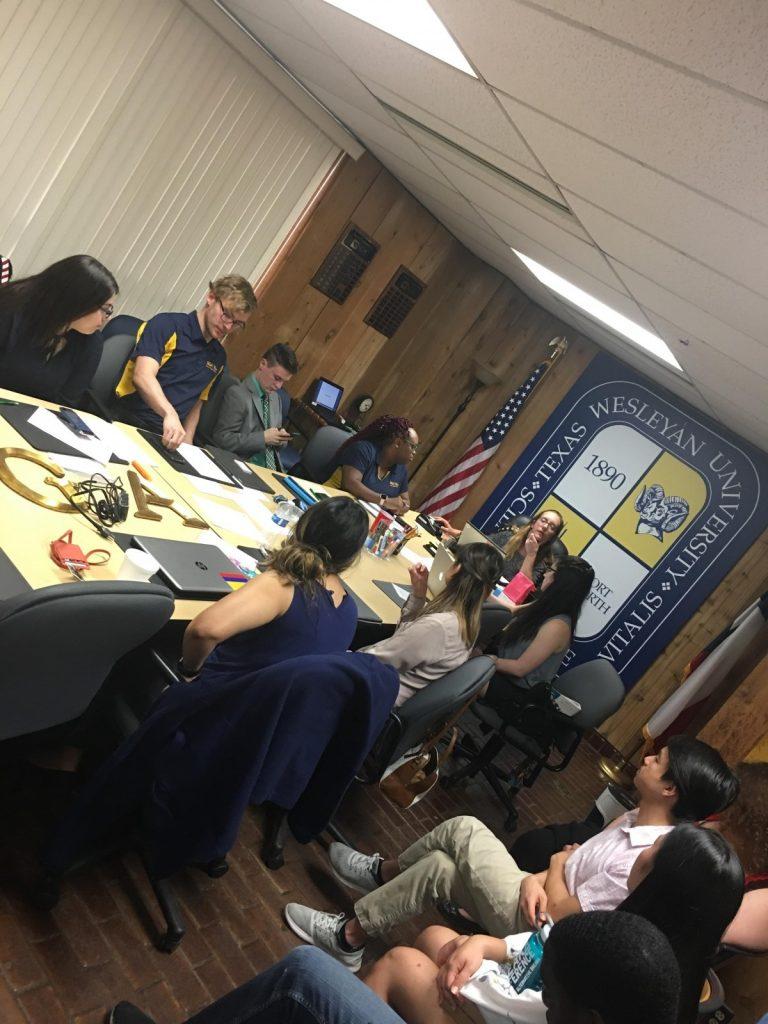 SGA passed a bill to allocate $150 for a celebration cookout for the men's basketball team.
Representative Francia Hernandez proposed the bill; the team won the Sooner Athletic Conference regular-season championship for the third straight year in March.
"Student Government appreciates the hard work men's basketball does year round, as their achievements bring positive recognition to Texas Wesleyan," Hernandez said.
No date has been set for the celebration.
SGA also passed a bill allocating $197 for paying for Chick-fil-A sandwiches for education majors attending an upcoming early childhood conference.
SGA did not pass a bill that would have funded a coffee station in Dan Waggoner Hall. Representative Hasib Aimaq said that having free coffee in the hall was a welcoming gift for current and future Wesleyan students. He wanted SGA to allocate $694.14 to purchase the coffee necessities.
"Waggoner Hall annex is a highly utilized area by students and faculty across campus, I would really appreciate it if Student Government would help fund this," Aimaq said.
After the bills were presented and voted on, board members and spectators discussed the 16-hour block rule being put into effect next semester.
The block rule applies to students taking more than 16 hours per semester. If a student does so, he or she will be billed $1,010 per extra credit hour, said Representative John Traxler. Board members and students have started a petition against this.
"Students who need more than 124 credit hours are going to be pushed back two full semesters because of the steep financial cost of additional classes," said freshman theater major Delaney Pricer.
Near the end of the meeting, SGA had the option to pay $950 toward T-shirts for University College Day.
Treasurer Nick Davis presented the legislative budget to board members.
Representative Taylor Peyton changed the bill from $950 to $475.
"It was a lengthy but productive meeting. It was good to see so many Wesleyan students getting involved as spectators," said freshman forensic accounting major Taylor Peyton.
The next SGA meeting is April 6.
Leave a Comment