Lecture gives insight into Oklahoma history
Texas Wesleyan's West Library Reference and Instruction Librarian Dennis Miles gave a lecture Tuesday afternoon in the library's orientation room on the history of the Armstrong Academy, which was once part of the Choctaw Education System.
Miles said he decided to talk about the Armstrong Academy because he had the opportunity to do research on the Choctaw schools while he worked at Southeastern Oklahoma State University.
He said he developed an interest in Choctaw's education system.
"I found out that the Armstrong Academy was close to where I lived. I lived in Durant, Okla.," Miles said. "The Armstrong Academy was not that far."
Miles gave a brief overview of the history of how the Armstrong Academy got its name.
"The man they named the academy after was Captain William Armstrong," Miles said. "He was well liked by the Choctaws."
Miles said Armstrong was liked among the Choctaws because he was the one who helped them move west when they were removed from their territory.
"He worked with the [the Choctaws] to move them west and then finally became the Indian Agent for the Choctaws," he said.
Miles also discussed how the children that attended the academy were taught.
"They used a method called the Lancasterian method," he said. "It was a method that was popular in the early 19th century, so that is why it was used."
Risa Brown, the reference assistant at West Library, attended the lecture to learn about the Choctaws' history.
Brown said the most interesting part of the lecture was learning about a part of history that is not often talked about.
"I did learn somethings that I didn't know," she said.
Brown said she would describe the lecture as "a little-known history of Oklahoma."
"[Choctaw's history] played a part in the colonizing, I suppose, of this part of the country," she said.
Sheri Parker, the manager of library services, also attended Miles' lecture.
She was interested in the history of the Choctaw Tribe.
"I've never been a big history [person,] so it is interesting to me how the white people thought they could just take over the Indians' land," she said. "I mean, I don't think that would happen today just because that is not the right thing to do."
Parker said the lecture was able to put that piece of history into perspective for her. She said students interested in attending lectures put on by the Mitchell-Reed Community of Learners could learn more about all of the upcoming events through the library's website or through flyers.
"A majority of West Library's events are the Mitchell-Reed Community of Learners, a program that the library has been putting on for over 20 years," she said.
Parker said the lectures are usually given by university faculty who volunteer to do so.
"Dr. (Bruce) McDonald loves to do these. He does a lot of travelling, so he likes to show his pictures and we all enjoy that," she said in regard to what type of lectures are given. "We are open to suggestions on how to get the word [of our events] out because most of [the lectures] are very, very interesting."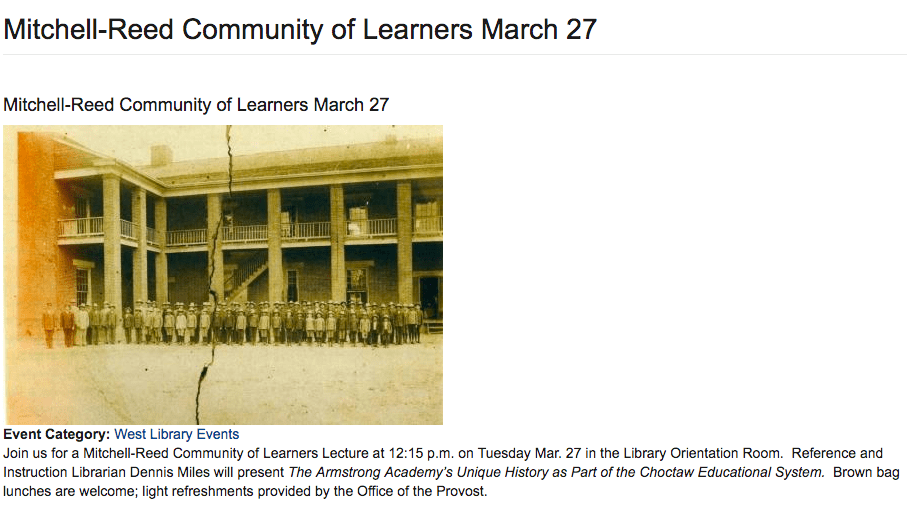 Leave a Comment