SGA to put suggestion boxes around campus
Texas Wesleyan's Student Government Association will put suggestion boxes in nine buildings on campus to receive feedback from students after passing a bill at the April 13 general business meeting.
Representative At-Large Ebaline Luna presented the bill for suggestion boxes.
"Whereas; this benefits all of the student body. When a student has a concern, they can just submit suggestions in the boxes in each building," Luna read. "Whereas it is the mission of SGA to receive feedback from the student population and bring the school together as one."
The suggestion boxes will be placed in the Ann Waggoner Fine Arts Building; the Armstrong-Mabee Business Center; the Brown-Lupton Campus Center; Dora Roberts Dining Hall; the Ella C. McFadden Science Center; the Eunice and James L. West Library; the Morton Fitness Center; the Polytechnic United Methodist Church; and the Ed and Rae Schollmaier Science and Technology Center.
"The student body would benefit from the suggestion boxes by expressing how they feel about certain situations concerning Texas Wesleyan University," the bill states.
Luna said she looks at the boxes like Yelp.
"When I go to a restaurant and I don't like the service or anything I take my time to yelp about it because it is beneficial to the restaurant for them to get feedback," Luna said. "This is kind of what I relate it to. The suggestion box bill really is going to help SGA."
SGA President Alyssa Hutchinson wrote in a text that SGA gets a lot of suggestions at their tables during events so having them around campus would be useful if it is advertised right.
SGA At-Large Athletics Representative Francia Hernandez said she thinks the boxes are a good idea.
"I know that we have social media where we can take suggestions, but it is good to have a place that is physical," Hernandez said.
Luna presented a bill for a cookout in West Village. The bill was not passed.
Also at the meeting, SGA Events Coordinator Melissa Torres presented a document showing how much money would be spent on prizes at the Ram Jam event.
"Whereas, Student Government Association shall have an activity booth during Ram Jam to celebrate University College Day," Torres read.
The document states that $45 will be allocated for candy, gift cards, balloons and a foam board coming from the "SGA events" line of the budget.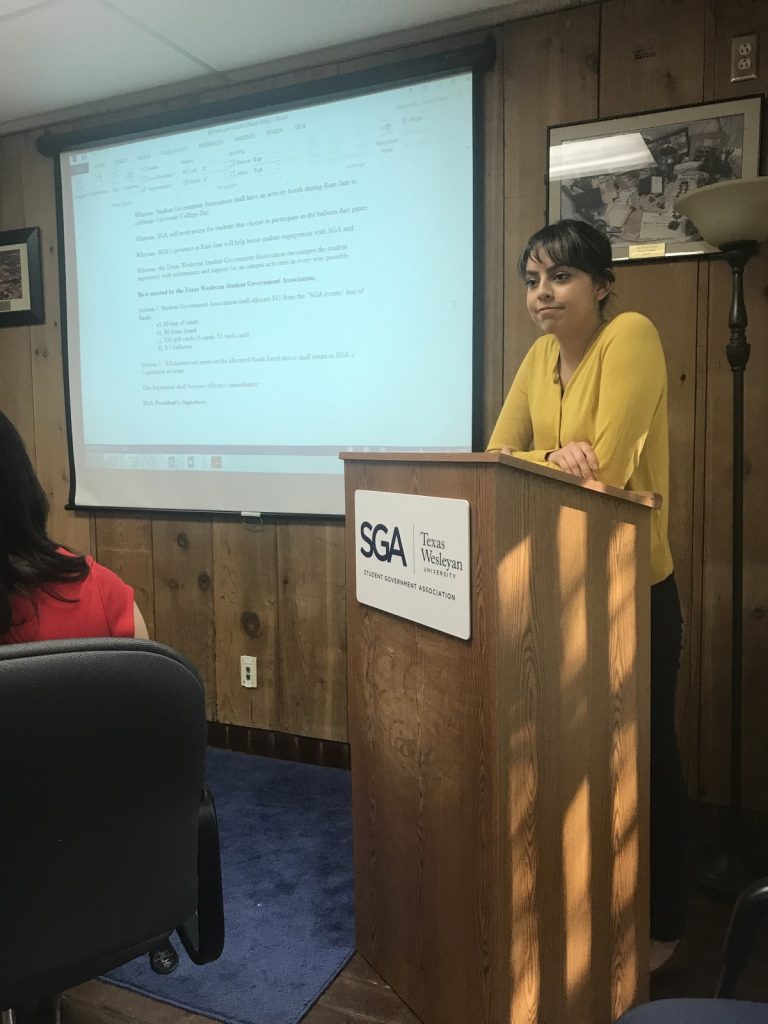 Leave a Comment