DACA killed; Dreamers left in limbo
For some Texas Wesleyans students, stress from finals and graduating could be overshadowed by the fear of having to leave the United States to go to a country they don't know, and the fact that their degree could be useless in America.
These are DACA (Deferred Action for Childhood Arrivals) recipients, and their fate is more unsure than ever since Easter, when President Donald Trump tweeted, "NO MORE DACA DEAL."
One Wesleyan student who is a DACA recipient, or "Dreamer," said getting rid of DACA makes her angry and upset.
Without DACA, she said, at the very least she would not be able to get a legitimate job or a driver's license. The worst-case scenario is that she will have a bachelor's degree and not be able to use it. She asked to remain anonymous because she "does not feel safe exposing my status" as a DACA recipient.
"I am actually trying to do the right thing and contribute, and it is just a little bit agitating," she said.
She said she feels like DACA is a win-win for everyone.
"I don't see anything bad coming from it. I have some Wesleyan friends and other college friends that went to UNT and UTA that are DACA students, and we are trying to do the right thing and contribute," she said. "We are not breaking any laws. Technically we were kids."
The student said despite the current situation with DACA, she is not going to stress over it.
"I graduate in the fall," she said. "As long as I get my title, I am studying to be a teacher, as long as I have that I will be OK."
Trump announced on Sept. 5, 2017 that DACA would be rescinded, according to nytimes.com. He gave Congress until March 5, 2018 to come up with a deal. Democrats and Republicans tried to create a plan for the young immigrants who were brought to the United States by their parents as kids, but did not do so. Then came his tweet indicating that DACA would be killed.
DACA is an executive order signed by former President Barack Obama in 2012 for individuals who were brought to the United States before 2007, according to nytimes.com. DACA allows them to attend college as well as join the military, among many other things, and is made up of more than 800,000 people in the U.S.
Vice President of Student Affairs/Dean of Students Dennis Hall wrote in an email that he Wesleyan does not ask students if they are DACA recipients. The university will "continue to serve all of its students regardless of designation or status."
"We have hosted two information sessions about DACA for our campus and surrounding community and will continue to look for opportunities as we move forward," Hall wrote. "We are here to support and help our students in any way we can."
Tristeza Ordex-Ramirez is a senior political science major who works in the 33rd Congressional district with U.S. Rep Marc Veasey as a field representative who works on emigration issues.
Right now, the future of Dreamers is looking really murky, Ordex-Ramirez said.
"It is sad to say that because I personally want to believe that Congress is going to come through, especially because there is so much support on both parties," she said. "They are both on board for the most part."
The issue comes with one side wanting to add stipulations, she said.
"They are trying to use DACA as a bargaining deal for them to get their way in certain things that they don't see eye to eye on with the other side, and the other end is trying to say no," she said. "Like, 'This needs to be done by itself with nothing attached to it.' Just the issue of what is going to happen with dreamers."
What Dreamers are calling for is a clean Dream Act without the stipulations, Ordex-Ramirez said.
"Personally, I think that, yes, that is something that we should get. Is it going to happen? I don't see it happening because the other side isn't budging," she said. "(It) is unfortunate because these are people's lives that you are dealing with, their livelihood."
This will not only affect the lives of the Dreamers, she said, but also the entire country.
"I sat in on a meeting with a group that advocates for Dreamers, and they were talking about how Dreamers a lot of times outperform their peers that are U.S. citizens; when you think about that it makes you understand why it is essential to have these individuals in our country," she said.
Although ICE (Immigration and Customers Enforcement) has stated that Dreamers are not high priority, Ordex-Ramirez said, they are still susceptible to deportation.
"Those whose status has expired, they stand a chance of getting deported. If their DACA status expires, so those whose DACA status has expired already today, they are no longer eligible to work, receive any type of funding like scholarships for school," she said. "Pretty much they lose everything."
The Dreamers do not know what is going to happen to them, she said, which puts them in limbo.
"A lot of those individuals too are parents. They have families. Some of them are teachers. Doctors," she said. "They fill really important roles in the economy and the work force.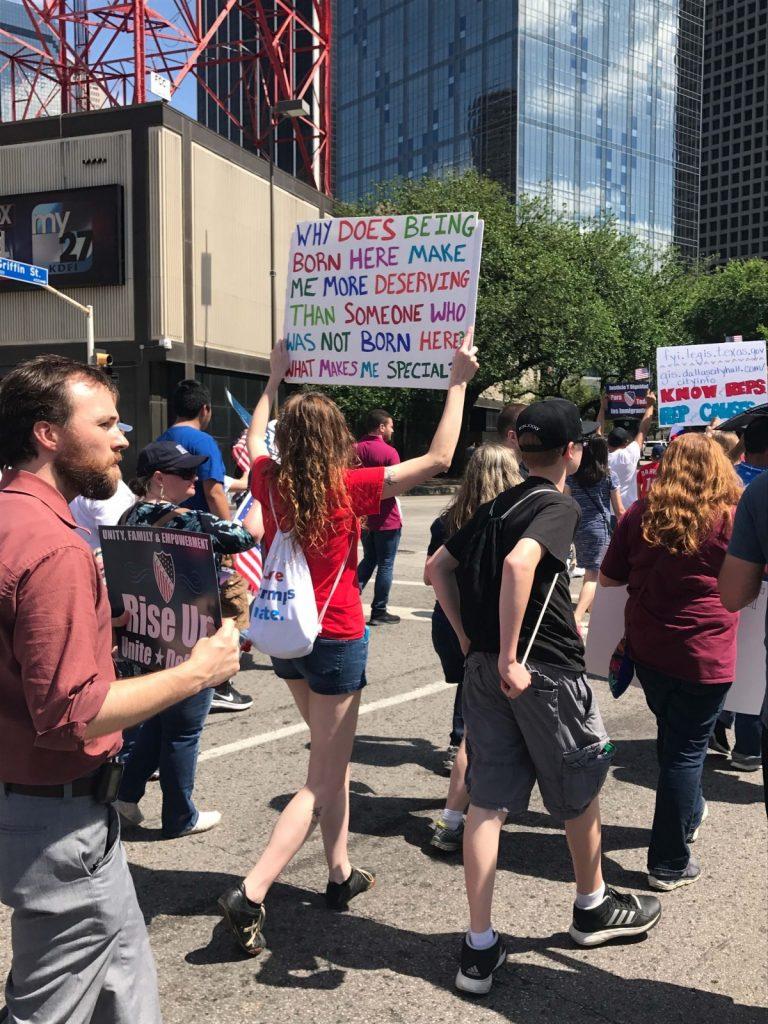 Leave a Comment