SGA announces plans for Homecoming Week
Texas Wesleyan's Student Government Association presented the events they will be hosting during Homecoming Week Oct. 29-Nov. 3 at Friday's general business meeting.
Every day during the week leading up to the homecoming game will have an event, SGA Chief Justice Zack Lanham said.
The Rams play the Lyon College Fighting Scots at 2 p.m. Nov. 3 at Farrington Field, according to ramsports.net.
"Monday is Tower Lighting, Tuesday is Speaker Series, we are going to do a powderpuff game for anyone who is familiar with that, it is a girl-only league of football," he said. "A Wesleyan talent show and then the Wesleyan 5k to finish things off."
The tower lighting will be 8 a.m. Oct. 29.
Oct. 30 will have a speaker series in Martin Hall at noon and a midnight breakfast at 11:59 p.m.
The powder puff game will be at the IM Field at at 5 p.m. Oct. 31; this is also Wesleyan Wednesday, when students wear blue to show school spirit.
SGA Secretary Alison Baron said there will be a block party at 5 p.m. Nov. 1 on the lawn in front of Dora's.
"We have several organizations helping us," Baron said, adding that Oct. 12 is the deadline to get organizations to come.
"We are going to be doing carnival games. It is free to students and it is just for them to have fun and promote themselves," she said.
There will also be a freshman photo that day at IM Field at 12 p.m.
The talent show, Wesleyan's Got Talent, is a university tradition that is making a comeback, SGA Representative Kaylia Brown said.
"Auditions are going to be Oct. 11 at 5 p.m. in Lou's Place," she said. "The actual show is going to be the Friday of homecoming week."
The talent show will be in Martin Hall at 7 p.m.
The Wesleyan 5k will be outside Oneall-Sells Administration Building at 9 a.m. Nov. 3.
SGA will be hosting Homecoming Court elections during the week as well, Lanham said. There will be meetings 5 p.m. Oct 8 and during free period Oct. 9. Paperwork will be due Oct. 15, campaigning will run Oct. 16-31 and voting will be Nov 1.
The Homecoming King and Queen will be announced during halftime at the Homecoming Game Nov. 3, Lanham said.
For more information on the Homecoming Court contact Lanham at [email protected].
SGA's general business meetings are held 2 p.m. Friday in the SGA Chambers located in the Sid Richardson building. There is no meeting Friday due to fall break.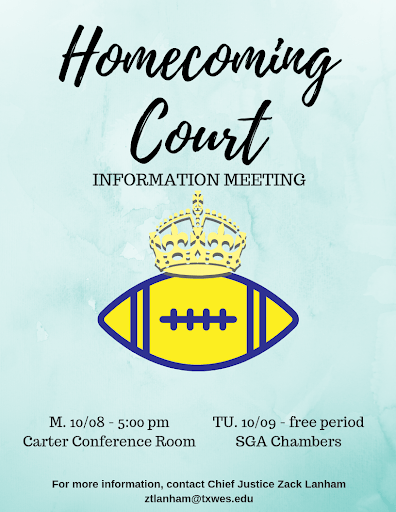 Leave a Comment