Coverson kills on the court
Tierra Coverson has been praised by coaches and teammates all season for her skills at the net.
Coverson is a senior middle blocker for the Lady Rams and has helped lead them through this successful season, which currently has a record of 17-3 in conference and 24-10 overall.
Coverson said that she has contributed a lot of encouragement for the team this year, as well as her blocks.
"I believe this year I have contributed great support for my teammates. Physically, I have contributed blocks and kills for my team," she said.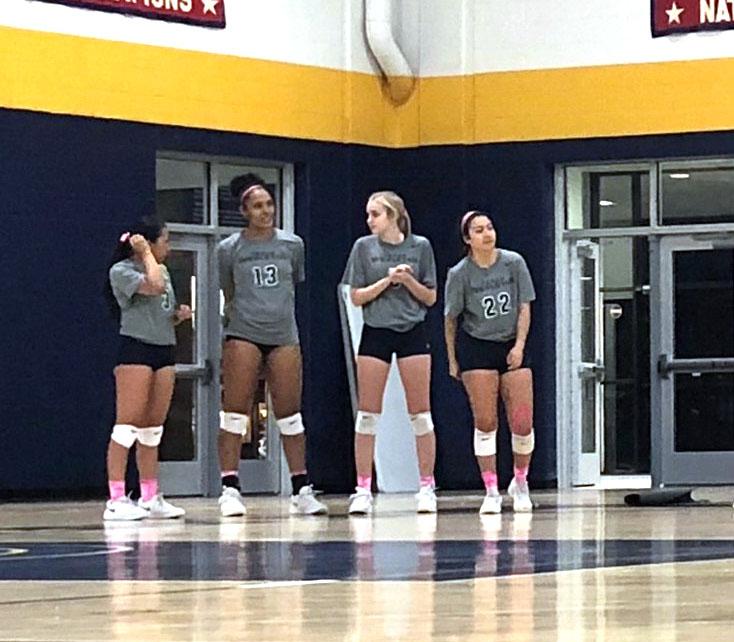 According to ramssports.com, Coverson played high school volleyball for Valerie Reynolds at Lake View High School in San Angelo and was a three-time All-District selection.
Last year, Coverson showed her athleticism and received some prestigious awards.
"My junior season of college, I was nationally ranked in blocks. [I] also finished number one in the conference for blocks," Coverson said.
Brenda Pargas, junior setter, admires that Coverson has stayed humble through her years at Texas Wesleyan.
"Tierra is a great teammate. She is humble and kind and she's always straight forward with everyone," said Pargas.
Pargas described Coverson's greatest strength as her unique character.
"I think her greatest strength is her not letting anyone choose who she is," Pargas said. "She is going to do whatever she's determined to do."
Ashley Curry, freshman defensive specialist, said that it has been a lot of fun to be a part of the team with Coverson.
"Tierra Coverson has been having a non-stop block party and it's so fun to be a part of," Curry said.
Sarah Benitez, senior defensive specialist, said that she is proud of Coverson for her consistency at the net.
"Tierra has been an asset like last year her presence at the net is powerful and her blocking is incredible," Benitez said.
Head volleyball coach Jessica Ransom said that Coverson has stayed reliable through the season as a threat.
"Tierra Coverson has been very consistent at the middle blocker position as both an offensive and defensive threat at the net," Ransom said.
Coverson said that as her time here at Wesleyan comes to end she is just trying to take it in.
"I would like to finish number one in the conference again for blocks," she said. "But as my time is running out on the court, I just want to enjoy playing the sport I love while I can."
Leave a Comment