Lady Rams love life on the road
The Lady Rams volleyball team recently played six back-to-back away games, which means lots of bus rides to and from the games.
Junior setter Brenda Pargas explained that the bus rides are mostly for catching up on sleep but sometimes include other fun activities.
"We usually sleep the entire way but when we aren't sleeping some of us are listening to music, doing homework or watching a movie," Pargas wrote in an email.
Pargas enjoys the bus rides because of how close the players get with one another.
"The best part of traveling with the team is building more memories," Pargas wrote. "We get back home knowing something different about one another and that just helps us on and off the court."
Brianna Sitton, a junior libero, wrote in an email that the only bad part is the length of the rides.
"The worst part is how long the bus rides are. We have multiple trips that are over four hours and being on a bus that long wears you down," wrote Sitton.
Sitton described her favorite bus memory as tremendously fun.
"[My] favorite bus memory is when we were headed home from a game and everyone, including our athletic trainer and coaches, decided to play Mafia," wrote Sitton.
Senior setter Sunny Clark explained that there is nothing like long bus rides to bring out the best conversations.
"The best part of traveling with the team is the memories we make. There's no conversation like a bus ride conversation," Clark wrote in an email.
Clark wrote that the most difficult thing to do on the bus is getting through the maze of legs when you have to go to the restroom.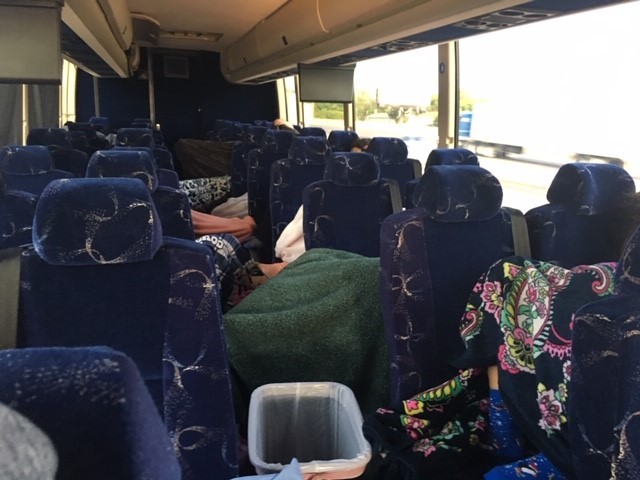 Sasha Robinson, senior setter, expressed her gratitude for the food head coach Jessica Ransom buys for the players.
"The best part about traveling is the games we play on the bus or before games," Robinson wrote in an email. "Also, coach feeds us really well so … what a blessing!"
Robinson wrote that, even though it is not a travel tradition, her favorite team tradition is praying before each game.
"We don't have any travel traditions. But we pray before every game home and away," wrote Robinson.
The Lady Rams' next away game is Saturday against John Brown University in Arkansas.
Leave a Comment