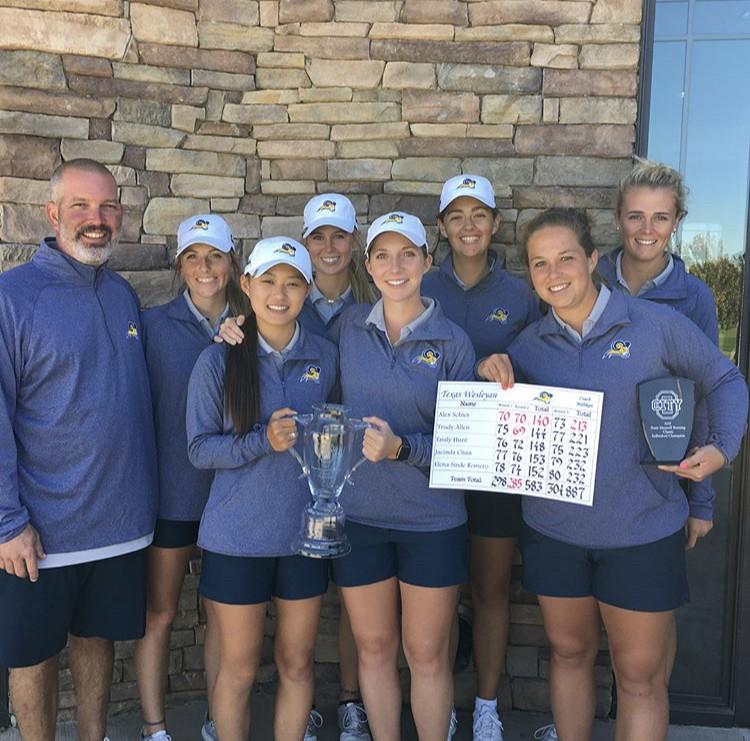 The Texas Wesleyan women's golf team is looking forward to a new season as they prepare for their first tournament of the year.
The Lady Rams are coming off a successful year after placing in the top 15 last year at the NAIA National Championship, according to ramsports.net. They also placed won the Sooner Athletic Conference Tournament in 2018.
Emily Hunt, sophomore history major, said she believes the team is looking good this year.
"I think we have a strong team and a strong, consistent top 5 that has the ability to perform at all of our tournaments," she said.
Hunt said that one of the greatest parts about the players is that they have a strong bond.
"As a team we get along really well on and off the course, and we want the best for each other," she said.
Hunt said the interaction the team has really does add to how well they perform when playing.
"The chemistry is good, and a lot of us are really close this year especially," she said. "It just pushes us to be better at tournaments when we all have each other's backs."
Madalyn Fee, sophomore accounting major, said she is looking forward to getting the season started.
"I'm really excited because we have a good chance at winning nationals," she said. "We know that course like it's our home course, and we can score low."
The NAIA National Championship is May 14-17 at Lincoln Park Golf Course in Oklahoma City, according to ocusports.net.
Fee said the team does have a few things they are doing in to prepare for the season.
"We have to practice more on the weekends and be prepared days prior to each tournament," she said.
Fee said the best thing about this team is its ability to bond together to be successful.
"Good team chemistry and a winner's attitude is important," she said. "We play for the team."
Elena Sinde Romero, senior business marketing major, said she believes the team is looking very strong this season.
"This year we have a very strong team who has shown consistency during the fall," she said. "We're a skilled team, and we're putting effort in, so I feel confident about our performance potential."
Romero said that conflicting schedules has made practice hard, but the players are pushing through.
"Everyone has different schedules this semester, so it's rare to match everyone's time for the team practice," she said. "However, everyone is making time to work on their game throughout the week."
Romero said that nationals is the main goal this season, and they hope to return this year.
"Nationals will take place at a golf course that we play a few times a year, which is an advantage for us," she said. "We want to seize the opportunity to play it smart and perform our best golf," she said.
"The love and support that this team has for one another is incredible," she said. "It really makes a difference when you know that you have your whole team supporting and backing you up."
The Lady Rams come into the season ranked 8th in the NAIA Womens' Golf Coaches' Poll from Nov. 9, 2018, the final poll in fall.
The Lady Rams will open their season Feb. 17-18, when they travel to the University of Houston- Victoria. For more information, go to ramsports.net.