Fifty Shades of Grey disappoints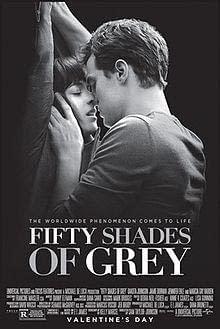 "50 Shades of Grey" is probably one of the worst films I have seen in a while, and that is saying
something, considering I enjoyed the trilogy of novels by E. L. James.
Honestly, my expectations were low. Movies that promote themselves as hard as "50 Shades" usually
end up being horrible anyways. However, the film has certainly been successful commercially, taking in
$94.4 million domestically in its first four days, according to Variety magazine.
For those who thought the book was written terribly, the movie was way worse. "Choppiness" doesn't
even begin to describe the scenes that bounced back and forth. The action would go from one place to
another, and each scene was super short.
While director Sam Taylor-Johnson and screenwriter Kelly Marcel did take direct quotes out of the book
and put them into the movie, a lot of the actual story line got cut out. There was no real plot line. There
was so much more than sex in the book – there was passion, some light romance, and playful moments,
most of which were cut from the movie.
They took the sex scenes, which were all less than a minute long, and used that to make the movie. And
thank goodness they were short too, because everything looked way too staged and the actors really
looked like they were forcing themselves. The actors needed to become more comfortable with their
roles because, after all, they should have known what they were getting into.
The only part that I slightly liked was the beginning. The playfulness of Ana (Dakota Johnson) and
Christian (Jamie Dornan) that is seen in every book was all at the very beginning of the movie. It was
comical to watch the two of them flirt and be snarky. All of that fades away quickly, though, and the
main focus is on the BDSM relationship that Christian wants to build. Then the film just starts to drag on.
No spoiler alerts, but I do think the ending was quite irritating. I left the theater very angry. For those
who didn't read the book, the last scene is probably quite shocking and a little demented. There is more
to the story than where it is left off.
People will either have to read the books or wait for the next movie to understand the real Christian.
You can't just watch the first movie and expect to know who Christian is, because his character is
explained in more detail later.
The first book was very shocking and demented, and my least favorite. The next two books were much
better, and I hope the filmmakers can do better with the next two movies to show Ana and Christian's
true relationship. Plus, the books focus less on BDSM and more on Ana's desires.
The next two movies should definitely focus less on sex and more on the love story of Ana and Christian.
Leave a Comment