Hunt, Saheb crowned homecoming king and queen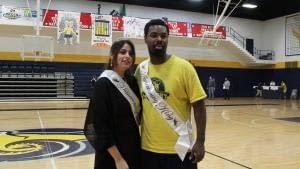 Senior mass communication major Jeremy Hunt and senior biology and psychology major Fauz Saheb were crowned Texas Wesleyan's 2015 homecoming king and queen on Tuesday.
"I didn't really feel like I was competing, because Victoria, my competition, is my friend so I would have been fine either way," Shaheb said after the ceremony, which was held at the Sid Richardson Center.
Hunt was crowned  king after running unopposed.
"I was really shocked to win," Hunt said  jokingly. "The only thing that matters is the that everyone comes together and shows their school spirit."
The original homecoming basketball games and ceremony were scheduled for Feb. 26, but the ceremony was canceled after Fort Worth was hit with snow and icy weather. The homecoming ceremony was then rescheduled to March 5, and was once again canceled because of snow.
"I think that this was a success despite the weather," said SGA President Tyler Mendez. "We got unlucky this year, but the contingence plan worked well based on the large turnout."
More than 150 Wesleyan students, faculty and staff gathered in the gym to see the faculty/staff vs students basketball game and the halftime events.
Wesleyan President Frederick G. Slabach attended the game and was happy about the faculty/staff's 55-48 victory.
"The staff won, so by definition it was a great game," Slabach said. "This is the first time the staff has ever won this game, I think maybe the students just felt sorry for us and decided to throw the game at the last minute."
Faculty/staff and students prepare for the second half of the game.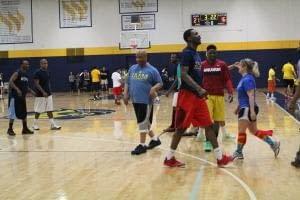 The Wesleyan cheerleaders perform during halftime.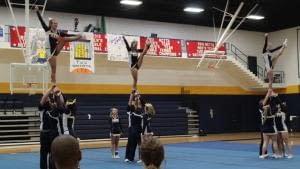 The West Village residence hall won the spirit banner competition.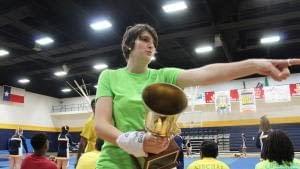 Leave a Comment