Borghee sworn in as SGA president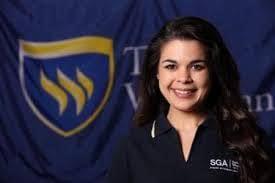 Abbey Borghee was sworn in Tuesday as Student Government Association president at the Awards Day Ceremony in Martin Hall.
Borghee, who served this year as SGA vice president and ran unopposed for president, quoted the sixth president of the United States, John Quincy Adams, while speaking about her hopes for the next academic year.
"`If your actions inspire other to dream more, learn more and do more, then they become more,' that is my hope for this next year," said Borghee. "It's not about me, it's not about us, or the SGA, it's about the student body."
She challenged undergraduates to make the best of their time at Wesleyan and to take advantage of opportunities that they never thought possible.
"I'm challenging myself and each and every student to be a leader of today," Borghee said. "There is never a better time than now to make positive changes to the world around us."
Leave a Comment