Hall appreciates GEM award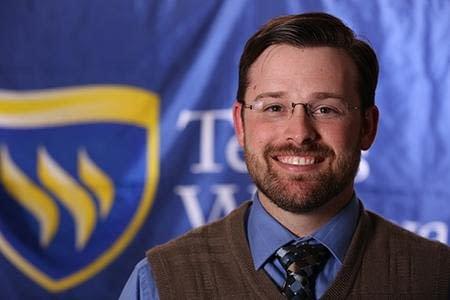 Dennis Hall is a modest person.
Hall, who is the dean of students, has been working to improve Texas Wesleyan students' experience by implementing programs such as AlcoholWise, StART team, and Violence Against Women/SaVE Act that have helped students through crisis situations.
In addition to the crisis programs, he has created "Wesleyan Wednesday," a student involvement activity to help generate university pride by wearing Wesleyan gear on Wednesdays.
On March 4, university President Frederick G. Slabach recognized Hall's efforts by giving him a "Going the Extra Mile"(GEM) award for his "tremendous impact on student life at Texas Wesleyan," according to txwes.edu.
Each semester Slabach gives the GEM awards "to recognize faculty and staff members who 'go the extra mile' to support the University's message pillars, mission & vision and strategic priorities and make a positive impact on the campus community," according to txwes.edu.
"Please join me in applauding Dennis for his hard work and dedication to Texas Wesleyan," Slabach wrote in an announcement on the Texas Wesleyan website. "His efforts are making a big impact in the lives of our students and helping us reach our goals."
Hall, who came to Wesleyan last fall, feels honored by the award, but praises his team at Student Life for putting in the extra effort to help Student Life succeed.
"My initial thought when I got [the award] was that I was thankful for my team," said Hall, who has a bachelor's degree in political science from Oregon State University and a master's in education with an emphasis in student affairs administration from University of North Texas. "I definitely appreciate the president taking time to recognize Student Life."
Hall has nine years of experience in higher education, including five years as assistant director in the Dean of Students Office at the University of North Texas, according to txwes.edu.
John Veilleux, vice president for marketing & communications, said he is happy to see Hall win the award.
"Dennis is a tremendous leader, and I'm glad to see him honored with the President's GEM Award," he said.
Hall's skills and efforts have greatly helped Wesleyan be aware of student safety, Veilleux said.
"His background in student safety and conduct issues has already proved to be a huge asset for Texas Wesleyan," he said. "He deserves recognition for his hard work."
Hall, with the help of his team, is preparing to get students, parents, faculty and staff to be aware of these programs next semester by working with the marketing & communications department.
"We want to get the word out," Hall said. "We want our individuals in our community to be as safe and secure as possible."
Hall's long-term goals are to get Student Life to be more professional and work with other departments to ensure students are happy.
"We have a high level professionalism in how we go about our job," Hall said, "and knowing that our jobs boil down to creating the best student experience that we can create."
He believes in creating a student experience outside of the classroom and is dedicated to creating great student engagement.
"I am very passionate about working with students," he said, "and making their experience here the best that it can be."
Leave a Comment