FORT WORTH HAS TACO FEVER
Texas officially loves tacos more than any other state, and Fort Worth is second only to Arlington in cities that love tacos the most, according to a 2014 survey.
Cowtown native Joshua Matthews, a senior science in athletic training major, is not surprised by these results at all.
"I believe people love tacos in Fort Worth because of all of the heritage and diversity in the city," Matthews said. "I love tacos."
Matthews, who eats tacos about twice a week, recommends Fuzzy's Taco Shop, Torchy's Tacos and Jack in the Box.
"I mostly go to Jack in the Box for tacos because they're two for a dollar," he said. "And I love Fuzzy's breakfast tacos. But I think Torchy's Tacos is the best place for tacos in town."
Estately, an online blog, conducted the 2014 survey, "Most Taco-Crazed Cities in America" to find out which of the largest 50 U.S. cities had the most taco enthusiasm, according to NBCDFW.com
Fort Worth ranked number two for highest level of taco enthusiasm out of the largest 50 U.S. cities, right behind Arlington and topping Austin, which came in third. Dallas and San Antonio were fourth and fifth. Philadelphia, Boston and New York brought up the rear at 48, 49 and 50.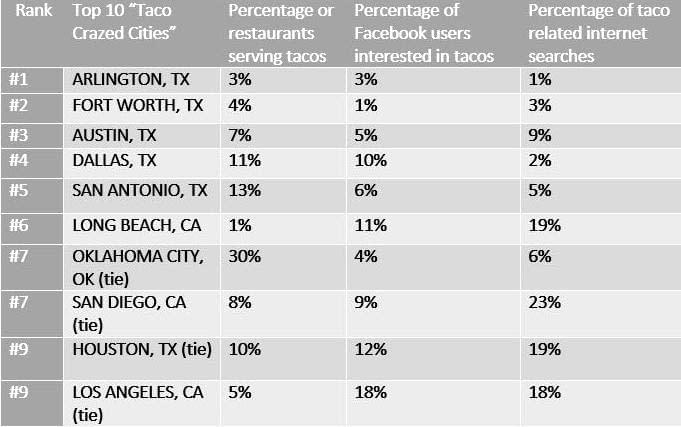 The survey measured the percentage of each city's restaurants serving tacos via Yelp, the percentage of Facebook users in each city expressing interest in tacos via Facebook, and the level of internet searches related to tacos via Google Trends, according to blog.estately.com.
Taco enthusiasm is even spreading to out of state Wesleyan students, said Adrian Perez, a senior biology major from Miami.
"I have started eating tacos so much more living in Fort Worth than I did back home," he said.
Perez, who eats tacos once every two weeks, loves going to Chipotle for tacos and has heard good things about Fuzzy's.
The love for tacos can even be found among many international students on campus as well, said Thang Le, senior graduate finance major.
"I eat tacos about once a week," he said. "I love tacos. My taco enthusiasm can be measured at about 80 percent."
There seem to be more places serving authentic Mexican food and more and more taco-serving food trucks popping up in the area serving tacos, said Molly Woodruff, a senior history major and Fort Worth native.
"The results from the survey do not surprise me at all," she said. "The food trucks and chain restaurants like Fuzzy's and Torchy's seem to be the places for tacos. Both of which are very good."
Woodruff eats tacos probably two or three times every two weeks, she said.
"I tend to eat them in spurts," she said.
She added that Salsa Limon is one of her favorite taco spots.
"I highly recommend Salsa Limon and Tina Cocina, off Magnolia Street," she said. "I used to love Taco Bell but stopped going when I started eating healthier. Plus fresh ingredients make all the difference."
There are so many wonderful Mexican food restaurants with great tacos in Fort Worth, said Texas native Dr. Pamela Rast, professor of exercise & sports studies.
"I recommend going to Taco Tuesdays at Rosa's Café," she said. "I also enjoy Torchy's and Fuzzy's."
Rast can easily eat tacos two or three times a week, she said.
"I'll eat anything in a tortilla," she said.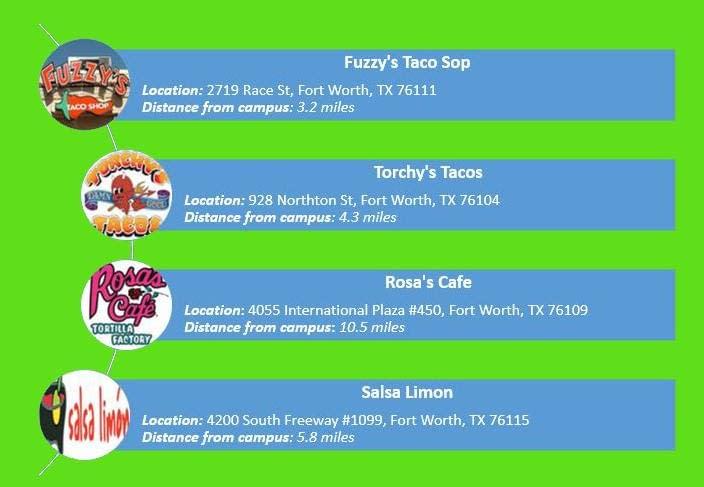 Leave a Comment