Managing the Twins for a day fulfilled a lifelong dream
"Why do you like the Minnesota Twins?"
"Wow you have so much Twins gear."
"You live in Texas – why don't you like for the Rangers?"
"You like the Minnesota Twins? Eeeeeeeew."
I hear these things on a daily basis. I've been a Twins fan for as long as I can remember, but in 2011 it came into perspective why I like the team so much.
June 4, 2011 – It was my high school graduation. I had a camera crew interview me before the ceremony about my battle with testicular cancer for a story I thought they were doing on childhood cancer patients who graduated high school.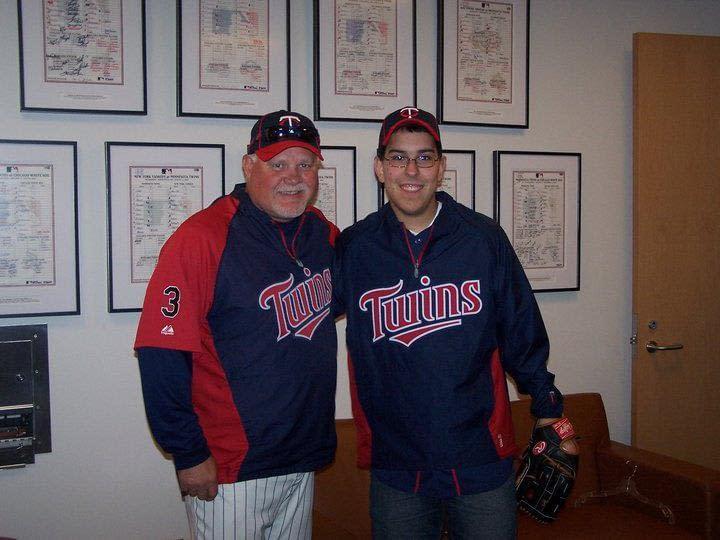 I got home that night and saw a DVD waiting for me, with the instructions "Play me" on it. I thought it was a gag gift from someone but it was actually from Twins manager Ron Gardenhire congratulating me on graduating and inviting me to Minnesota to be manager for the day thanks to the Make-A-Wish Foundation.
Being around a major league club in some capacity had been a lifelong dream. The fact that it was with my favorite team was a dream come true, and was truly rewarding, given everything I had been through the last six months or so.
Pulling into the players/coaches' entrance at Target Field in a limousine on June 10 made me feel like I was one of the players. I was escorted into the stadium by security, and team personnel and I walked in and sitting on the manager's desk was my own personalized jersey and jacket. As I was getting dressed, I heard a very familiar voice start speaking to me. Gardenhire and I were standing in the same room having a conversation. I remember getting a little shy (something that doesn't happen to me very often at all). Here I am, an 18-year-old kid, hanging out with a major league baseball team.
I was taking in the scenery, admiring what a beautiful ballpark Target Field is, chatting with the players, such as fan favorites Justin Morneau and Michael Cuddyer, while they went through their pre-game routines. It was all so emotional for me: I never ever dreamed something like that would happen to me.
I hung out in center field watching batting and fielding practice, snagging fly balls if they came in my direction. As the pregame activities ended, I was informed it was time for a press conference with Gardenhire and the local media. My heart started beating really fast with each step I took toward the dugout.
Everyone that knows me knows that I have no problem talking and am not shy at all about being in front of the camera. I had done an interview with ESPN and that was really smooth. I'm an outgoing person, but something about being in front of the Minneapolis-Saint Paul media, and other team personnel scared me a bit.
[embedyt]http://www.youtube.com/watch?v=tKBVsSghHL0[/embedyt]
Most of the questions were directed at Gardenhire, which was perfectly fine with me. I gathered my thoughts and listened to him give his insights on the night's game, which had the Twins facing the Rangers. When that first question was directed at me — "What drew you to this team?"– it was my time to shine, and I took it and ran with it, and it was just so much fun.
Back in the clubhouse after the presser, I was sitting in front of Morneau's locker admiring all his jerseys, bats and miscellaneous stuff; I heard a deep booming voice behind me.
"Michael, how do you like everything so far?"
I turned around and it was future Hall of Famer Jim Thome. It was the best feeling in the world getting to talk to a player like him. I told him I was like a kid in a candy store, and everything about this team was super cool.
He laughed, and then a couple minutes later returned with a signed bat, which also happened to be the same bat that he used to hit career home run 500! There was so much I wanted to say in that moment, but all I could muster out was thank you as tears started filling my eyes. I did not want this day to end.
I had a couple more duties to fulfill before the game started. One was meeting Rangers manager Ron Washington and delivering the lineup card to home plate, the other was getting the opportunity to throw out the ceremonial first pitch.
How excited was I, throwing out the first pitch in front of tens of thousands of fans? I was pretty excited hearing my name blared across the loud speaker as I walked to the pitcher's mound to the cheers of the fans.
Before I threw the pitch I just wanted to take a moment and admire everything. What a day it had been, and it was all made possible because of the Minnesota Twins and the Make-A-Wish foundation. I snapped back to reality, because I wanted to make the perfect pitch, so I reared back fired and . . . ended up bouncing the ball to home plate. Not quite the pitch I had hoped for, so that squashed any dreams I had of being the next Randy Johnson.
Enjoying the game from a luxury suite with all my family and relatives was truly something I will never forget. If it hadn't been for that day's activities I wouldn't have known that I wanted to pursue a career in sports broadcasting. It was just an unbelievable experience that I will never forget as long as I live.
Leave a Comment