Student gun forum takes aim at campus carry issues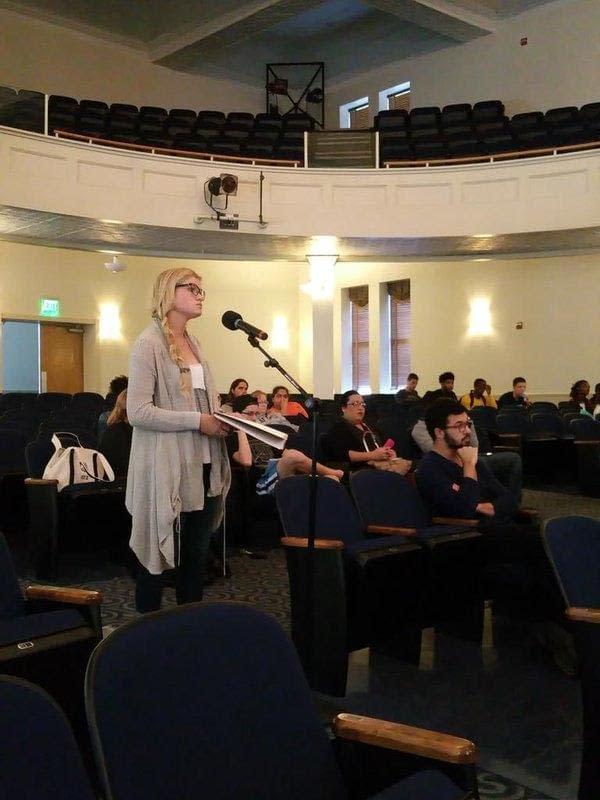 Nikki Lockwood, a junior criminal justice major at Texas Wesleyan University, believes students should be able to carry handguns on campus.
"I respect everyone's rights and I can understand everyone's opinion on CHL for this campus. Not having CHL here will prevent students from being able to protect themselves when the situation arises," Lockwood said during Tuesday's campus carry forum at Martin Hall.
The forum, sponsored by the Rambler Media Group, included about 10 students giving their opinion on campus carry at Wesleyan. The forum was moderated by Rambler Editor-in-Chief Valerie Spears.
Students could text yes or no answers to several questions in an online poll.
While some students asked questions of the panelists, Student Government Association Vice President Zahraa Saheb and head of security Blake Bumbard, other voiced their opinions.
Saheb, who is openly against guns on campus, thinks that allowing concealed carry will do more harm than good.
"We come to school to learn, not to worry about whether or not the person next to us has a gun," Saheb said.
Bumbard said that Wesleyan has already planned to hire armed security for the campus starting by the end of the semester, which can affect Wesleyan's decision on campus carry.
"We will have the blue emergency phone poles set up soon and with added security I believe the campus will be safer," Bumbard said.
The Texas State Legislature approved campus carry for public colleges in June, according to usnews.com
Because Wesleyan is a private university, it has until Aug. 1, 2016 to decide if students will be allowed to carry handguns on campus, Bumbard said.
Ruben Rodriguez, a criminal justice major, emphasized that people with concealed handgun licenses have training on how to handle handguns, he said.
"No one knows when a shooting will happen it's just one of those things, if students were allowed to carry on campus they will be better protected from an incident like that," Rodriguez said.
Mohanad Hasona, a biology major, said Wesleyan is not well prepared to handle a gun misfire, he said.
"A misfire can injure a student and that student will need immediate medical aid. I know the nurse on campus and she does not have the supplies needed to help in that situation," Hasona said.
The results of the online poll include 65 percent against campus carry. Fifty-three percent of students said they were not concerned with campus security.
Fifty-six percent said they do not think allowing guns on campus will make Wesleyan safer.
Eighty-one percent said they will be freighted of other students who carry guns.
Fifty-nine percent said Wesleyan does not need guns if the university has the 10 new emergency phones being installed around campus.
---
Take the poll:
Make sure to hit the light grey "Vote" button to submit your answers.
Leave a Comment