High academic rankings align with 2020 Vision goals
Texas Wesleyan University's 2020 Vision is paying off.
Increased academic distinction, one of the vision's goals, is helping Wesleyan attract more undergraduate and graduate students, according to campus officials.
"Academic distinction is a very important part of our 2020 Vision," university President Frederick G. Slabach said in a video on txwes.edu. "Our intentionally small classes and highly engaged faculty really distinguish us in North Texas in higher education."
Earlier this fall, U.S. News & World Report ranked Wesleyan in the No. 1 tier of Universities in the West for the sixth year in a row, according to txwes.edu.
Wesleyan is ranked 48 on the list, tying with Sonoma State University in Rohnert Park, Calif., according to U.S. News & World Report.
The report ranks schools based on two key factors, academic quantitative data provided by the school and the U.S. News' view on what matters most.
The data is gathered from 16 indicators of academic success and is categorized into several groups: assessment by administrators at peer institutions, retention of students, faculty resources, student selectivity, financial resources, alumni giving and graduation rate performance, according to U.S. News.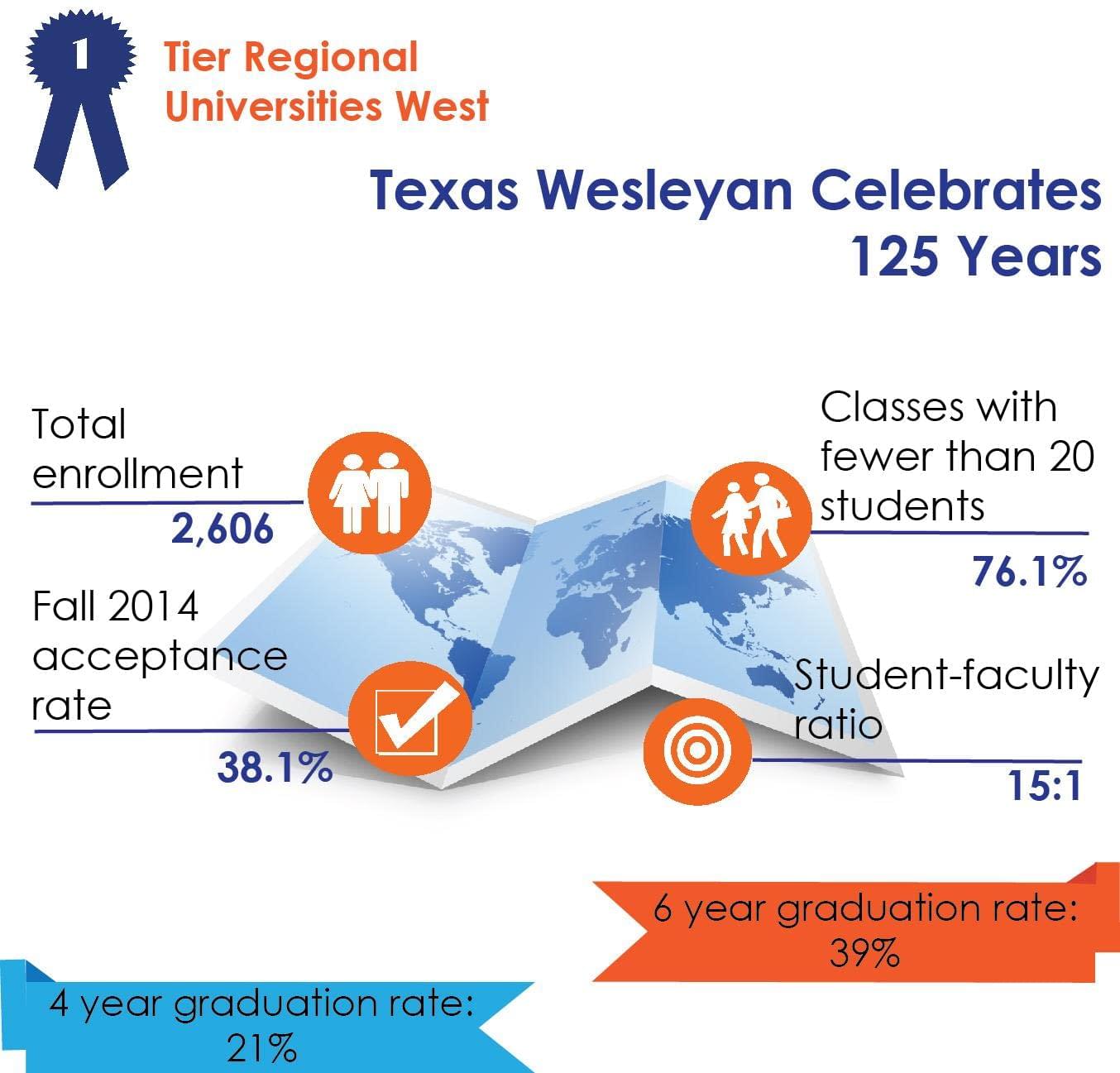 Bethany Winkenweder, graduate admissions counselor, said she thinks this rating helps bring in undergraduate and graduate students.
"I think this helps bring in graduate students because they are looking for schools with good rankings," she said.
Although the indicators are more for undergraduates, the ranking is still amazing and can attract all students, she said.
"Graduate students are looking at program delivery, time to complete, length and cost, which are some of the things listed in the indicators," she said.
The ranking also helps Wesleyan apply for grants since the recent report looks at alumni giving, said Christian Garcia, alumni relations coordinator.
"These ranking look great for the university," she said. "I have been here five years and I see great progression. This ranking is not surprise."
The changes being made to Wesleyan, which include campus enhancements, financial vitality, marketing and branding, student experience and academic distinction, have not gone unnoticed by students.
There are so many great things happening for Wesleyan right now, said Shelby Nowland, junior religion major.
"I'm seeing great changing in the beauty of the campus and polytechnic community," Nowland said. "When you walk around campus it's becoming a place you actually want to be at."
Although there are some questions about the research conducted by U.S News & World Report, it is still good to see Wesleyan ranked on the national level, said Nowland, who has done some research into the report to better understand the ranking.
"I think it's pretty exciting," he said. "I see great things for the future of Wesleyan."
However, not all students know or care about this ranking.
Elena Romero, a freshman business major from Spain, said her decision to come to Wesleyan had nothing to do with Wesleyans rankings.In fact, she knew nothing about the ranking indicators or accreditations.
"I picked Wesleyan because of sports," said Romero, who is on the women's golf team. "They gave me an opportunity to play sports and study in the U.S."
Although Romero has only been at Wesleyan for a few months, she has noticed some improvements on campus, she said.
"The clock tower is a great improvement," she said. "It's a nice place to go after classes and it's a great improvement for the way the campus looks. I think the campus looks nice but I have noticed there are not many places to do anything on campus."
James Ayla, who has worked at Wesleyan for eight years as a maintenance locksmith, said the university is undergoing great changes.
"Texas Wesleyan University is a great college and a great university for your kids to attend," he said.
Wesleyan has worked hard to receive money to do provide upgrades and renovations around campus, he said.
"It's come a long way since I started eight years ago," he said. "You can really notice all the recent changes around campus. It's a nice face lift for the university."
Leave a Comment