Rambler advances to nationals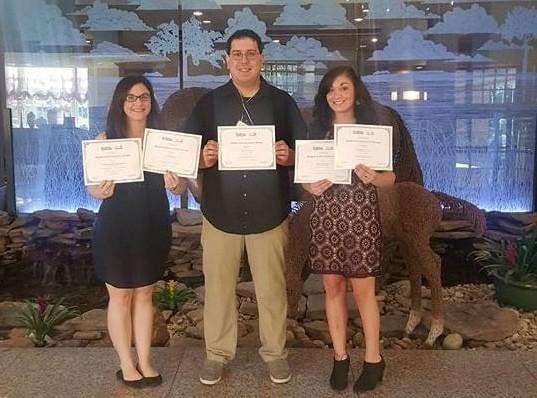 Texas Wesleyan's Michael Acosta advanced to the national Society of Professional Journalists Mark of Excellence competition after winning the Region 8 contest for Sports Writing.
Acosta was one of five award winners from Rambler Media Group in the Mark of Excellence Awards from the Society of Professional Journalists Region 8 competition.  Award winners were announced Saturday, March 19, at the SPJ Region 8 conference. Acosta, a senior mass communication major, won the Sports Writing for small universities contest with his story about the return of tennis to Wesleyan in the September 2, 2015 edition of The Rambler and online at https://therambler.org/2015/09/02/tennis-returns-to-wesleyan/.
The Rambler editorial board was a finalist for best regional editorial writing, and therambler.org website was a finalist among the regional Best Affiliated Web Site competition.
Dr. Kay Colley, who serves as Texas Wesleyan's director of student media and student media faculty liaison, said she looks forward to the group's continued success.
"I'm very proud of our students," Colley said. "These awards just demonstrate how their hard work and dedication have paid off." 
Two other staff members received individual awards:
Brianna Kessler, senior mass communication major, was a finalist for Feature Writing Small schools contest
Valerie Spears, former editor-in-chief and Wesleyan alumna, was a finalist for the Best Use of Multimedia contest.
Rambler Media Group faculty adviser Dr. David Ferman said he was proud of this year's successes in the Region 8 contest.
"These awards, both by individual students and The Rambler as a whole, show our continuing improvement and commitment to quality coverage of the Texas Wesleyan community," Ferman said.
The Mark of Excellence competition was part of the 2016 Society of Professional Journalist Region 8 Conference on March 18 – March 19 at the Historic Hilton Hotel in downtown Fort Worth. SPJ Region 8 includes Texas and Oklahoma. Winners from the 12 SPJ regions will compete in the national Mark of Excellence Awards. National winners will be notified in the late spring and will be recognized at Excellence in Journalism 2016 (EIJ16) in New Orleans, Sept. 18-20.
Leave a Comment