Basketball teams ready for 2015-2016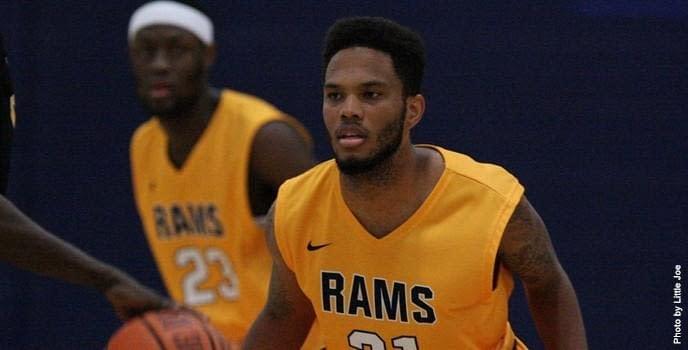 After disappointing finishes last season, the men's and women's basketball teams are back and excited for the 2015-16 season.
Both the men's and women's teams are rated high in the Sooner Athletic Conference preseason poll. The Lady Rams are ranked third in the conference, behind Oklahoma City University and Wayland Baptist University, according to ramsports.net.
The men's team is ranked fifth in the conference behind John Brown University, Wayland Baptist University, Mid-America Christian University and No. 1 Southwestern Assemblies of God University, according to ramsports.net.
After the Rams finished last season with a 15-15 record that included going 4-14 in the SAC, men's head coach Brennen Shingleton added size and depth, including 7'1" center Chier Ajou, a transfer from Division I Seton Hall University.
The men's team has a tough test early, as they travel to Florida on Nov. 16 to take on Division I team Florida Gulf Coast University.
Senior guard Chris Gracela is excited for the opportunity to play a Division I team.
"We have a chance to prove that we might be a small NAIA school but we're also there to make a statement, show them what we have," Gracela said. "Being able to have the opportunity to play them is an opportunity for us not just to measure ourselves, but for other schools to measure us as well."
Senior guard Jerell Ellis added that playing a team like that will "test us a lot mentally."
Junior guard Trevon Jeffery is approaching it as just another game.
"I think all of us are Division I players, so it's just a chance to go to work," Jeffery said. "It's a nice game, on ESPN and everything, but they put their shoes on the same way we put ours on."
Team chemistry has been a common theme amongst this year's team, as they return five players from a year ago, including Ellis, Gracela and leading scorer Sam Akano.
Jeffery, a transfer from Richland College in Dallas, focused on his jump shot the most in the offseason in order to be able to consistently hit jumpers during the season, wanting it to be "one of my best years. I want to go out on top."
In addition to winning conference and going to nationals, Ellis and Gracela have goals off the court that they want to accomplish.
"We want everyone to do well in the classroom, graduate, pass classes and stay out of trouble," Ellis said. "As a team, we want to have a good year and succeed, take it step by step, win conference, do well in the tournament, and then go to nationals."
Gracela said the team can't go into its first game assuming they will win the national championship.
"It's a process; we harp on academics first," Gracela said. "Once we get into the gym, take one game at a time, build from each of those games, that way in March we are playing championship basketball."
The men will open up their season on Nov. 5 on the road in the Mid America Nazarene Classic against Mid America Nazarene University in Kansas. Their home opener will be on Nov. 12 against Paul Quinn College.
The women's team finished with a 16-16 record that included a 6-12 record in conference. The Lady Rams had to forfeit four games last season due to academic ineligibility. The team had a first round win in the Sooner Athletic Conference Tournament against Saint Gregory's University before losing to Oklahoma Baptist University in the second round.
Women's coach Bill Franey wanted to focus on defense the most in the offseason.
"We're always concerned that our defense won't get together quick enough when you have a lot of new players," Franey said. "Last year we had seven seniors, so it's tough getting a couple of junior college players, a couple freshman, all on the same page in the short amount of time that we have."
Junior forward Katelynn Threats is excited for the preseason slate this year, which includes a trip to College Station to take on Texas A&M University on Nov. 2 to open up the season, and a trip to take on the Texas Christian University Horned Frogs.
"It's all news girls this year, so it'll be exciting to bond and try to create a better team than we had a year ago." Threats said.
Franey brought in several recruits that he's excited about, including shooting guard Breanna Burton from Arizona State, who he said is a "great shooter and will be a big factor this season."
Leila Jdily-Ezzad, who is from France, was a point guard for Angelo State last year, and "were lucky to pick her up, because we needed a point guard."
Senior guard Onyesonam Nolisa said she wants the team to go as far as it can.
"I think the team this year we all have a goal to be on top in conference, and make it to nationals."
Franey likes the team's chances of doing well in the conference.
"Early on we should be rated within the top two or three," Franey said. "I think our newcomers will surprise a lot of people, and I think we'll be in the running for a conference championship right up until the end."
The Lady Rams will open the season on Nov.2 in College Station against Texas A&M. Their home opener is Nov. 23 as they take on East Texas Baptist University.
Threats and Nolisa share the same optimism as Franey and want to see plenty of fan support for the young Lady Rams.
"Don't underestimate us. I think we're going to be really underestimated because we lost seven seniors," Threats said.
Nolisa added that she wants to stay healthy the entire season and wants to see what this group of girls can accomplish.
"We got a good group of girls. Why wouldn't you want to come and watch us play basketball?" Nolisa asked.
Leave a Comment