West Library Hosts Colorful Celebration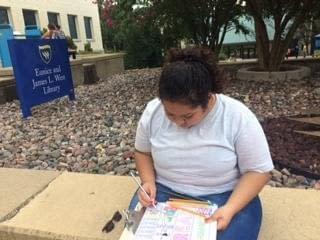 The Eunice and James L. West Library hosted a coloring party outside of the main entrance on Thursday in celebration of Power Up Your Library Day.
Texas Gov. Greg Abbott declared Sept. 15 as Power Up Your Library Day to give libraries an opportunity to showcase their resources to the students, according to txwes.edu.
At the coloring party, the staff passed out a short survey that asked students some basic library preference questions.
"We don't want people to think it's a stuffy place where you have to be quiet and just study," said Caitlin Rookey, periodicals and digitization assistant. "We want people to know they can come here and create and learn and innovate."
Rookey belongs to the Makers Committee, and wants to create a mobile makers space where students can tinker with different programs, such as 3D printing, she said. The survey was an effort to receive a grant to implement the mobile makers space.
"I think the library is very complete right now, but if they want to make improvements they can," junior sociology major Paola Estrada Amaya said. "The 3D printing that they were mentioning is very cool, and also the paper craft, because I'm in to paper craft."
Amaya came to the event because she thought it would be a fun change-up in her busy week.
Other students, like freshman athletic training major Asada Samin, said that the library has a heavier influence on their life at Wesleyan.
"I basically live there," Samin said. "I do homework, especially anatomy, on the computers, and sometimes I'll bring books and end up falling asleep."
Overall, the coloring party seemed to bring more attention to the library and its functions in general, Rookey said.  
"Texas Library Association kind of headed it up and helped with the marketing of the event," Rookey said. "We are going to report back all the information to the TLA so they can have all this information on what a library should look like in 2016." 
Leave a Comment