Donations and root beer keep Wesleyan afloat at annual TAG Day event
Texas Wesleyan's Alumni Relations Department celebrated its fourth annual TAG Day with root-beer floats in the mall on Thursday.
TAG (Thanking All Givers) Day started in 2014 to show appreciation to all donors to the university.
Alumni Relations Director DeAwna Wood said the Office of Alumni Relations posts yellow tags around campus to show students the impact of university donations.
The tags are put on buildings, rooms, or anything else that is here at the university due to donations, and it's always a good turnout, she said.
Students can take a picture of one of these tags to get one of the limited-supply T-shirts.
"Participation has been pretty consistent," Wood said. "We normally have shirts for the first 100 students and those go pretty fast."
Sophomore biology major Sylvester Rodriguez helped Alumni Relations set up the event and thinks the support is "awesome."
"It was kind of cool seeing how much the alumni donated," Rodriguez said. "It helps out a lot."
Rodriguez also joined in during the event and was one of the students that was able to get a shirt.
He said he enjoyed it and would "definitely" like to help thank our donors again next year.
Surprisingly, one of the donors wasn't too far from Rodriguez.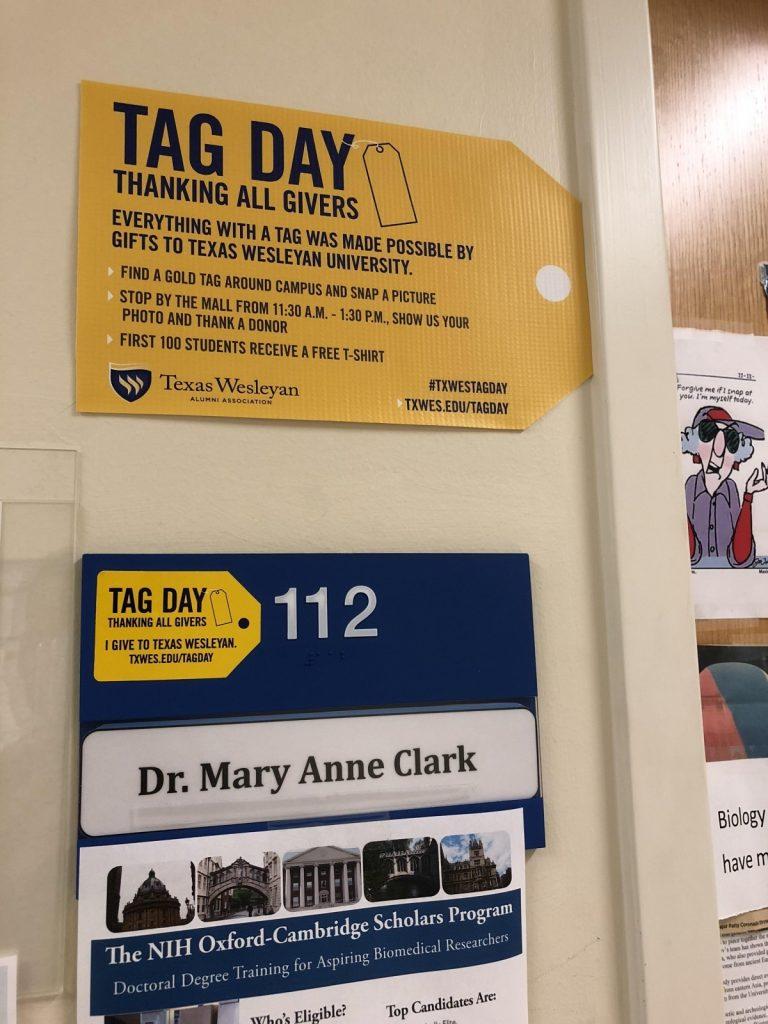 Dr. Mary Anne Clark, professor of biology, believes the school deserves its donations.
She started as an adjunct professor, signed on full time in 1979, and has loved Wesleyan ever since.
"I liked being able to talk to the friendly people inside and outside of my department," Clark said. "I think it's worth supporting and I want it to continue."
Alumni relations has no plans of slowing down on hosting TAG Day.
"We get to do the fun part," Wood said. "We have a long way to go, and we hope to continue to build on the event."
Check out Alumni Relations Facebook page here.
Leave a Comment