Students pack into PAC's wax hand event
Students were invited to create molds of their hands using wax in the Brown-Lupton Campus Center lobby on Thursday.
During the event, which was held between 11 a.m. and 3 p.m., many students stopped by to mold hands signs, although there were no gang signs or profanity allowed; students seemed to have a great time. The event was sponsored by the Programming and Activities Committee.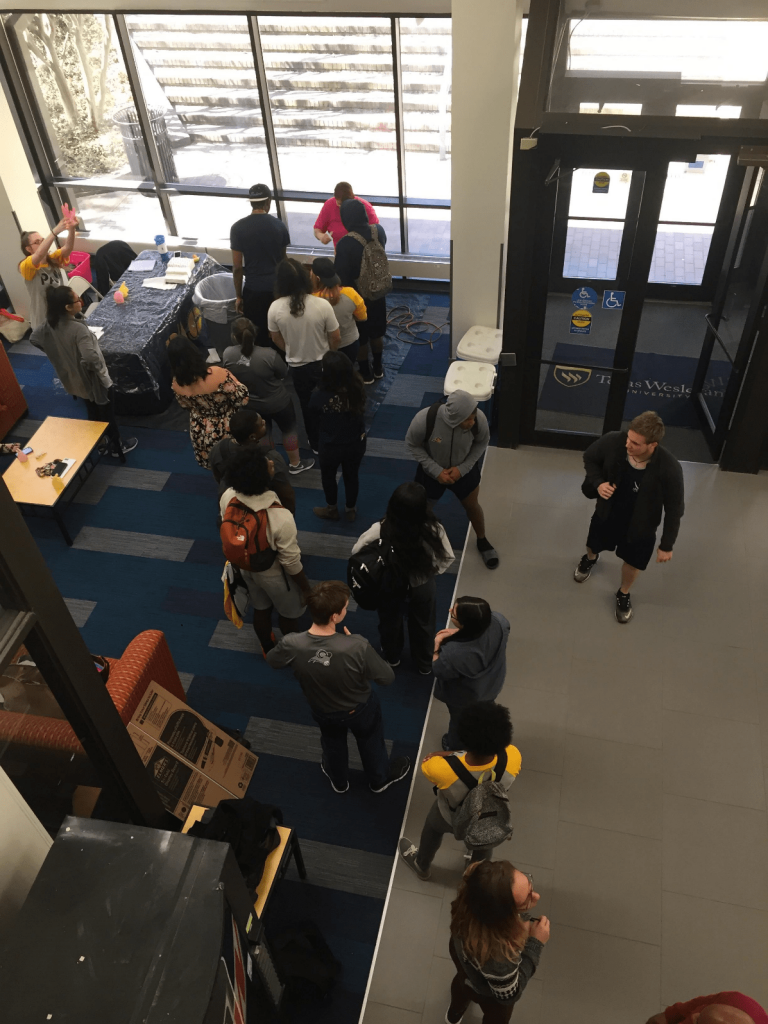 Robin Armock, entertainment consultant from The Smith Agency Inc., said she's been making wax hands for a long time,  traveling from place to place to showing people how they can make wax hands.
"Anyone can make wax hands," she said. "It's an enjoyable activity for people to do. The more you do it becomes really fun – anyone can do this even if you have acrylic nails."
Senior criminal justice major Diana Torres said that she wasn't nervous about putting her hand in the warm wax. Instead, she said it was a fun event to participate in with her friend.
"I was not nervous," Torres said. "I think it was so much fun, especially participating with a friend."
PAC member Alanna James, senior history major with secondary certification, said the inspiration for making wax hands came when The Smith Agency reached out to the group asking them if they were interested in doing an event. The group thought it was a great idea and decided to go ahead.
"It was just a fun thing Barbara wanted to do," James said of Barbara Barnhart, assistant director-student engagement. "The company reached out to us asking if we wanted to do this event. They gave us a good deal, so we all voted yes on it."
James said she was excited about this event because it was the group's first event of the semester. She is hoping that fun events like this will help positively spread the group's name.
"It's our first event of the semester, and it's always fun seeing the students and faculty get excited about our event because events like this help get our name out in a positive way," said James.
James said PAC will be participating in the upcoming Ram Jam with a booth containing a caricature artist and another where they will be giving out keychains. In addition to all this, the group is also in the process of doing a bubble soccer event in April and planning a collaborative event with Alpha Xi Delta in May.
James said what she wants students to take away from this event is a better understanding of their organization; she hopes students will continue to support more of their events.
"Beside a cool hand mold," James said, "the students can know more about PAC and be more willing to come to our other sponsored events."
Leave a Comment