UCD encourages super students to showcase their powers of discovery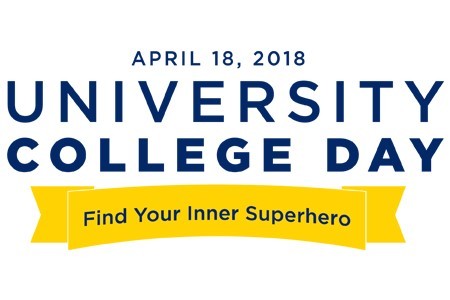 All Texas Wesleyan students have unique superpowers, or at least Dr. Cary Adkinson thinks they do.
Adkinson, the chairman of the 2018 University College Day committee, believes the annual event, which this year will take place on April 18, offers something for everyone, whether they are one of more than 90 presenters, one of the students attending the keynote session, or even one of the students coming to have fun at Ram Jam.
"Especially in a world where ignorance still breeds division and conflict," Adkinson wrote in an email, "it is all the more important for us to embrace opportunities for shared learning and expression of diverse ideas.  UCD is the one day out of the academic year that we all come together for this purpose, so that's why we encourage everyone to come out to join the fun!"
With the theme this year of "Find Your Inner Superhero", Adkinson believes students can hone in on their "powers" of critical thinking and research abilities for the event, and he hopes that students are excited for the opportunity to participate.
"Undergraduate research is so important because it helps our students appreciate the role of science and research in making sense out of the complex problems facing our world," Adkinson wrote.  "It also helps students to reinvigorate or rediscover the power of wonder and curiosity that so many of us lose as we grow out of adolescence and into adulthood."
This year's keynote presentation features Brad Faye and Kelsey Dickerson from SuperheroFaces.com.  Adkinson notes that they are currently producing a documentary about the influence of superheroes on American culture and are excited to show a trailer to Texas Wesleyan students.
"Students should be excited about their presentation because they are exemplary role models for students who want to make a positive difference in the world," Adkinson wrote.  "They are shining examples of the power of initiative and willingness to sacrifice for causes that are important and meaningful. Despite the challenges and sacrifices they've faced, they have persevered to realize their dreams of helping others 'find their inner superhero.'"
Dr. Eddy Lynton, a member of the 2018 UCD committee, wrote in an email that he always has fun attending "Ramtastic presentations", and is looking forward to this year's event.
"So much effort and coordination goes into the day that it is really exciting to see it arrive," Lynton wrote.  "Undergraduate research is an exciting way to delve into their unique interests. It allows them to explore their interests and practice valuable skills in a safe environment."
This year's event will also feature a special reception for participating doctoral students, said Dr. Lisa Dryden.  Dryden, a professor of graduate reading who had previously served as the chairperson of the UCD committee, says she hopes that this area of the event will have a large turnout since it is a new component.
"My favorite thing about UCD is its uniqueness to Texas Wesleyan University," Dryden wrote.  "I do not know of other universities that have such an annual event.  I think it is an excellent venue to promote student scholarship, leadership, and enhance the overall Wesleyan community.  UCD brings the entire campus together for one day to celebrate the power of learning and knowledge."
Executive academic administrator Amber Coronado wrote in an email that she believes she is "lucky" to get the opportunity to help coordinate events like UCD.
"My favorite thing is being able to collaborate with the faculty members," Coronado wrote.  "As a student and staff member it's endearing to see how proud our faculty are of their students.  The experience and confidence students gain from presenting to their peers and mentors is invaluable.  Plus, it looks good on your resume."
Adkinson said that this year's event will feature 97 different presentations and more than 150 participating students.  For those not in participation as presenters, Adkinson is confident that UCD will still be a rewarding event.
"One of the great things about UCD is that it offers something for everyone," Adkinson wrote.  "Whether it's hearing from distinguished panelists at the keynote address, attending student presentations on a wide variety of fascinating topics, or honing professional speaking skills by being a presenter, UCD is a great opportunity for our students, staff, and faculty to celebrate the wonderful work we're doing at Texas Wesleyan University. This is truly a unique experience that is not available to undergraduates on most university campuses, so it is our hope that our students and faculty are genuinely excited for the opportunity to participate."
For more information on University College Day, go to txwes.edu.
Leave a Comment