Students protest Board of Trustees meeting
Around 20 Texas Wesleyan students protested outside a Board of Trustees meeting Friday morning due to their continued concern over the 16-hour block rate change.
This is the second protest students have participated in over this issue; the first was in March after spring break. But this time the protesters were not silent and numbers continued to increase throughout the morning.
"What do we want? Change! When do we want it? Now!" the students shouted from across the street from Lou's Place, where the trustees were meeting, while holding signs that read "Fight the fee!" and "No trust in trustees."
The Student Government Association organized the protest and SGA President Alyssa Hutchinson spoke at the trustees meeting, giving updates on the students' concerns. She said she wants to get the trustees to start asking questions.
"I feel like Wesleyan sweeps things under the rug a lot and by us continuing to persist, that lets them know that just because they haven't done anything about it we are not going to stop," Hutchinson said.
Sociology major junior Yonatzin Cardoso said she came to protest because she is directly affected by the 16-hour block change.
"I am currently a sociology major with a double minor. If they continue on with the block 16, I will have to drop one of my minors. I don't want to do that because I value my education, and I love the professors in both of my minors," Cardoso said.
Cardoso hopes that because of the protest, the trustees will acutally listen to the students and bring forth change.
"The best solution I can think of is at least we get grandfathered in," she said.
SGA Natural & Social Sciences Representative Anakita Keer said she will not be able to attend medical school on time because of the block rate change. Because science majors must take two four-hour classes of science, they are only left with having room for two more classes to stay under 16 hours, and they do not get to take five classes per semester like regular students.
"I am never going to finish my pre-reqs in time to go to med school because it is a whole year application cycle, and I will have to wait a whole other year if I have to go," Keer said. "They need to know that this actually affects more than ten percent and how they are doing it affects the students that are trying to work the hardest at the university."
Vice President for Enrollment and Marketing and Communications John Veilleux wrote in an email that students are top priority.
"We understand that peaceful demonstration and voicing concerns is a part of a thriving college campus," Veilleux wrote. "In fact, we encourage our students to speak their minds and question our leaders at every level. It is what breeds critical thinking and analytical reasoning and supports our mission to develop students to their full potential as individuals and as members of the world community. We value our students and are grateful that they voice their concerns."
As for the 16-hour block rate change, Veilleux wrote that it relfects the value of the education students are receiving at Wesleyan.
"We are dedicated to providing an affordable, high-quality education and work hard to keep our tuition in the mid to lower range of our peer institutions," he wrote.
In response to the students' concerns, a waiver will be available to students who are in majors that require more than 128 credit hours to receive their degree, Veilleux wrote.
"We are committed to supporting all our students as they work toward their degree and our financial aid team's doors are open to help students plan for the change," he wrote.
SGA International Students Representative Hasib Aimaq said he wants to take legal action against Wesleyan, and wants students to hire a lawyer. Students followed the normal criteria in holding the first protest and voicing concerns to Slabach at an SGA meeting, and there is still not a solution.
"There are a lot of lawyers that can represent the student body for free because they are looking for the opportunity. This might sound odd and breaking norms to hire a lawyer to sue the school, but the school administration, they do not leave any other solution for us," Aimaq said. "We have to do it."
Board Chairman Tim Carter came outside and talked to the students two hours into the protest.
"I have been on the board for about 15 years, I am real concerned, not just about Texas Wesleyan but about the cost of college and the increases," Carter said. "So, we talk about this a lot, in terms of trying to balance tuition and the aid that comes through and doing the things we do to make campus life a good experience."
U.S. Rep. Marc Veasey, D-Fort Worth, came out of the meeting to listen to the concerns of the students. Student Zack Lanham told him that he is struggling to pay for his schooling at Texas Wesleyan.
"I personally take out loans. I am currently on my own. I pay for all my own stuff," Lanham said. "I am an RA; I am an orientation leader. I am a cheerleader. I am doing everything I possibly can to pay for this school."
Lanham told Veasey that he feels the tuition increase is a slap in the face; he is also going to have to pay for summer school out of pocket in order to graduate on time.
"I mean, I can't," Lanham said.
Veasey told the protestors he understands because he graduated from Wesleyan, and he didn't pay off his student loans until he was in his 30s.
"I will definitely take your concerns to the board and the president," Veasey said.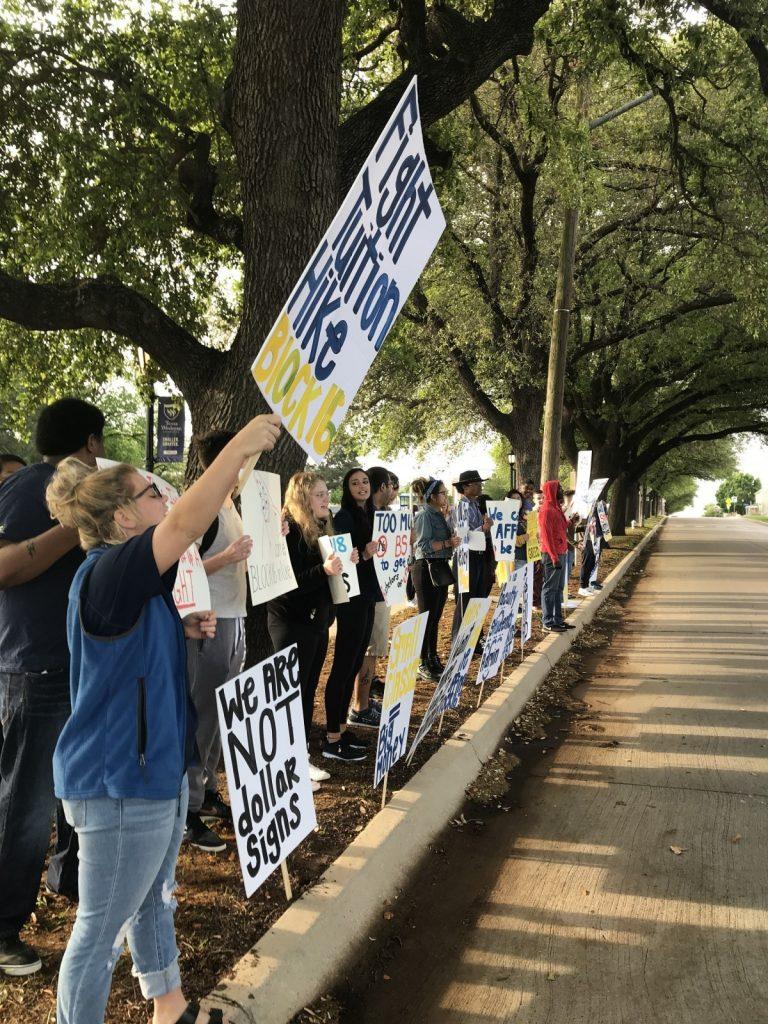 View Comments (1)