Sexual assault is never a joking matter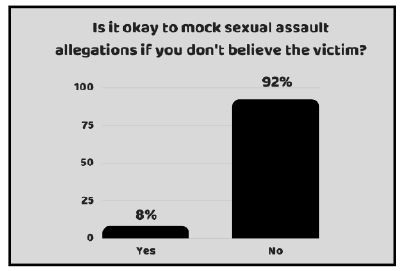 The behavior of Republicans toward Dr. Christine Blasey Ford has been completely disgusting and misogynistic.
Kavanaugh, President Donald Trump's Supreme Court nominee, has been accused by Ford of attempted rape that she said took place in 1982 when she was 15 and he was 17.
Kavanaugh denies the allegations and Republicans have been rallying around him in support to get him on the Supreme Court.
Many feel that the allegations are a way to delay Kavanaugh's confirmation. Because Republican's do not take Ford's allegations seriously, they feel they can mock her.
Republican Ralph Norman joked about the situation Sept. 20 at a debate when explaining why he was late.
"Did y'all hear the latest, late-breaking news from the Kavanaugh hearings?" Norman said. "Ruth Bader Ginsburg came out that she was groped by Abraham Lincoln."
What is even more disgusting is Donald Trump Jr. posting a meme Sept. 15 regarding the situation with Kavanaugh. It is a photo that reads, "Judge Kavanaughs sexual assault letter found by Dems," and then it shows a photo of a piece of paper written in crayon reading, "Hi Cindy will you be my girlfriend," and then boxes for yes and no.
Trump Jr.'s caption on the post reads, "Oh boy… the Dems and their usual nonsense games really have him on the ropes now. Finestein had the letter in July and saved it for the eve of his vote… honorable as always. I believe this is a copy for full transparency."
To make light of a situation as serious as allegedly trying to rape someone is appalling and should be taken very seriously. Mocking someone alleging that they went through such a traumatizing event is WRONG.
This kind of attitude is incredibly dangerous because it encourages others to not take allegations of sexual assault seriously, and it is influencing others to spew hate.
CNN reported that her lawyers revealed Ford has been receiving death threats and harassment, forcing her to leave her home.
Whether anyone believes that Kavanaugh is a sicko, Ford should not be harassed as much as she has been especially from our government leaders.
When will sexual assault and the #MeToo movement be considered a bipartisan issue and not a leftist attempt to bring down conservatives?
Since then, many celebrities and public figures, including Eva Longoria, America Ferrera and Gabrielle Union, came together to make a video addressed to Blasey called #DearProfessorFord reading the same letter.
"We know how difficult it is to stand up to powerful people," the letter reads. "We want to thank you for publicly sharing your story of sexual violence. As members of the Senate determine whether Supreme Court nominee Brett Kavanaugh should serve as a Supreme Court Justice, this context is critical."
The letter applauds Ford for being courageous enough to speak out.
"You are strong," it reads. "And you are not alone."
The letter is signed, "Your sister," and I am happy to see that women are standing with her through this time because I am one of them.
Sexual assault is wrong. It does not matter how long ago it was, if the person did it as a teenager or if you even believe it happened. The issue of sexual assault or harassment should always be discused with sensitivity.
From my understanding of Republicans from the behaviors they have exhibited in this situation, attempted rape should only be taken seriously when you believe the victim.
Well, unless you were there, I do not think it is for you to decide. This is Ford's story and she should be able to tell it. If people do not believe what she is saying, it is still not OK for you to mock her.
Discrediting someone's story of sexual assault sends a terrible message to those who have dealt with these situations and are afraid to speak up.
No person should be mocked because they decide to share their story with the world, whether you believe it or not.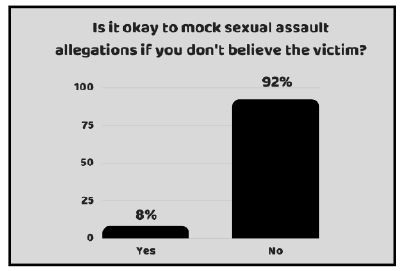 Leave a Comment