Latinx Rising panel discusses Latino issues
Texas Wesleyan's Diversity and Inclusion Council hosted the Latinx Rising panel discussion on Wednesday.
The panel, which addressed social issues and representation in the Latino community, was held at Martin Hall.
Wesleyan senior political science major Daniel Garcia Rodriguez was the panel's moderator.
"It's important to know Latinos are more than just a month, not only by our contributions, not only by our historical significance but by everything that makes Latinos who they are, who we are as a community, as individuals, as a collective group," Rodriguez said.
Rodriguez welcomed the panelists: Tristeza Ordex-Ramirez, president of El Voto Es Latino; Jessica Ramirez, organizer from United Fort Worth; Eva Arreguin, host of De Colores Radio podcast; Angela Andrade, organizer from the North Texas Dream Team; Jonathan Perez, higher education professional and doctoral student; and Giovanni Valderas, activist and artist of Casita Triste.
Ordex-Ramirez, a Wesleyan graduate, discussed why the administration hasn't been able to target the Latino community and how the community can collectively push back. One example she talked about the was the Texas State Legislature passing Senate Bill 14, regulating the types of voter identification cards that can be used to vote.
"This law impacted African-Americans and Latinos," Ordex-Ramirez said.
The Latino community is affected because the majority of them are part of the working class, she said. She suggested pushing back on these matters by contacting legislators, finding out who is in charge, writing letters, making phone calls, or contacting United Fort Worth to help.
"And if that still don't work, the best way to push back is you get out and vote. That's the biggest pushback," Ordex-Ramirez said.
Perez said Latinos should not only be important during the election season, and that he's "sick and tired of politicians pimping us (Latinos) out to get the Latino vote."
He said neither of the parties are made for Latinos and if they were for Latinos, why are the Latinos still facing the same issues within their community?
Arreguin said she's constantly talking about fighting the system on her podcast.
"Consistently, consistently, consistently we have to fight for the white supremacist system because that's not for us, it was not made for us. The Democratic, Republic whatever, it was not made for us or with us in mind," Arreguin said.
The panelists also discussed the rise in popularity of the Latino culture in America, and resisting assimilation.
Ordex-Ramirez said there is no assimilation involved; she has served her country, and she has served her community.
"I am proud of being a Latina and an American," she said. "Just because I embrace my roots, who the people that raised me are, where they came from, doesn't make me less of an American, just like it doesn't make some of these patriots less of an American because they didn't join the military."
What makes you an American is whatever you are and whatever you do, no matter what color you are, she said.
Andrade said these new fancy Mexican chain restaurants aren't made for her, nor were they meant to serve her.
"[They] are for white people to be comfortable in," Andrade said.
Valderas discussed being informed on these new chain restaurants and to advocate for local Mexican restaurants.
"It's important to support these taquerias that are around here especially in the gentrifying  neighborhoods," he said.
Wesleyan political science major Stephanie Ramirez attended the panel for Tristeza Ordex-Ramirez. She is also an intern for the El Voto Es Latino organization.
"I thought it was very informative, it really opened my eyes to the different issues that the Latino community faces," Ramirez said.
Ramirez said she learned to embrace her culture and to not be afraid to show the world who she is.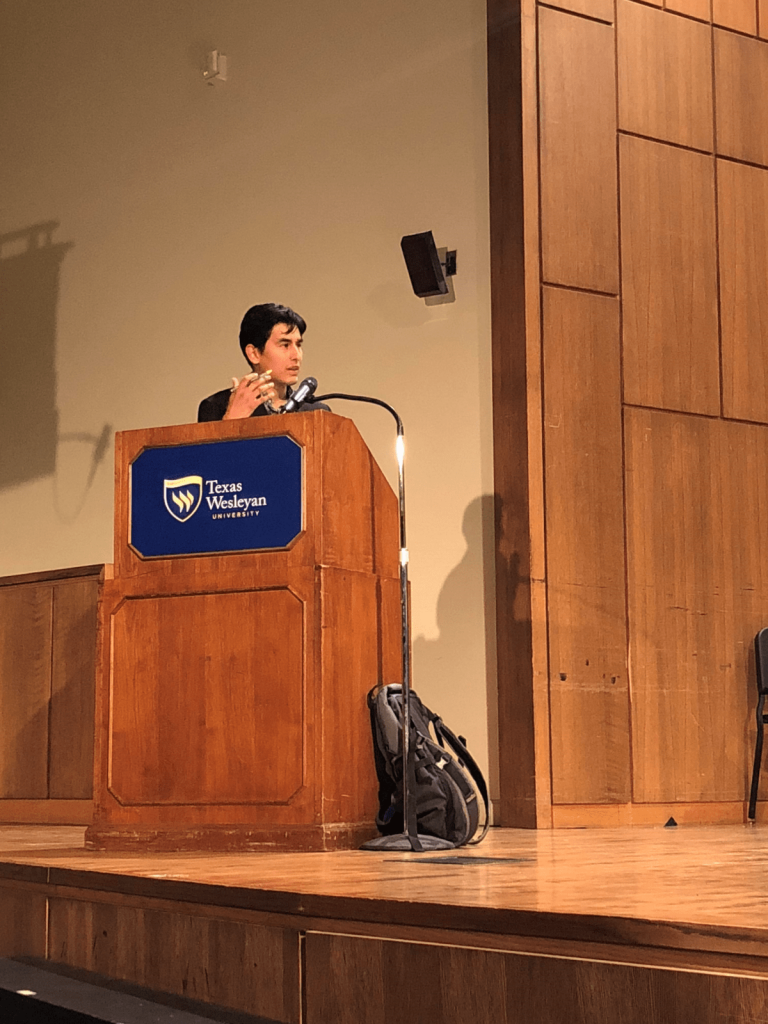 Leave a Comment