Rambler Media reigns in awards at TIPA 2019
Junior mass communication major Tina Huynh received the Jeff Henderson Scholarship from the Texas Intercollegiate Press Association at its annual conference March 13-16 in Corpus Christi.
This is the second time Huynh has received a scholarship from TIPA, last year winning the Frank Buckley Scholarship. The Jeff Henderson Scholarship is the top scholarship awarded by TIPA.
Huynh was awarded the scholarship at the annual conference, which took place in Corpus Christi during Spring Break.
"I'm so happy to receive this scholarship," Huynh said. "It's such an honor. Thank you so much to TIPA for believing in me."
TIPA scholarship committee members noted Huynh's tenacity and determination as well as her success with Rambler TV as reasons for awarding her the scholarship.
Huynh has won statewide and national awards as a content producer and director for Rambler TV. She plans to graduate in December 2019.
Rambler Media Group students brought home 22 awards in the previously published competition.
In overall excellence, The Rambler newspaper was named the third place in the state, third place in the cover design of the newspaper and first place in special design for the Fall 2018 graduation special section The Gradual. Staff members also received an honorable mention for Op/Ed page design.
In individual categories, Texas Wesleyan students won 18 awards.
First place individual winners included:
• Hannah Lathen in general news, in-depth reporting and general news photo
• Hannah Onder in in-depth reporting, feature page design and editorial cartoon
• Elena Maldonado and Hope Allison in ad campaign
• Hope Allison in ad design static
• Tina Huynh, LaTerra Wair and Rachell Aguilar in sports video
Second place individual winners included:
• Hannah Onder in editorial writing and headline writing
• Hannah Lathen in Op/Ed page design
• LaTerra Wair and Amanda Roach in multimedia sports story
• Jared Rabye in social media breaking news
Third place individual winners included:
• David Cason in general column
• Elena Maldonado and Sam Bastien in ad campaign
• Hannah Onder in photo illustration and static information graphic
Honorable mention individual winners included:
• Elena Maldonado, Hope Allison and Sam Bastien for ad campaign
"We are so very proud of all of our students for the great work they do for Rambler Media Group," said Dr. Kay L. Colley, Student Media Director of Rambler Media Group. "These awards just confirm how extremely talented all of our hard-working students are."
Two Texas Wesleyan students placed in the live events competition.
Senior mass communication major Hannah Lathen took second place in the print advertising contest. Lathen will be graduating in May and also won numerous awards from TIPA while a student at Texas Wesleyan and a student at Tarrant County College.
Junior mass communication major Hannah Onder took honorable mention in the editorial cartooning contest. Onder is the current editor-in-chief of Rambler Media Group and has led the newspaper, website and Rambler TV to numerous awards from state, regional and national organizations.
"I'm very proud of these two," said Colley. "They did a fabulous job in representing Texas Wesleyan throughout the live contests and the entire conference.
"Our whole group did a great job this year at TIPA, and I'm looking forward to continued success in the future."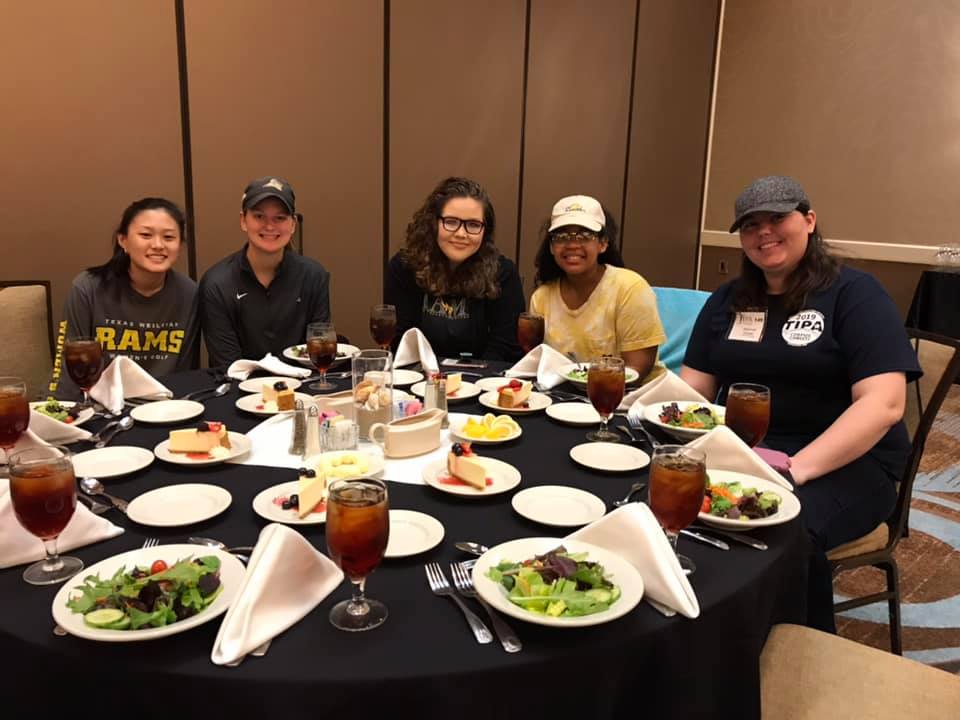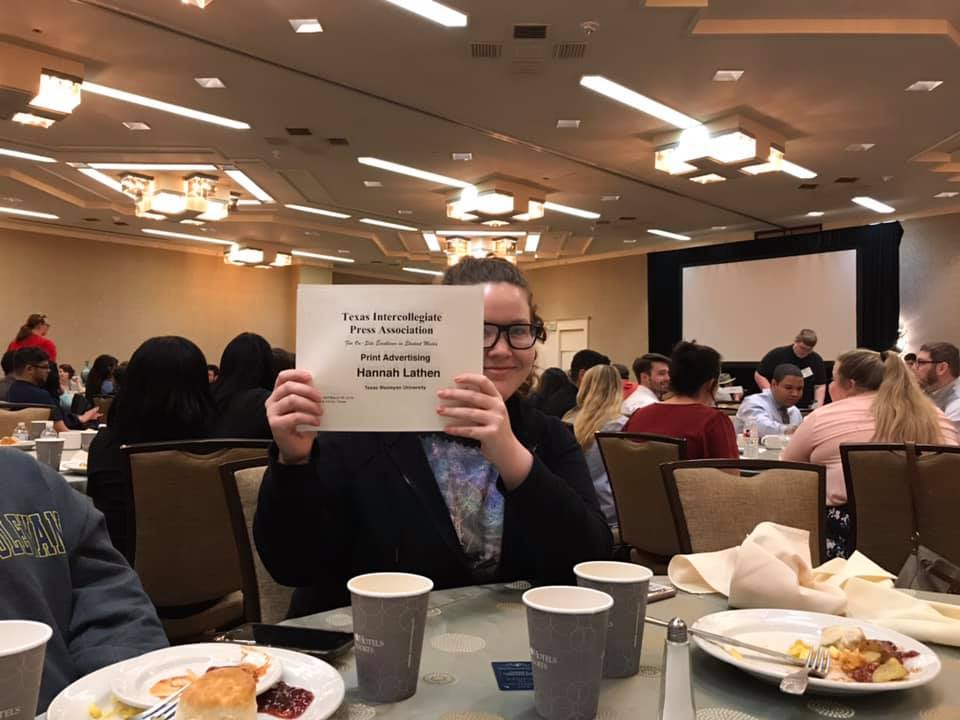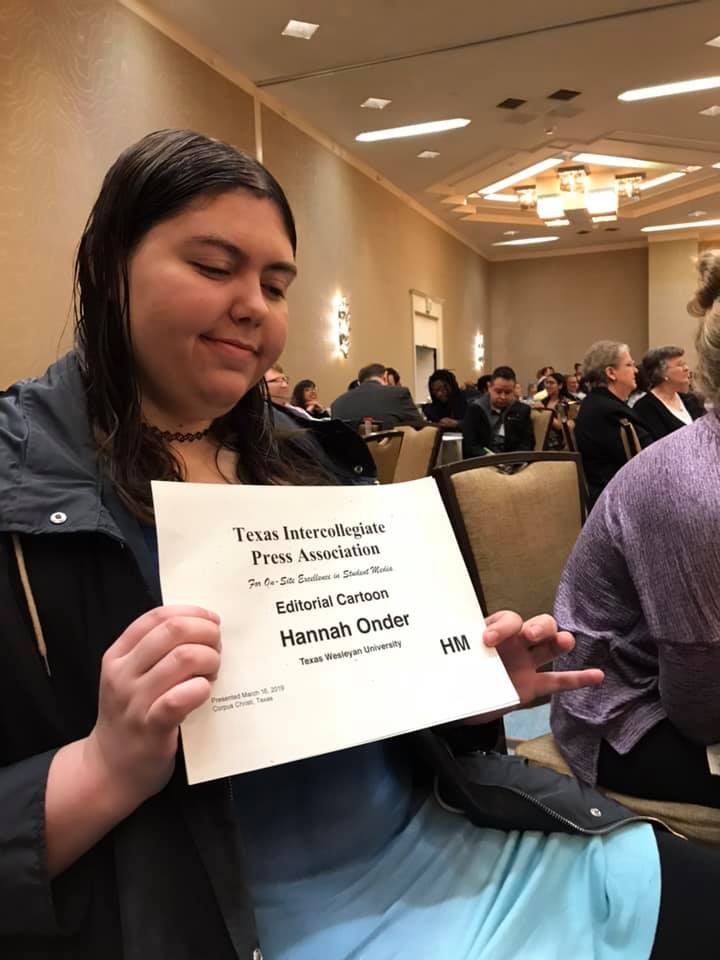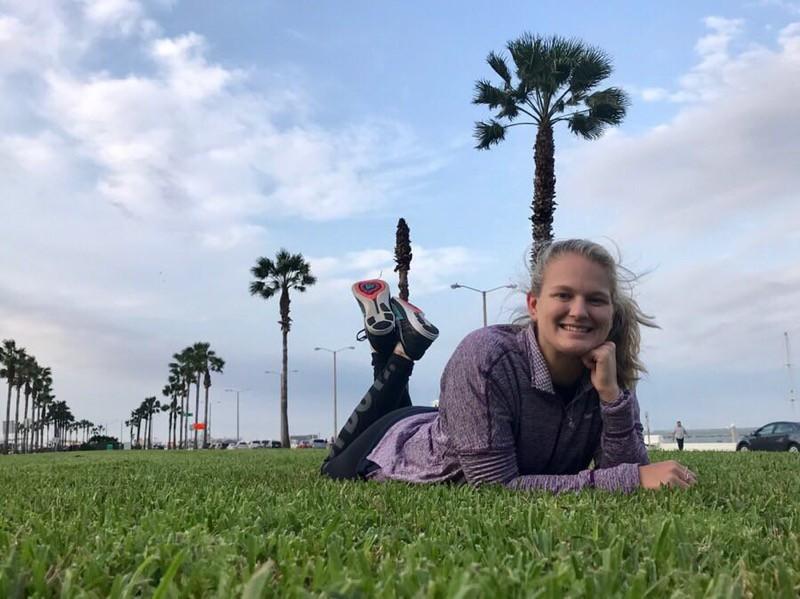 Leave a Comment