New leadership remakes Tau Sigma for fall 2019
With just a few simple emails to faculty advisor Dr. Chad Pevateaux in April, transfer students Nadine Yasin and Jennifer Harrison set off a chain of events to revamp Wesleyan's Tau Sigma Honor Society. 
"Jennifer volunteered to serve as vice president if Nadine would accept becoming president. Jennifer knew some other new members, Stacie and Kirsten, who might be interested in serving, and, just like that, we had new officers! I have been blown away by their energy, initiative, and talent," Pevateaux, assistant professor of philosophy and religion and director of liberal studies, wrote in an email. 
Tau Sigma is a transfer honor society that promotes academic excellence and involvement among transfer students that make a 3.5 or higher during their first semester at Wesleyan, Pevateaux wrote. 
The chapter started in 2012 at Texas Wesleyan, had fallen under the radar with low participation levels from the previous members, according to records found by Beth Jackson, academic coordinator for liberal studies. 
However, the organization is working to become more active again under newly elected officers who plan to use the organization to build community among Wesleyan's transfer students that promotes academic excellence and service projects, Pevateaux wrote. 
Yasin, a senior biology major and president of Tau Sigma, said she joined the honor society because she was looking for an organization to get involved with after transferring from the Tarrant County College Southwest campus and being involved with TCC's Phi Theta Kappa Honor Society as vice president.  
"Just by joining the honor society we got a chance to work with projects and like-minded individuals to create fellowship," she said. "We got to get with students that were like you to study and do fun stuff with. When I got here, I started looking for the right honor society to join. I kind of took a look, but with a busy schedule there's so many to look through and to read about each organization." 
Yasin knew she found the right the right honor society at Wesleyan when she found out it was specifically for transfer students.  
"As transfer students, you don't spend as much time (at a university) as regular students that have just came here fresh out of high school where they spend four to five years together getting a bachelor's, Yasin said. "We just transfer as juniors and seniors, so it's really difficult to find friends and have people that are kind of like you to fit in with. (Tau Sigma) is a way for transfer students to get together, which is difficult because most transfer students don't have the time (to socialize or as many opportunities like lower classmen)." 
According to txwes.edu, in 2016, new transfer students made up 20% of Wesleyan's new undergraduate enrollment. 
"All too often, transfer students can fall through the cracks and not make those lifelong connections that can be so meaningful," Pevateaux wrote. "Wesleyan's Tau Sigma chapter not only will recognize the academic excellence of transfer students but also will empower their engagement with our TxWes community and beyond." 
Senior paralegal studies major and Tau Sigma treasurer Kirsten Trudo is also a transfer student looking to get involved with an organization on campus with people of similar background. 
"I joined because I wanted to be part of something that promoted continued educational excellence and to meet other people who were as passionate as I was about education," Trudo wrote in an email. 
Trudo wrote that some organization benefits are:  
Recognition as a national organization

 
Distinction that students defied the odds against transfer shock (a decline in GPA in the first transitioned semester)

 

Lifetime membership that graduates can still participate in

 

A yearly scholarship contest with scholarships ranging from $250 to $2,500

 

Local chapter executive board offering leadership and networking opportunities

 
Trudo also wrote that being involved in Tau Sigma allows transfer students an opportunity for involvement on campus which can raise the likeliness of graduating. Trudo believes the organization will have a successful year, even though the new officers are taking over from a situation that had no active officers at the time of the transition last spring. 
"We have lots of ideas and plans for activities here on campus," Trudo wrote. "What I can say is we have lots of great people on the board with great ideas, and I can confidently say we will get this chapter back up and running." 
Yasin said her goals for Tau Sigma are to focus on fellowship, academic excellence, and service projects. 
"We're very focused on volunteering," Yasin said. "We're also trying to prepare for a good induction, and we're looking to increase membership by getting something out and spreading the word, talking to students and holding more meetings." 
Pevateaux also hopes to see membership increase and the organization thrive this year since he and Jackson just took the reins to Tau Sigma late last spring. 
"We host the first induction ceremony under our watch this fall, and now we're excited to be bringing in this new group of energetic students," Pevateaux wrote. "With these new officers, 2019-20 looks to be Tau Sigma's best year yet at Wesleyan! I hope Fall 2019 transfer students see and hear about us and strive that extra little bit to make that 3.5 mark."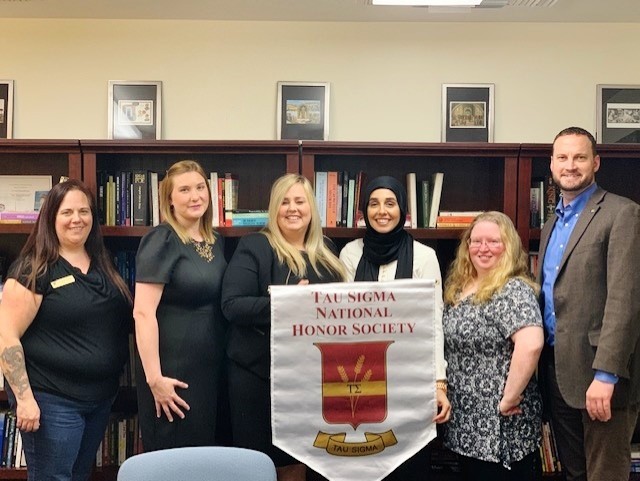 Leave a Comment