The ugly truth about a college degree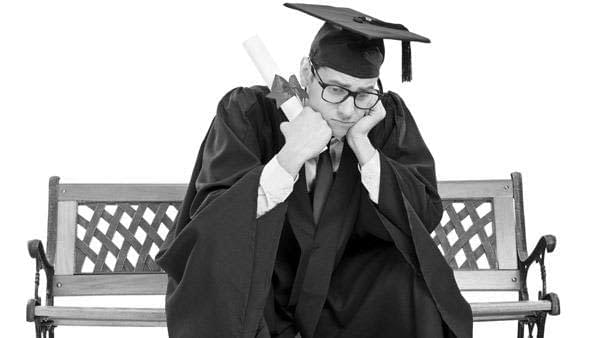 Did you know that a college degree is worth less if you are raised poor? 
So much for the American dream. We are taught that if we, no matter who we are, can graduate high school, go to college, find a passion, find a career, get married, have kids, we'll live happily ever after and walk off into the sunset or something like that.
This sham was fed to us by big businesses, like universities, and corporate America.  And it's time for people to wake up and be realistic.  
People are always chasing after this fairy tale so they can achieve a life they always dreamed of,  but what happens when one makes all the "right" choices to attain that dream and there is a disproportionate return on investment?
Yes, I am talking about upward social mobility and income growth through a college education. People with higher education levels generally tend to earn more. Therefore, if you attend college, make good grades, and graduate you can rise to the top of the economic food chain.
However, what many students fail to realize is that your socioeconomic status and family background play a huge factor in this scenario.
 "There is a smaller 'bachelor's bump' in wages for kids who grew up in poverty than for kids coming from better-off families," according to a report from the nonprofit Brookings Institution. Although poor kids who manage to obtain a bachelor's degree do experience a rise in earnings, they earn less than 20 to 30 percent less than rich kids with the same degrees.
These skewed statistics are absurd. But I am not surprised at all because the rich generally stay rich and the poor stay poor. However, there should not be a wage gap due to socioeconomic status if two people obtain the same degree. 
As a graduating senior from a low-income family, I am outraged that my hard work will not be financially compensated as it should be. I feel like this makes a college degree worth less than promised. There should be a better alternative to income equality.
Students who come from low-income families usually acquire a substantial amount of college debt from student loans and credit cards throughout their college career, while students from richer families have acquire less debt or have more help from their family to pay their college debt.
And you are telling me that the rich kids are going to be paid more because of their background?
All of this may completely unfair, but that's life. I do not think this should discourage anyone from pursuing a college degree, because anyone with a college degree still has the potential to earn more than someone with just a high school diploma.
These statistics just prove that college is all about the experience and there is no guarantee to a great career. You just have to work hard and hope for the best.
All incoming and current college students should keep this in mind when they are choosing a college and taking out loans, because too many students are left with high debt and disappointment, especially low-income students.
Leave a Comment