KAWS exhibit draws large crowds to the Modern
Curated by the Modern Art Museum of Fort Worth, KAWS: WHERE THE END STARTS highlights the career of Brooklyn-based artist KAWS (real named Brian Donnelly) over the last 20 years.
Drawn from various collections and museums around the world, the exhibition features paintings, sculptures, drawings, and toys that that have been appropriated from pop-culture cartoons and logos, such as Mickey Mouse, the Michelin Man, the Smurfs, the Simpsons, and SpongeBob.
For example, a larger-than-life sculpture of Cookie Monster from Sesame Street made of navy blue fiberglass and metal gives viewers an up-close look at their neighborhood friend; the twist is that Cookie's eyes have X's on them, as though he's dead.
If you're not a big art person, no worries. This exhibition can serve as memorabilia of the golden days when you used to have time for cartoons but now you're in college trying hard to keep those grades up.
The exhibition, which will travel to the Yuz Museum in China in March, is drawing a healthy crowd of millennials, such as San Antonio natives Enrique Sanchez, a photographer, and Alec Estrada, an art expert, who have been following KAWS for five years and have traveled across the United States to experience the exhibition on a closer level.
"When we heard about it, this was probably the closest we've had any of his pieces displayed near San Antonio," Estrada said.
The idea of a full KAWS exhibit stems from 2011, when the artists' work Focus was featured at the Modern and drew in audiences of all age groups, according to museum curator Andrea Karnes. She was able to collaborate closely with him to present his work over the last two decades.
"Since 2016 marks two decades of his work, we thought this was the right time," Karnes wrote in an email. "The works chosen for this exhibition represent his entire artistic career in that they show some of the finest examples of his paintings, drawings, sculpture and early graffiti interventions. The idea for this exhibition is to show highlights of KAWS's career from the last two decades."
Karnes said KAWS fits within the museum's diverse programming, which displays international art from 1945 to the present.
"What he specifically brings to the table in terms of museum outreach is youth culture," Karnes said. "Young fans of his who have become engaged with contemporary art because of his imagery."
Sanchez said the exhibition is a good timeline of who KAWS is and thinks the price of admission was way too cheap to experience it all.
"For ten dollars, it was way too cheap," Sanchez said. "The experience is worth way more than that."
Daniela Padilla, a Texas Wesleyan student and art aficionado, said the exhibit was definitely worth the wait. Padilla said the exhibition felt like a time warp since she had seen the old art displayed in New Orleans.
"I only started following KAWS when he helped make the album art for Kanye West's album 808s & Heartbreak," Padilla said. "After that, I realized that he really captures what it means to be human. I mean his work might be cartoonish and silly to others but his audience knows that it all has connections to human emotions in various aspects of life."
KAWS: WHERE THE END STARTS is at the Modern Art Museum of Fort Worth through Jan. 22. The museum is located on 3200 Darnell St., Fort Worth, Texas. Tickets are $4-$10; admission is free on Sundays and half price on Wednesdays. For more information, go to themodern.org.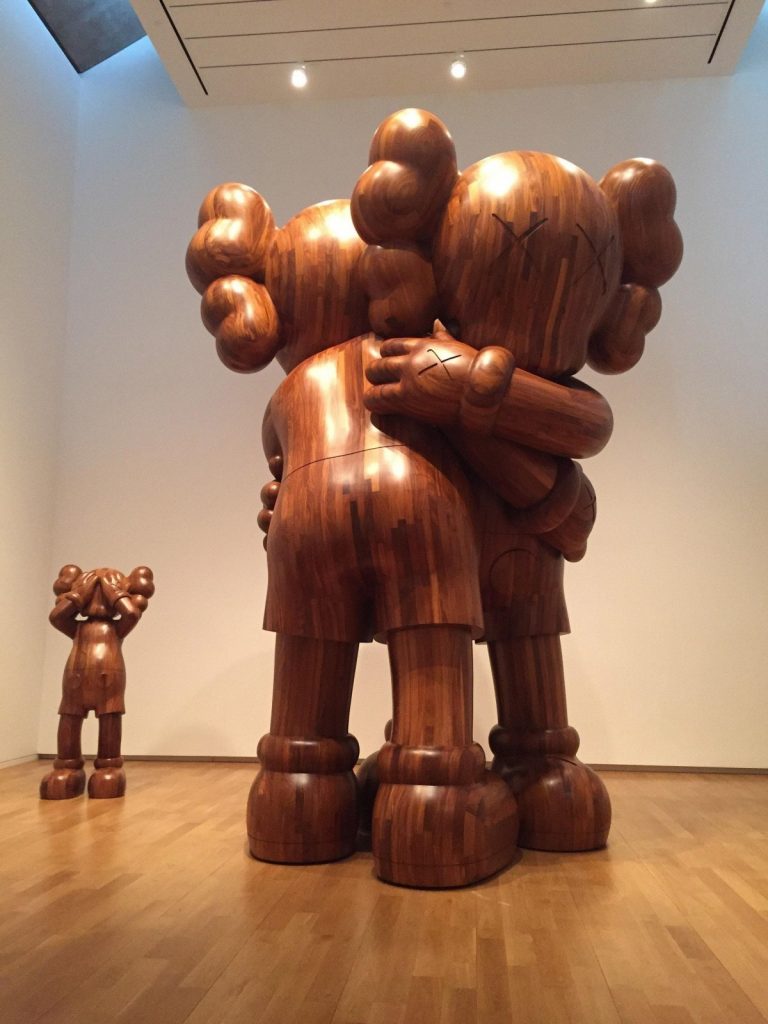 Leave a Comment