Senior says thank you to Wesleyan
Eye-opening. That is how senior Alli Perez, a music major, cheerleader, RA and ritual vice president of the Sigma Alpha Iota music organization, describes her four years at Texas Wesleyan.
The singer started her legacy at Wesleyan in the fall of 2014, but almost didn't come.
"I was set on going to A&M Commerce," she said. "I had my audition for Wesleyan a week after I had their audition, so I was like, 'OK, I am going to Commerce. It is going to happen.' Then my parents were like, 'Well, you have one more audition. Let's just see how that goes.'"
Perez auditioned, and after talking to the voice faculty, she felt very welcomed.
"Weeks later I got my audition letter, and I had gotten a way bigger scholarship than I had gotten from Commerce. The overall experience from when I walked into the door and when I walked out was a lot better (at Wesleyan) because Commerce was a bigger music school," she said.
Perez said since she started as a freshman, she has experienced many positive changes. She was once terrified of performing in front of a crowd, but her professors and voice coach, Music Professor Julie McCoy, helped her improve and become more comfortable on stage.
"I have a video (of my very first recital performance), and I watched it last semester and I was like, 'A complete difference,'" she said. "Everyone has told me I have grown a lot, not only with the strength of my voice but with my stage presence."
McCoy said her initial impression of Perez was that she was "extremely talented."
"I could see the potential of her voice," McCoy said. "It is incredible how much growth she has made in her time here."
Perez's confidence level has grown the most, McCoy said.
"She learns a lot from others," McCoy said. "She is very observant and learns a lot that way."
Perez takes every single bit of advice she is given, and she said that has helped her.
"Seeing my freshman year self to now, I am so glad I am not like how I was freshman year," she said. "Scared to go on stage. Scared for anyone to look at me when I sing. Overall, it has been a really good transition."
One of Perez's best friends, senior music major Luis Calderon, described her as passionate and compassionate.  He said not only is she a great performer, but she is also a great friend.
"She always speaks what's on her mind, and she is always there for you when you need her. She is very determined when she has a goal set in mind, and she is extremely talented," Calderon said. "She has a very big voice."
As a freshman, Perez joined the cheerleading team, something she had no prior experience doing. Her parents encouraged her to try out for the team because she needed more scholarships.
"I never really thought of myself as a cheerleader," she said. "My dad kind of pushed me to do it because I kind of didn't want to do it at first, but he made me. I ended up doing it all four years."
Perez made theater her minor, and although she had to drop it due to conflicts with her schedule, she played a part in the 2017 Theatre Wesleyan production of "Urinetown."
"I auditioned for 'Urinetown' last year," said said. "I walked in there and I was like, 'OK, I am not even in the department. The chances of me getting in the show are very, very slim.'"
After auditioning, Perez received a call from the director asking her to read in her office. Perez was shocked.
"I ended up getting a role as Little Becky Two-shoes, which was like a mean character. I have never played a mean character in my life so that was interesting," she said.
Perez said she fell in love with show and was invited to the theater banquet, where she won an award for best supporting actress.
"I love my theater family. They are all super sweet," she said. "A few of them I went to high school with so in a way I kind of grew up with them. I am really close with the theater kids."
Perez said getting involved in theater was one of the best decisions she has ever made.
"It helped me a lot with my acting, let alone being scared to perform, (and) acting was not my strong suit," she said. "I was terrified because I felt like I sucked at acting.
"Getting to know all of the theater students really helped me out with not only building relationships but (building) connections with people that I can go to if I have questions on acting or certain things that I am not 100 percent professional on."
Through working on "Urinetown," Perez became friends with John Traxler, a sophomore theater major.
"Alli Perez is one of the most incredible human beings I have ever met," he said. "She is a fantastic singer. She is very dedicated. She puts in her best effort into everything she does, and she is always willing to help someone. She is an amazing friend."
Her sophomore year, Perez added RA to her growing Wesleyan resume.
"It is a crazy schedule," she said. "It is hard. It is very, very hard especially the RA job. It is a very important job, and you have to be very involved with all your residents. Not only do you have your own residents, but you have residents from other halls."
Time management is a key factor in staying afloat for Perez.
"Even though I have a good grasp at it, I still get those times where I am like, 'I do not have time to do this, this and this,'" she said. "Sometimes I feel like I don't even have a social life because I am trying to get all of this stuff done."
Even though Perez will be leaving her hectic schedule behind, graduating still seems scary to her.
"For me, I am the only person in my family that is involved in music or theater in any way," she said. "My whole four years here, everyone was like, 'OK, so what are you going to do?' I had to be that person that is like, 'I don't really know.'"
Perez said she hopes to become a voice or acting coach or get a job working in a theater. Her dream is to sing professionally.
The relationships Perez made at Texas Wesleyan are ones she said she plans to keep for the rest of her life.
"I want to thank the Wesleyan community as a whole," she said. "There are so many people, there are way too many to thank. Just, everybody who has been a part of my life and my journey here, (thank you for) helping me grow as a person."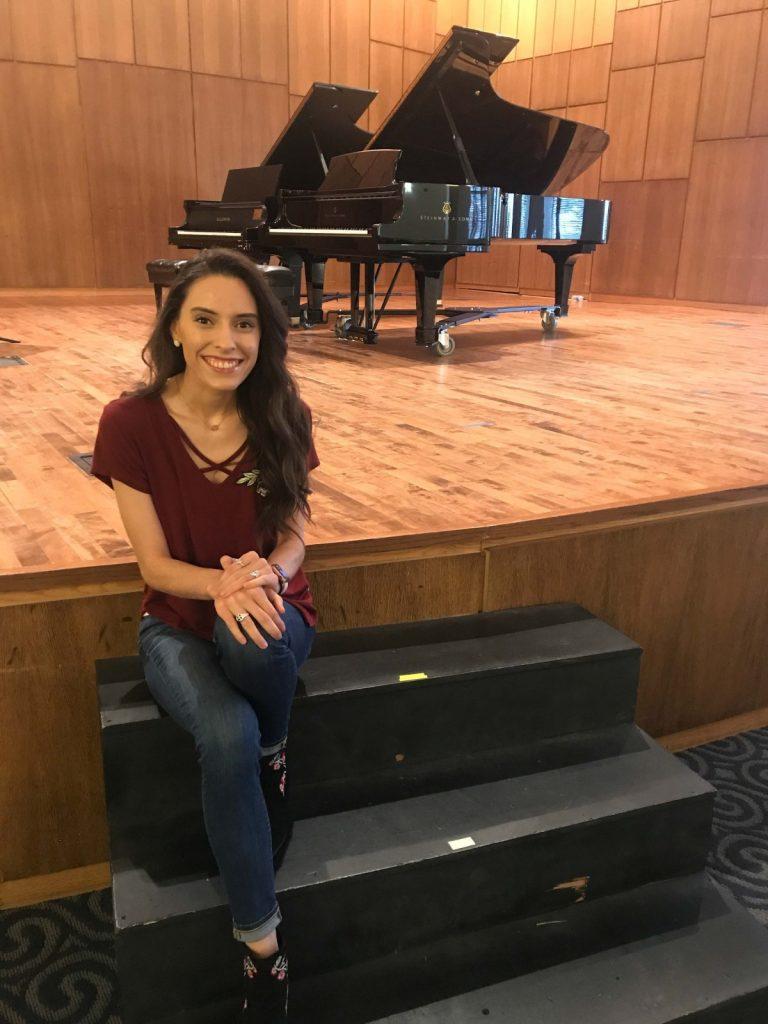 Leave a Comment