Cardona comes to Wesleyan with 'Southern Gothic' exhibit
Artist Sara Cardona exhibited her art collection "Southern Gothic" on Saturday at the Bernice Coulter Templeton Art Studio.
Her exhibit résumé found at txwes.edu states that she is a PhD candidate in Aesthetic Studies at the University of Texas at Dallas. "Southern Gothic" runs from Oct. 1 through Oct. 25.
Over the course of her journey as an artist, she has had 10 select solo exhibitions and 19 selected group exhibitions, according to her exhibit résumé.
More than 10 artworks were displayed. Her art is made up of hand-cut collages on Arches paper.
"This particular show is called 'Southern Gothic,'" Cardona said. "The inspiration was the feeling and aesthetics of Southern literature."
Cardona said her collection reflects the feelings someone gets from the Southern Gothic genre of literature.
"A lot of the books and novels have to do with how in the surface, the South has a mythology that can be very beautiful and genteel, but under those surfaces, there is a lot of violence and racism and tension," she said. "A lot of Southern Gothic literature is playing with that tension of where the surface feels very beautiful, but underneath it can be very depraved."
Cardona said she uses color to capture the attention of viewers of her art.
"The color looks very appealing and I want people drawn in, but if you look at the detail, some details allude to violence or the movement is kind of hectic or causes a sense of anxiety," she said.
Cardona said she followed a process when creating the pieces for her "Southern Gothic" collection.
"I cut out a lot of material from magazines and books, then I shift stuff around so it is almost like film editing," she said. "I let it stay for a day or so and take pictures and move them around and look at the pictures in my camera until I decide what I like. Then I start gluing and pasting them down. "
She said she chose to exhibit this specific collection because she thought her art would be relatable to art and literature students.
"We are in the South, so I thought there may be a way people may relate to the material because it is vaguely familiar in a way," Cardona said. "Even in Dallas [people] live with the glitz and glamour of a big city, but then there is also police violence and a lot of other things that are particular to cities that have a lot of black and Latinos that have to deal with that. I felt like the content worked well for a university, but also worked well our geographic location."
Cardona would describe her work as theatrical.
"I think of them as characters on a stage," she said. "I hope that people will find them beautiful but also a little strange or that they are drawn into them. In general I feel like they are quite cinematic and bright and colorful and enticing."
Kit Hall, a professor of art who also manages the gallery, was at the art show to welcome Cardona and the guests.
She said she became familiar with Cardona and her work after Cardona sent in her exhibit proposal to the exhibition committee about a year ago.
"I sent out an email to all colleges and surrounding colleges saying that [the committee] was accepting proposals for this gallery," Hall said. "We got 18 proposals from across the U.S. from Colorado to Missouri. Most of them were from Texas, and one was from Italy. The committee got together and looked at the proposals and the examples of the materials and decided on which ones would be the best to come here. The proposals that we received were a wide variety of skill level of the artist so we tried to keep a high caliber of artists. All of the artists that are exhibiting this year are nationally exhibited artists."
Hall said Cardona's work was chosen because it is beautiful work.
"I liked it because it was something different and challenging for people to look at," she said. "Her theme is the Southern Gothic so I find that an interesting topic."
Kit hall used the phrase "full of movement" to describe Cardona's collection.
"I would describe it as full of color, but to me, it is not color that hits you in the face," she said. "There are a lot of neutrals. I personally lean towards a lot of neutrals so I like that. I like the movement. She mentions in her artist statement 'baroque art' so I like baroque art quite a bit. The movement and the theatricality of that is beautiful. I normally think of sculptures when I think of baroque art, but this is obviously two dimensional and it has the perception of movement which is quite beautiful."
Barbara Reese, who used to work at Texas Wesleyan and frequently attends art shows, was at the exhibit to look at the collection.
"My eye was immediately drawn to 'A Fox In The Henhouse' because of the feather-like quality to it," she said. "I like her colors; they are somewhat muted. I am usually drawn to pastels which she has done as well so I really appreciate both colors that she used."
Reese said she appreciated Cardona doing collages.
"I really appreciate collage as I used to do it in art," she said. "I would describe the art as having flow and having different kinds of colors to it. I like the fact that she does different sizes of collages as well. I think she has taken a great interest in juxtaposing materials together."
She said she felt inspired to create art after seeing Cardona's collection.
"I was looking [at the work] and thought, 'Why did I ever stop that?'" she said. "To me [collages] are a great way to express yourself."
Reese said she will be following Cardona's work from now on.
"I think artists would appreciate it, and anyone that has ever done collages would absolutely love it because there is an art to a collage," she said. "It may not seem that way right away, but there is always an art to a collage. I think the art would appeal to just anybody."
The Bernice Coulter Templeton Art Studio is at 1415 E. Vaughn Street. Hours of operation are 10 a.m. to 3 p.m. Monday through Thursday. For more information call 817-531-4984 or go to txwes.edu. You can find out more about the artist at saracardona.com.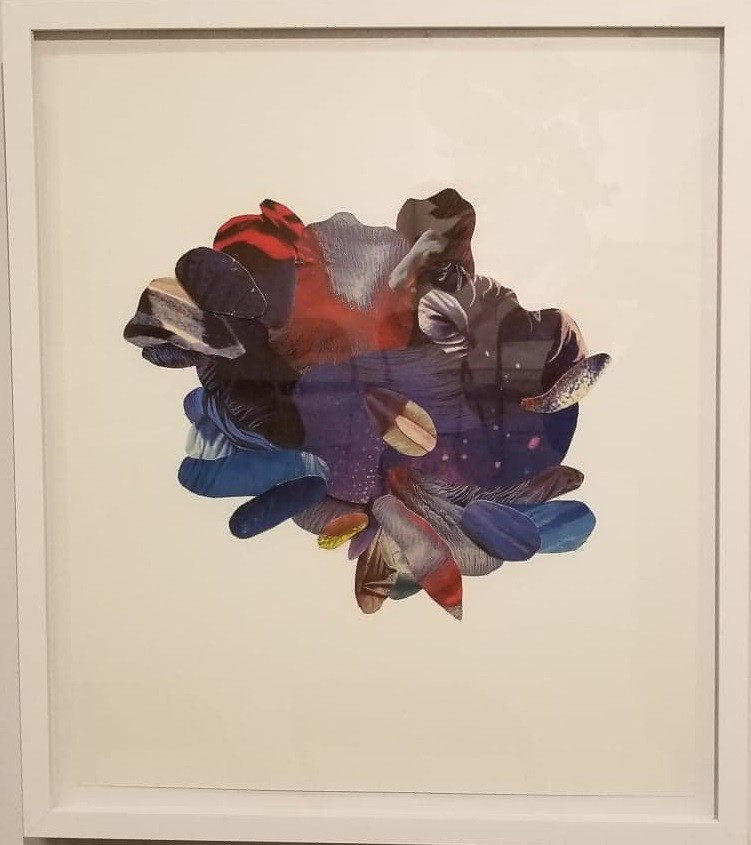 Leave a Comment