Fort Worth joins Rams in well-being pledge
Fort Worth became a certified Blue Zones Community in October, a milestone for the city in terms of health and well-being.
The Blue Zones Project is a community movement that encourages people to improve their health and well-being, Alexis Patterson from the Fort Worth Blue Zones Project wrote in an email.
"Principles are based on research into the world's Blue Zones®, areas where people live longer, healthier lives," Patterson wrote.
The first Blue Zones cities were in Costa Rica, Japan, Italy, Greece and California, she wrote. Fort Worth is the largest city in the world to partner with Blue Zones.
"Blue Zones Project draws upon lifestyles in those areas as well as other evidence-based best practices, making changes to the places where people live, work, and play to support healthier choices," Patterson wrote.
The Blue Zones Project stemmed from author Dan Buettner, who studied regions around the world where people lived to be 100 or older.
"Blue Zones Project incorporates Buettner's findings and works with cities to implement policies and programs that will move a community toward optimal health and well-being," Patterson wrote.
Fort Worth Mayor Betsy Price, Texas Health Resources and the Fort Worth Chamber of Commerce partnered with the Blue Zones Project in 2013 to see if Fort Worth could become a certified Blue Zones community, Patterson wrote.
"The answer was a resounding yes, making Fort Worth the largest city to ever partner with Blue Zones Project," Patterson wrote. "Fort Worth became an official Blue Zones Project Demonstration Site in February 2015 and earned certification as a Blue Zones Community in October 2018."
While the certification is new for the Fort Worth community, the Blue Zones Project had been at Texas Wesleyan for two years. Wesleyan's Human Resources Generalist Christi Tallent is the chair of the campus' Blue Zones Committee.
"In 2016, we became a Blue Zones committee because we became a Blue Zones University," Tallent said. "We were actually the first private university to get that designation."
When Wesleyan was working to gain the certification, Patterson wrote, a third of university employees made the pledge to improve their well-being.
"The university also adopted Moais, a concept from Okinawa, Japan, in which a small group of individuals comes together to support one another," Patterson wrote. "Texas Wesleyan formed both Potluck and Walking Moais, encouraging faculty and staff to share healthy meals and stay active."
Wesleyan also made walking paths and hosts a Purpose Workshop to help students, faculty and staff start utilizing their gifts to help themselves and the community, Patterson wrote.
"The university now offers free membership to the Morton Fitness Center and tastier, healthier on-campus food options," Patterson wrote. "Texas Wesleyan encourages employees to take time to downshift during the workday and take "microbreaks" to stretch and move. The university also formed a wellness committee with representation from faculty, staff, and students."
This month, Tallent said, the committee will be re-branding itself and is looking for student and employee chairs. The first step to getting involved is taking the Blue Zones pledge, which includes acting in bettering your well-being not just in diet and exercise, but also in aspects such as mental well-being.
"When you take the pledge, you are making a promise to incorporate some of these principles into your life," she said. "You don't have to do all of them at first, but you are committing to some of them."
Tallent said that since taking the pledge she has become more mindful about making healthier decisions, which started with incorporating small changes to her lifestyle.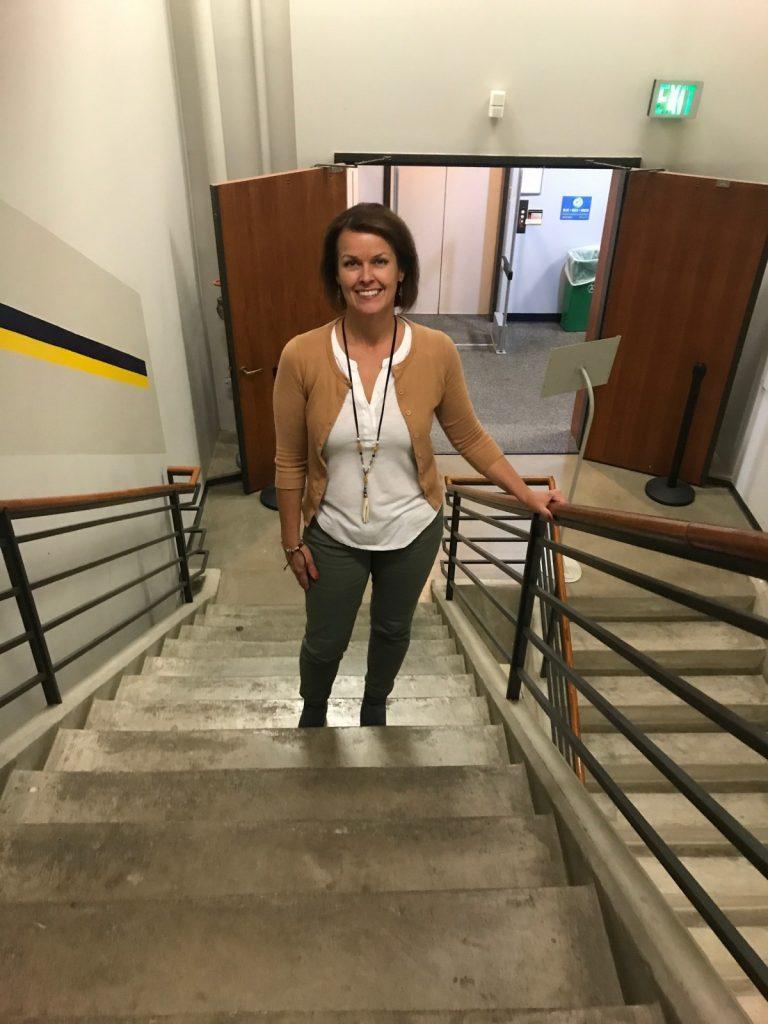 "Now, and the library staff can tell you, I come into the library three times a week and I take the stairs up and down at least four times and that gets my cardio exercise in and it gives me a 10-minute break from work which is good," she said.
Tallent said she wishes she had been more aware of taking care of herself when she was a student.
"I think when you are young, you just think automatically, 'I am young, and I don't need to be thinking about all these other things, I am just doing my own thing,'" Tallent said. "As as you get older, which happens very quickly, you discover that you are going to be better off starting taking care of yourself, putting into practice well-being practices."
Wesleyan's Upward Bound Programs Director Fabiola Rodriguez is a part of the campus' Blue Zones Committee. One of the ways she has improved her health is by taking up running.
"I started going out in my neighborhood and I would run a block and walk a block. I was out of breath even for that walk. I just literally kept doing it because I didn't have a gym membership at the time," Rodriguez said. "I needed to do something and that is exactly how I picked up running."
From then she started setting goals for herself and began racing in 5K runs, she said.
"The momentum, just the feeling of completing a race, it is a huge accomplishment," she said. "I started doing 5Ks and that is when the weight started dropping and I started to see it."
The next Purpose Workshop will be Nov. 29 from 11 a.m. to 1 p.m. in Lou's Place and it is free and open to all Wesleyan students, faculty and staff.
To get involved in the schools Blue Zones Committee, contact Tallent at [email protected].
Leave a Comment