Rams looking forward to 2019 season
The Texas Wesleyan football team is looking toward the future after wrapping up their season against Ottawa University Arizona earlier this month.
The Rams ended the 2018 season with a record of 2-8 overall and 2-6 in the Sooner Athletic Conference, beating Texas College 36-7 on Sept. 15 and Lyon College 21-20 on Nov. 3; in 2017, the Rams were 1-10.
Head coach Joseph Prud'homme wrote in an email that he felt the season showed a lot of improvement.
"We are definitely headed in the right direction," he wrote. "The last few games were conformation of that."
Prud'homme wrote that there are definitely places where the team could improve moving forward.
"We have to get stronger, and that will be a focal point," he wrote. "The other area is finishing games and play with confidence, which will come with a strong offseason and experience."
Prud'homme wrote that the team had some good moments as well as some not so great ones.
"The wins were bright spots and taking several opponents to the final whistle," he wrote. "The low points were the injuries and having to play shorthanded at times."
Prud'homme wrote that he is looking to recruit some new players for the next season.
"We only lost (Desmond) Nisby as a starter," he wrote. "We are planning on bringing in impact players as well as depth."
Seventeen Rams were named to the Sooner Athletic All-Conference team, according to ramsports.net. Offense First Team went to running back Desmond Nisby and Defense First Team went to defensive back Michael Miller.
Jermarcus Jones and Colby Moffett were named to the second team offense; Byron Tate was named to the second team defense; and Diamond Williams was named to the special teams second team.
On-air announcer Jimmy Christopher wrote in an email that he believes the Rams made some great strides this past season.
"Although they won just 2 games, the Rams were much improved over last season," he wrote. "They were in most games they played, second year players gained much needed experience, and they found a quarterback."
Christopher wrote that the Rams' running game was one of the things that made them the most successful.
"The running game worked well most of the time, they were able to make big passing plays on offense, and some plays on defense," he wrote. "I liked the punting game and improved special teams play."
Christopher wrote that the team needs to recruit some new players in order to improve next season.
"They need to rebuild the defense and recruit junior college players for the offense and defensive lines," he wrote.
Christopher wrote that with the return of some of the players that they will be looking good for next season.
"The return of QB Donovan Isom, RB Jemarcus Jones, WR Eric Richards, DL Zalen Jones, and others will be helpful," he said. "They have a better foundation and keeping it together will be a challenge."
Quarterback Justin Arth, a sophomore business administration major, wrote in an email that he is looking forward to the off-season and excited to see the improvements that the team will make.
"As a team, I think we all know that we have to take it day by day and attack that day," he wrote. "You are either getting 1% better each day or getting 1% worse,".
Arth wrote looking back on the season he believes that the team really came together.
"I think as a whole, we bonded better than any team I had ever been a part of," he wrote. "We came to practice or workouts together as a team. We are ready to go put in the work to be great and build something great."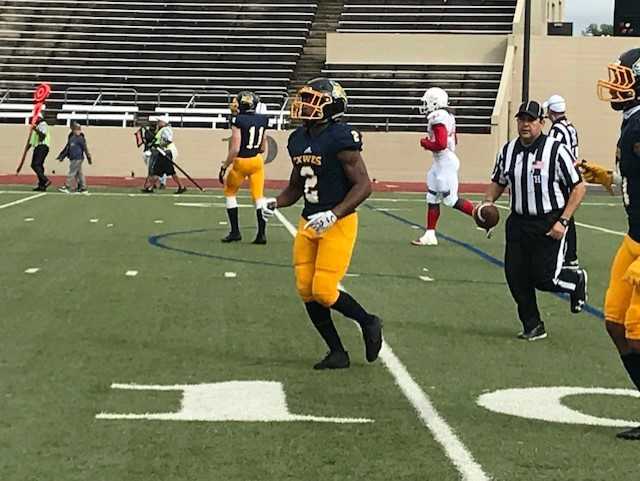 Leave a Comment