R-rated musical pops up at Wesleyan
Theatre Wesleyan is getting ready to close the 2018-2019 season with "Avenue Q," a puppet-filled musical.
The show will be presented in the Thad Smotherman Theatre from April 25 to April 28.
Jeff Whitty's play is a comedy-filled musical that adults will find relatable. It involves humans and puppets trying to figure out life together while they break out singing.
Kristian Thomas, a sophomore theatre major, will be bringing the character of Trekkie Monster to life.
"Trekkie Monster is a very interesting guy," he wrote in an email. "He is very sarcastic and an easy-going character who loves to have a good time. Something that'll make him really relatable to the audience is his confidence. He knows how everyone thinks of him but he doesn't care and he lives his life the way he pleases."
Thomas wrote that he had to learn a few techniques in order to do Trekkie Monster's loud, raspy voice.
"In the beginning of the process it was very difficult to handle his voice," Thomas wrote. "I had to learn how to sing and speak without damaging my voice as well as being loud and clear enough to be heard by the audience. Once I found something that worked for me it got progressively easier to handle Trekkie's voice."
Thomas wrote that learning puppetry has been both a difficult and an amazing experience.
"It's not easy, not one bit," he wrote. "Especially the way Trekkie is made. However, it's still an amazing experience and learning opportunity. We all have put in a ton of work to get these puppets to look and feel like real people. It's going to be a super fun performance."
In order to be better prepared on how to work with puppets, the cast members attended a puppetry workshop lead by Rick Lyon, an original "Avenue Q" cast member.
Jacob Sanchez, the business manager of the Theatre Department, is the assistant director and choreographer of the musical.
He coordinated the visit to Lyon's workshop.
Sanchez wrote in an email that the workshop was a learning experience for the cast, faculty and staff members that were present.
"I have been familiar with Rick's work for a long time and being able to help in getting him here for our production of 'Avenue Q' was very rewarding," he wrote. "He has been involved in the show since it was in development as a TV series, then as it became a theatre piece. He had a lot backstage stories and intel on how the musical came to be. It was a taxing weekend, but well worth it."
Sanchez wrote that the workshop consisted of three four-hour sessions; students learned puppetry for onstage performance. The students are putting to practice what they learned in the workshop.
"One of the main things we took away as a group was the importance of the puppets' focus," he wrote. "Because the actors will perform with the puppets parallel to them, there is no way they can see what or who the physical puppet is looking at. We have been working in rehearsal to make sure that aspect is as tight and accurate as possible, because it enhances the believability of the puppets' performance and their interactions with other human or puppet characters on stage."
Alastair Sigala Ramirez, a senior theatre major, is designing original puppets for the musical; he participated in Lyon's workshop.
"The whole experience of being able to talk with and see Rick Lyons work was amazing," he wrote in an email. "He was so helpful in how the puppets should be used along with upkeep of them. It was also so reassuring to find out that we had similar methods of design."
Ramirez, who will be designing 11 puppets, wrote that for inspiration, he looked at TV productions that used puppets.
"With the shows big focus being on the reality of adulthood and it being inspired off of 'Sesame Street' I really looked towards that to base my design off of, along with taking inspiration from other childhood things like Care Bears, The Muppets, and so on," he wrote.
He wrote that he decided he was going to be designing the puppets for the musical because puppetry is something that sparks his interest.
"When the season was announced I knew I wanted to do this puppet design because it was something different and I used to love puppets as kid, so when it came to the interview I showed my passion for it and wished for the best," he wrote. "Designing the puppets I did do on my own, but the actual construction of them could not have been completed without our wonderful mentor Kathy Kreuter, who is an alumni, and my fantastic team."
Ramirez said he is excited for the audience to see his work come alive on stage.
"It's so crazy to see them actually put together and as tangible things, so I can't wait for people to see them in person and I hope they really enjoy them as well as feel some sense of nostalgia from their childhood," Ramirez wrote.
Sanchez wrote he excited the cast and crew were able to put their own spin on the musical, including the creative puppet designs Ramirez is working on.
"Lyon told us that out of all the schools he has worked at, we were probably only the second to build our own puppets instead of renting or buying from across the country," Sanchez wrote. "That is no easy task, but again we gave our students the opportunity to design and build puppets and they went full-force with it. It has been an amazing experience so far."
"Avenue Q" runs April 25-28 at the Thad Smotherman Theatre. Showtimes are 7:30 p.m. each night except for April 28, which is a 2 p.m. matinee. For ticket prices and more information, go to txwes.edu/theatretickets.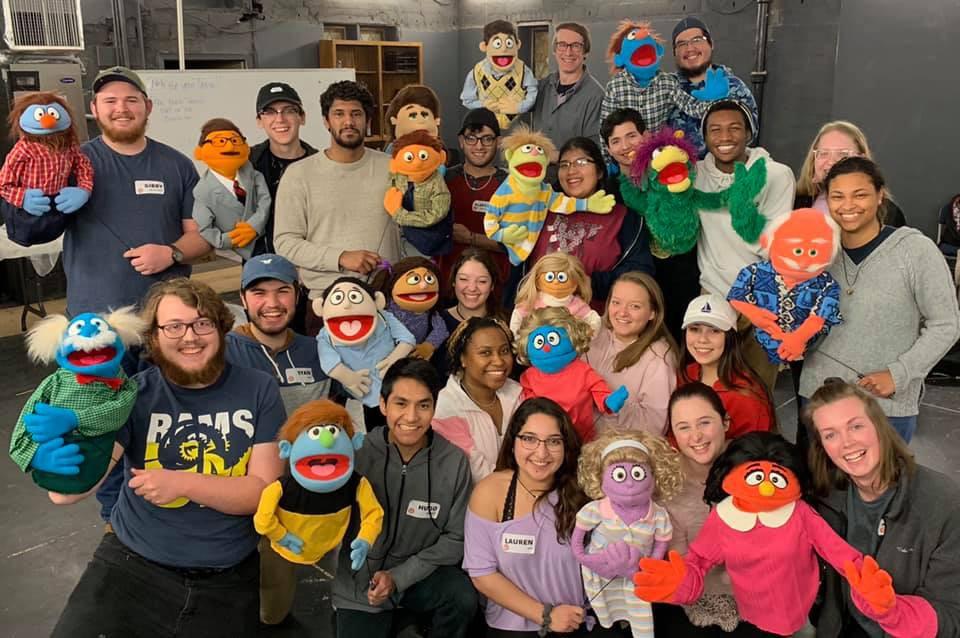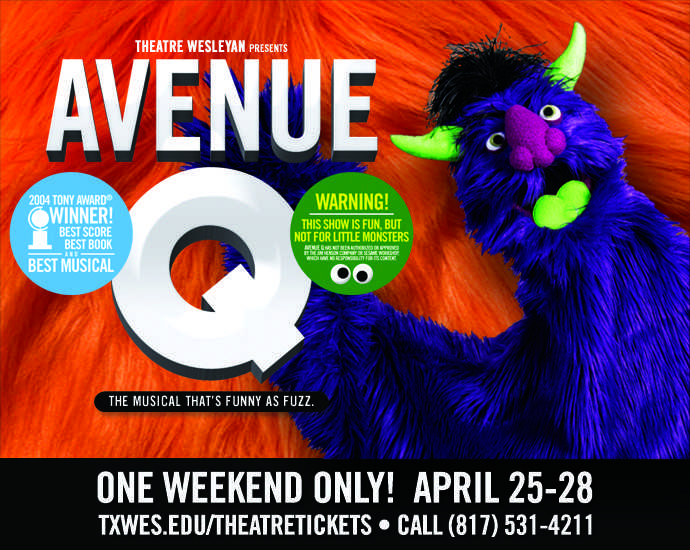 Leave a Comment