Wesleyan partners with Dunbar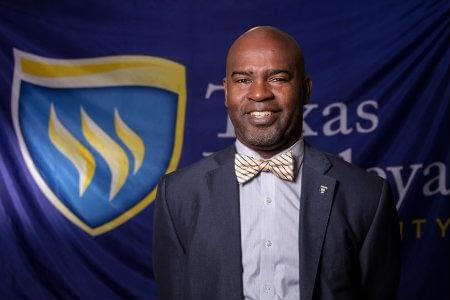 Texas Wesleyan University has partnered with Dunbar High School to allow its student to take college credit classes.
This new partnership, which began this fall and currently has students taking college credit classes at Dunbar. If not the first, then one of only two programs in the United States where a public high school and a private college have teamed up to offer students college credit, according to Dr. Allen Henderson, Wesleyan's provost.
Dunbar Principal Sajade Miller, a Wesleyan grad, said the idea of bringing Dunbar students to Wesleyan came from when he was applying for a grant to build Dunbar's academics. He was looking for a university to partner with.
"One thing always at the top the list was Texas Wesleyan, this small yet innovative university that was also going through its own period of transformation," Miller said. "So as we try to transform, why not tap into their positive energy and create this synergy and this collective impact to change the lives of our students?"
Dunbar students can begin taking the classes as freshmen, Miller said. There are 29 students in the program, but he hopes to have up to 70 students participating by next year. Students can earn up to 60 hours of credit toward a bachelor's degree.
He said the students in the program must have an aptitude for academic success and the desire to engage. He expects that at some point, Dunbar students will attend classes at Wesleyan.
"I really wanted to make it as inclusive as possible," Miller said.
Jamal Williams, Wesleyan's director of collegiate academy and college credit partnerships, describes the program as a strategic pathway for higher education.
"The way the partnership works is that Dunbar has been awarded a $9.5 million grant over the next five years and a part of that grant fund will be used to finance the student's academics here at Wesleyan and also provide them with help, not only academic support, but social support," Williams said. "A holistic process to help those students move forward and do something for their educational careers and their lives, free of charge."
Williams said that he was working with Henderson as well as Admissions & Aid and Student Life to build a relationship with the students to let them know that they have special spot at Wesleyan.
"We're giving you the experience your freshman, sophomore, junior, and senior year; why not continue that on two more years to get that bachelor's degree?" Williams said.
Henderson said that one mission of his is to help students coming from families who want to get an education but lack the means.
"I think students sometimes like to have thoughts that they could go to a four-year institution," Henderson said. "I hope that we attract many of those students to Wesleyan but would also prepare those that maybe had opportunities to go somewhere else."
Henderson said to be a better learner, you need to understand that it takes work, dedication and commitment.
"You need to be really interested in learning and be willing to do the homework and read, is what I would say to any college student to be successful you have to give some time to that endeavor," Henderson said.
Miller said many of his colleagues around the Metroplex have reached out to him for information on the Dunbar/Wesleyan partnership.
"Everyone is very interested," Miller said. "It's a model that can change lives."
Leave a Comment